It's only until the end of November so be sure to drop by! BLK Cosmetics' K-Beauty Collection recently branched out into fragrances, hence the birth of BLK Scents. Unlike makeup, fragrances are things you need to experience to buy––like you can't just Google swatches of them online! As such, BLK Scents Popup was created. It's meant to be an experiential installation, so that fans of BLK and Anne Curtis can experience the fragrances (of course), as well as the auras and moods that the creators had in mind with the fragrances. This is a free entrance popup installation, as BLK Cosmetics' way of saying thanks for all the love and support the brand has received in the past two years.
The installation is at the C5 wing of Market Market, and will be there until the end of November. The entrance is already sooo beautiful!! It really feels a lot like the photo zones of clothing and makeup stores in Japan and Korea. It reminded me of a lot of fun times I had while in Japan as I also took advantage of the photo zones of a lot of stores in Harajuku and Shibuya…
They do have BLK Scents products for sale, but purchase is not required for entry.
And here are the other general rules. So yes, it's free entrance, no purchase required. But visitors can only spend 10 minutes in a room at a time, and will just need to queue again should they feel that they want more time in a particular room.
So yaaay, here are the rooms and the corresponding fragrances!
This is the first room, and of course, it's all about a sunny pastel yellow theme, with a ball pit pool and patio chairs. The mood it gives me is beach dreams even in the middle of October, with a giant flamingo floater and giant seashell decor.
BLK Scents Popup Summer Room Ball Pit Pool
BLK Scents Popup Summer Room Patio Chairs
The
Summer Body Mist
(
Php349 for 120mL
and
Php599 for 250mL
) has pomegranate as the top note, with magnolia and peony, for a little but of a musky touch to a very bright and cheerful fragrance. The best way to describe this is that it's like sunlight in a bottle.
BLK Scents Summer Body Mist 120mL
The spring room has a predominantly pink color palette, with flowers all around. Whether or not you want to have a photo with the flowers, you definitely won't be able to resist the cute pink walls.
And yes! Walang kokontra!!! I went there!
BLK Scents Popup Spring Room
The
Spring Body Mist
(Php349 for 120mL and Php599 for 250mL)
is led by top notes of Sweet Pea, with notes of apple tree leaves, yellow freesias, linden blossom, and white orris. I am really impressed by this one, because thus far, I have been made dizzy by every sweet pea fragrance I have tried sniffing! This just takes the cheerful side of sweet pea and not the dizzying side, and overall, it smells like a lush bouquet.
BLK Scents Spring Body Mist 120mL
Autumn
The autumn room was inspired by dusk and sunset, more so that it's usually at this time when dusk is earlier. The room's highlight is having tons of moon-like lamps of varying heights, against a purple background.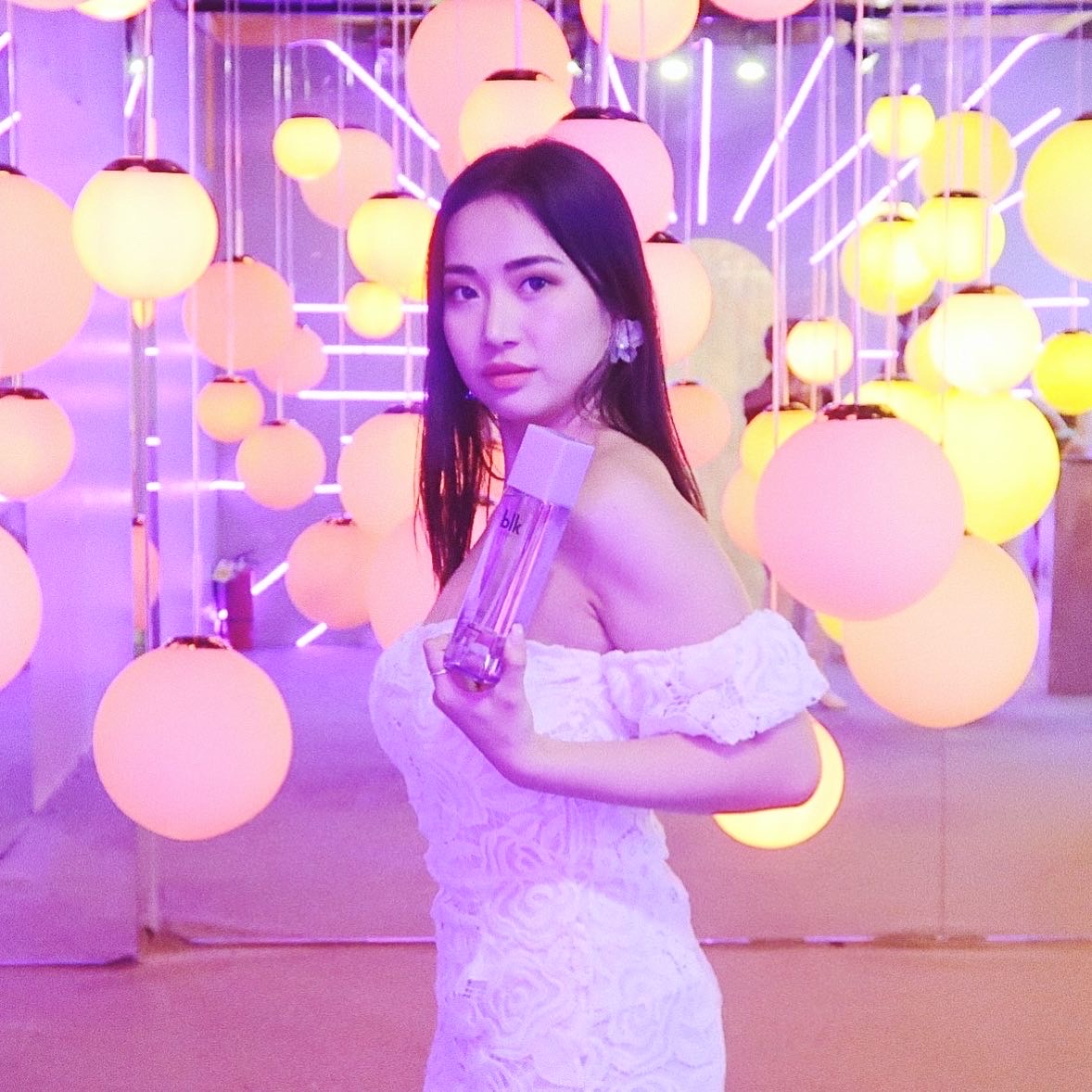 BLK Scents Popup Autumn Room Lights Display
BLK Scents Popup Autumn Room
The
Autumn
Body Mist
(Php349 for 120mL and Php599 for 250mL)
is my favorite!!! It's described as having top notes of sparkling lily, with fresh wisteria, red peony, and sweet musk. I am so obsessed with how it smells a bit dark, but still smells crystal light. I'm usually into dark fragrances, but sometimes, they really just can be too overwhelming. This one smells just right. Also, if I may add, for me (just my opinion I'm not a perfume expert hehe), this bears some resemblance to D&G Light Blue, except that it's muskier.
BLK Scents Autumn Body Mist 120mL
Winter
The winter room was inspired by light shows in Sapporo. As such, the room is filled with LED light-lined geometric structures, and hundreds of Christmas lights against an ocean blue background. To evoke the feelings of winter, there also was no shortage of cotton, fake snow, and snowflake shaped lamps.
BLK Scents Popup Winter Room
BLK Scents Popup Winter Room Geometric Structure
The
Winter Body Mist
(Php349 for 120mL and Php599 for 250mL)
is all about dreamy winter jasmine, with notes of peppermint, green tea, oakmoss, and amber. This has just been in the market for weeks, but I think was touted as the new HG dupe for Elizabeth Arden Green Tea.
BLK Scents Winter Body Mist
For the 120mL bottles, they are also selling these
K-Beauty Scents Boxes
(Php1299), which I think would be perfect for the holidays!
BLK Scents K-Beauty Scents Box
BLK Scents K-Beauty Scents Box
And yaaaay selfie time!!!
With Michelle and Mother Earth
With Charlie
With Yna
And Jacqe (The CEO, and a BLK founding mother)
Doll Up Mari: Top Beauty and Female Lifestyle Blogger Manila, Philippines