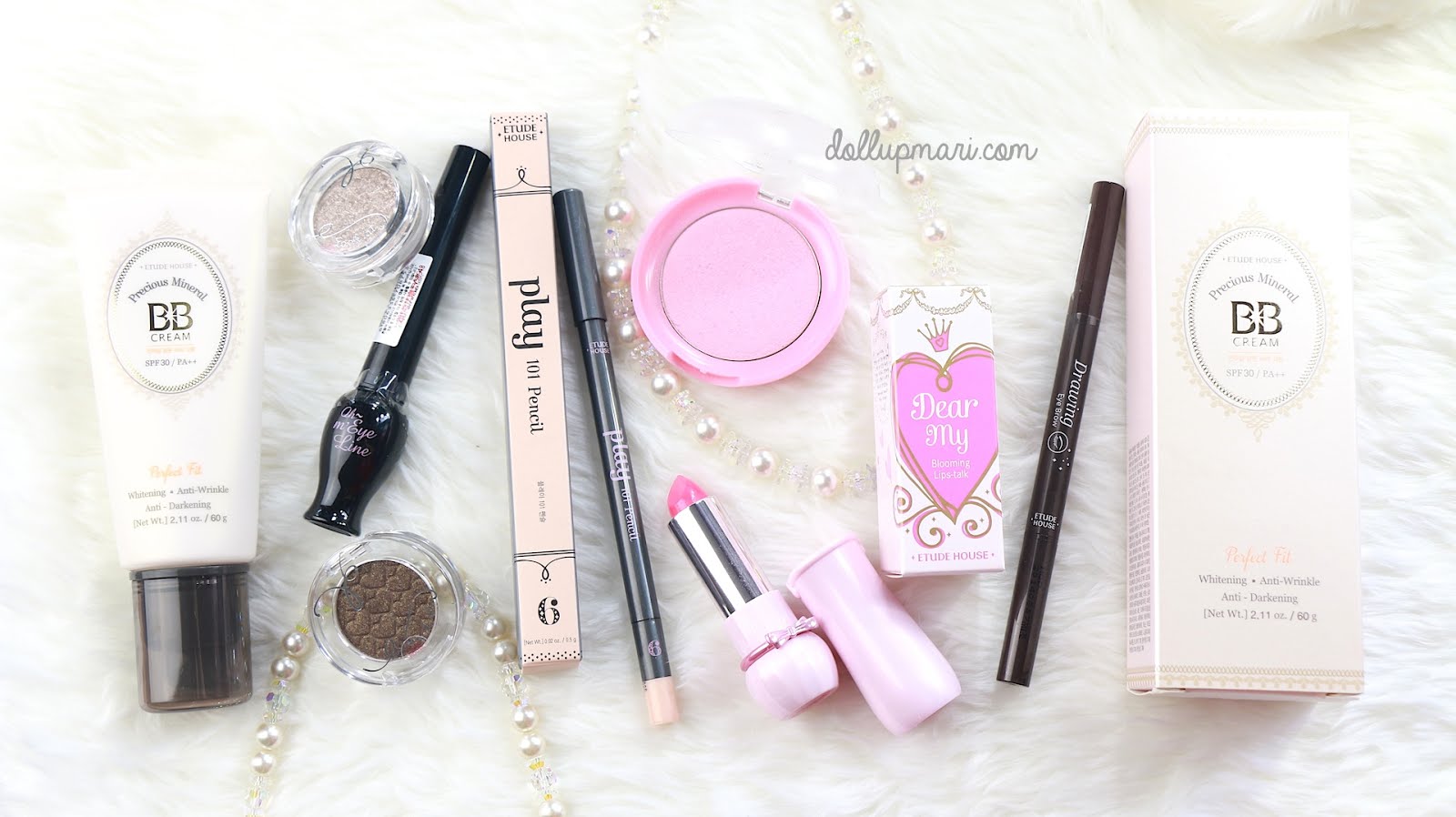 Hooooooraaaayy for the holidays! I know a lot of you are rushing to get Christmas presents for people, so I kinda thought of making the process a bit easier by making my own suggestions of what would be great Christmas presents for all your female (regardless of cis-woman or trans-woman #Equality) friends, relatives, colleagues, and whatever, based on whatever your budget may be. I chose to make this an Etude House post because I have been planning to launch an Etude House giveaway from awhile back and thought that it would be nice to pair the giveaway post with some Christmas gift suggestions. And I think at the same time, Etude House is one of the few stores with legit items at every price point; it's a good place to start if you have different budgets for different recipients.
To start, just to make a disclaimer, I was not paid, sponsored, bribed, coerced, nor compensated in any way to do this post. I personally purchased most of the items I'll be featuring, and I also purchased everything that I'll be giving away in the giveaway. All items featured in this giveaway are 100% authentic, unused, and newly bought.
SOOO, OKAY, I AM NOT GONNA BORE YOU ANYMORE AND I AM NOW GOING TO LEGITIMATELY START MY LIST.
By all means, get your friends BB creams. Since these will function as serum, moisturizer, sunscreen, and foundation/coverage all at the same time, I have yet to find someone who will be miserable to receive a BB Cream for the holidays. At the same time, this is also Etude House's strongest offering, and it's bound to seem like a classy gift to anyone who knows the brand. To add, BB cream is something that does not choose age– I am aware that some of the more mature ladies avoid Etude House because they find it too whimsical, but I think the BB creams come in legit, mature packaging.
You can even choose to gift a person with the coverage you think the person needs! You can go for super light coverage with Precious Mineral Any Cushion (Php998), light with Blooming Fit, middle coverage with Perfect Fit and super heavy coverage with Bright Fit (each tube of Blooming, Perfect, and Bright fit are at Php848).
The reason why I put this on the list is because Etude House comes up with a lot of affordable offerings in relatively large sizes. I mean these are the kinds of things that can dominate the gift bag by being so bulky even if they don't cost much.
I know they have the Teatime Cleansing foam (not pictured) for PHP148, and you can get someone a fat tube (a tube as fat as me) of Every Month Cleansing foam for Php198, and for someone whom you really like you can get them the life changing Baking Powder Pore Cleansing Foam for Php328.
The reason why I put these here as well is because they're good stocking stuffers and will be good 'finishers' to gift bags. As in like have you ever had the feeling wherein you already have some items meant to be given to a person, but it doesn't feel like there's enough items yet, but at the same time you no longer want to shell out a lot of cash as the items have so far already have a material cost? I think that's what their hand creams address. You can get their Oh Happy Day hand cream for Php148 and their Missing U hand cream (the Pink dolphin one) for Php278.
They also work a lot like hand creams that they're good goodie bag finishers and that there's no such thing as the wrong shade.
You can get most cloth/ sheet masks for Php45-55 (depending on which variant you actually choose), and hydrogel masks for Php148, and if you shop a lot at Etude House, this is me telling you to turn those free masks after all those Php500 and above purchases into useful gift items.
5.) Anything and everything eyebrows.
I think aside from the BB Creams, Etude House's strongest offerings are their eyebrow products. They are the go-to brand for affordable brow pencils and mascara (as evident that the two products are always on their bestselling lists), and I have friends who have consumed too many Etude House eyebrow pencils to count.
For the eyebrow-less person (like me), their brow stencils (Php148) would be really nice as it will save the recipient a lot of time in the morning trying to do their eyebrows. For pencils, while I like how affordable the Drawing Eye Brow (Php148) pencils are, there is just no shade in the whole product line that is light enough for me (I think those without eyebrows can relate how weird you look when you use a dark colored product and the only thing people see on you are your eyebrows); Play 101 pencil #41 (Php348) is a pencil in the range they made for the eyebrows that is light enough for people like me. If you know someone who has no eyebrows and wants a natural look or someone with really bushy eyebrows that just need a little more definition, you can also consider gifting them with the Perfect Brows Kit (the brow powder set) for Php478.
While they have a lot of good selections for the cheeks, I personally recommend #7 or Rose Sugar Macaron shade in their Lovely Cookie Blusher line because it is one of the few shades of blush in the world that I am certain will be flattering and visible on most, if not all, skintones. This may not be the same shade as NARS's Orgasm, but it functions in the same way for a quarter of the price.
I swatched it here to show what I mean. It's a nice cool pink with hologram and some microglitters which is why it is bound to appear on most skintones, and even if it does not, the hologram is bound to make the wearer look good when it reflects light in photos. What I personally do with this is that I apply their Sweet Recipe All Over Color (their cream blush) and set it with this blush, and I have been receiving nothing but raves from friends as to how subtle the blush looks despite giving a really nice glow. Oh yeah, this one is at Php348 a pop.
The reason why I am recommending this is because for one, Etude House does not come up with eyeshadow palettes often, and secondly, if they do, the combinations are usually not as good as the color and textures seen here. This palette may be Php848, but it already comes with 5 eyeshadows and a cream blush/ lippie, and the colors are fabulous. Though I have not yet formally reviewed this yet, even just in store you'd already see how pigmented the eyeshadows are. I also like that for this palette, they had a good balance of matte and shimmer. To add, this will "save" you money because to be able to bring home 5 individual eyeshadows, it will already cost 1000, and they're still in singles and you have to find a palette for them. Add in any product just to have a lippie and your bill is already at Php1200-1300.
I just put this here because for the longest time, Etude House was able to have a business anchored on lipsticks (before the BB cream wave hit Korea), and to have a business almost reliant on lipsticks, you must have to have good lipsticks. Though they may have colors too vibrant that sometimes they look too youthful already, at least they have lipsticks in all kinds of finishes and there's a lot of shades to choose from actually. And these lipsticks are so photogenic that if you give these to your Instagram obsessed friends, you're bound to see them in more posts in the future. I got my Dear My Blooming lipsticks at Php478 a pop, and as of this month they officially released their new Dear My Wish lipsticks (they're in more neutral shades if you ask me, and the formula is thicker than Dear My Blooming lipsticks).
AND NOW IT'S GIVEAWAY TIME!!!
This will by my Christmas gift for my readers!
Since sharing is caring, I decided to put my Christmas suggestions into good use and came up with this grand prize loot bag with their Drawing Eye Brow pencil, Play 101 Pencil #6 (pearly off white), Oh M' Eye Line eyeliner, Lovely Cookie Blusher (in Rose Sugar Macaron), Dear My Blooming Lips-Talk lipstick (in PK004), 2 eyeshadow singles (in BR408 and BR409), and a tube of Precious Mineral Perfect Serum BB Cream in W13!
I also put up 'second prize' gift bags, with essentially the same items, just in different variants.
This bag contains a Pearl and an Aloe Vera mask together with a Dear My Darling Tint in shade number 1 and a tube of Happy Teatime Aloe Tea cleansing foam.
This other bag contains the same shade of Dear My Darling Tint, green tea and honey masks, and a tube of Happy Teatime Green Tea cleansing foam.
To join, simply follow the steps on the Rafflecopter widget below!
(the widget takes some time to load regardless of whether you're on mobile or desktop, but it will appear right here)
OKAYYY it just loads so slowly that to give way to those without good internet speeds, I'm now allowing entries without the use of Rafflecopter. However, if it does load on your page, please do use it though.
Steps are as follows:
1.) Like Doll Up Mari on Facebook https://www.facebook.com/DollUpMari
2.) Like Etude House Philippines on Facebook https://www.facebook.com/etudehousephilippines
3.) Share this blog post on Facebook, with your privacy settings set to public, and with the hashtag #MarisEtudeGiveaway.
(You can do this step as many times as you like)
(To share, you may use the share button at the bottom of this blog post right above the comments box, or you may also copy-paste the URL on your newsfeed). No hashtag, no entry! No proper privacy setting, no entry!
4.) Follow @marilene_perez on Instagram! http://instagram.com/marilene_perez
5.) Follow @EtudeHousePhilippines on Instagram! http://instagram.com/etudehousephilippines
6.) Share the photo below on Instagram, tag at least two friends, and put in the hashtag #MarisEtudeGiveaway. When tagging friends, no spam/dummy/giveaway/inactive accounts allowed!
(You can do this step as many times as you like given that you'll tag different people each time)
Also, do take note to make your account public at the end of the giveaway (which is December 21) so that your entry can be seen. No tagged friends, no entry. No hashtag, no entry.
The rules are simple:
1.) ABSOLUTELY NO spam, dummy, inactive or giveaway accounts allowed; use ONLY your personal accounts. If a spam/dummy/giveaway account is selected, another account will be selected without hesitation or warning.
-A giveaway account is an account that is filled with like and share or contest posts from all sorts of brands and has no steady stream of actual human-like posts and interaction. It is apparent that the account was created with an intent to join contests and not to be a personal account.
-A spam/ dummy account is an account either with a name that obviously isn't a real person's name, a celebrity/object/cartoon for a profile photo, one with no legitimate human-like posts made in it, 2 of the qualities together, or all 3 qualities together. It is apparent that this kind of account is not a personal account and is made either for gaming, stalking, blackmailing, or any other purpose aside from actual social networking.
–Inactive accounts are accounts that have not made any posts in the last 2 months or so. Be sure to choose to tag your friends who are active Instagram users.
2.) You can do as little or as many steps as you want for the second prize bags, but the grand prize loot bag will only be given to a person who has done ALL 6 STEPS.
3.) The grand prize loot bag will go to the first person selected by the system who has done all the steps, and the second prize loot bags will be given to the persons who are selected after the grand prize winner, regardless of how many steps they have done. The first person to reply to the notification of winning will get to choose which of the two second prize bags he/she wants.
4.) This giveaway is open internationally, but there is no guarantee that the items will make it in time for the holidays if the winner is from a country other than the Philippines.
GOOD LUCK!
Please subscribe if you liked it!

Top Beauty Blogger, Vlogger, and YouTuber