Hooooray for new hair color! I think those of you who follow me on Twitter saw my tweet with me being thankful that my hair is no longer black, brown, red, and blonde all at the same time!
So as the title says, thank you so much Schwarzkopf Philippines for my corrective hair dye session with you! I love my new hair color, and I received a lot of raves from friends an family after seeing me with this new hair color.
As for how the problems started, here goes:
You see, I had virgin hair all my life, save for when I had a digital perm in 2012. But other than that, I have never colored my hair, not even with temporary dyes or highlights. I only started dyeing my hair with boxed hair dyes early last year. Initially, boxed hair dyes worked for me, even if I did not get the shade that I wanted or the shade in the box, because in general the hair color is noticeable and looked good.
The problems, started, however, when I got busy and the regrowth was already long when I used boxed dyes again. My hair is in itself is very chemically resistant, which is why even with my previous experiences, my hair does not fully adapt to the colors advertised on the box. This is why when I dyed my hair after a long time of being busy, my hair was in a state of a mess. The previously dyed areas adapted to the color quickly, but uneven dyeing from previous jobs meant that there was black and brown hair near my nape. There are also extremely damaged hair strands which were already blonde. And then on my scalp the chemically resistant regrowth was a bit brown. So yeah that explained how my hair was black, brown, red and blonde all at the same time.
And that's why I was so happy to head on over to their studio in Ortigas for a corrective hair dye session. The first thing they hand to me is this manual showing swatches of their hair colors. I had wanted color 9-0, however, the head technician Ms. Maida told me that since my hair was at level 7, and that it was a corrective job, she recommended that I go for a level 7 color as it was where my hair was at the moment. I could just have a new hair color with a higher level some other time.
For the curious folks, hair colors are segmented in levels. The higher the level, the lighter the hair color. Colors of the same shade are on the same level, but the differing number are based on the undertone. This is why if you look below at row 7, they seem to be of the same darkness, but some are greener in undertone while some are yellow and gray in undertone.
I ended up choosing 7-55 as I wanted a yellowish toned dye for my hair, and that I also wanted a color wherein it was apparent that my hair was colored.
Schwarzkopf Color Chart 9-0, 9-1, 9-55, 8-, 8-11, 7-0, 7-00, 7-1, 7-4, 7-55, 7-57, 6-0, 6-00, 6-12, 5-0, 5-00, 5-1, 5-4, 5-5, 5-57, 4-0, 4-13, 3-0
They told me that if I wanted, I could have crazy highlights next time. But as for my hair, they do not recommend dyeing my whole head with crazily light colors as my hair is so chemically resistant that they will have to use an extremely harsh bleaching session on me to get the job, which of course is not healthy…
Schwarzkopf Color Chart for 9.5-1, 0-55, 0-11, D-0, 9.5-22, 0-77, 0-22, E-0
Schwarzkopf Color Chart 7-16, 7-17, 9-18, 6-28, 8-29, 6-32

For my hair color, they set up a scheme. They would color the roots of my hair with a stronger peroxide formula and let it sit for 15 minutes. Afterwards, they will follow up with the rest of my hair with a milder peroxide formula for another half hour, making the coloring session last a total of 45 minutes.
To those with chemically resistant hair, I urge you to get your hair done in salons if possible because it is in salons where they can use mixtures of varying strength on different parts of your hair. This is waaay healthier than exposing your hair to 16% peroxide most boxed dyes come with. To put things into perspective, they used 6% for my hair, and 12% for the scalp area. So imagine the damage with 16% all over your hair and your scalp.
The first mixture got me hungry because it looks sooooo much like egg custard, only poisonous hahahha…
They section my hair and apply hair dye on the roots.
After applying dye on every area near the scalp, this is how it looks like.
After the 15 minute pause, they resume with the milder formula and apply it to the rest of my hair.
There was a bit of a stinging sensation on the scalp when they had the dye applied everywhere, but it was not a problem to me as it was expected of hair dyes, and also I knew that they had to use a strong formula on my roots area so it's not abnormal for it to sting a bit.
After half an hour, the dye is washed off of my hair. They also use Schwarzkopf's hair treatment on my hair.
And voila! My hair is fixed! It's not an ugly rainbow anymore!
Also, compared to the other dye brands I've used, I felt a difference with Schwarzkopf as my hair was very shiny and soft even just right after the dye session. I usually have about 2-3 days of extremely dry hair, and about a week of dry hair, whenever I use other brands, but with theirs, it was as if I had not even gone to dye my hair at all. Aside from the dye, they also have a very good treatment (and you can get those in salons if you ask).
I know the previous paragraph sounds like a paid, sponsored opinion, but the truth is that my mom has been a colorist for many years and has told me about the wonders of Schwarzkopf dyes. She uses Schwarzkopf on herself, her friends, and she was the one who told me that only Schwarzkopf makes your hair shiny even just right after the dye job. Initially, I did not believe her as I thought that hair dyes were damaging all the same. This session, in part, is just a validation of the things she was telling me all this time.
And here are selfies of me with the stylists who did my hair (on the left), and with Ms. Maida, their head technician (on the right).
For you guys to notice what really happened, here are before and after photos I took with my SLR under similar lighting conditions and camera settings.
This is my scalp before and after the session.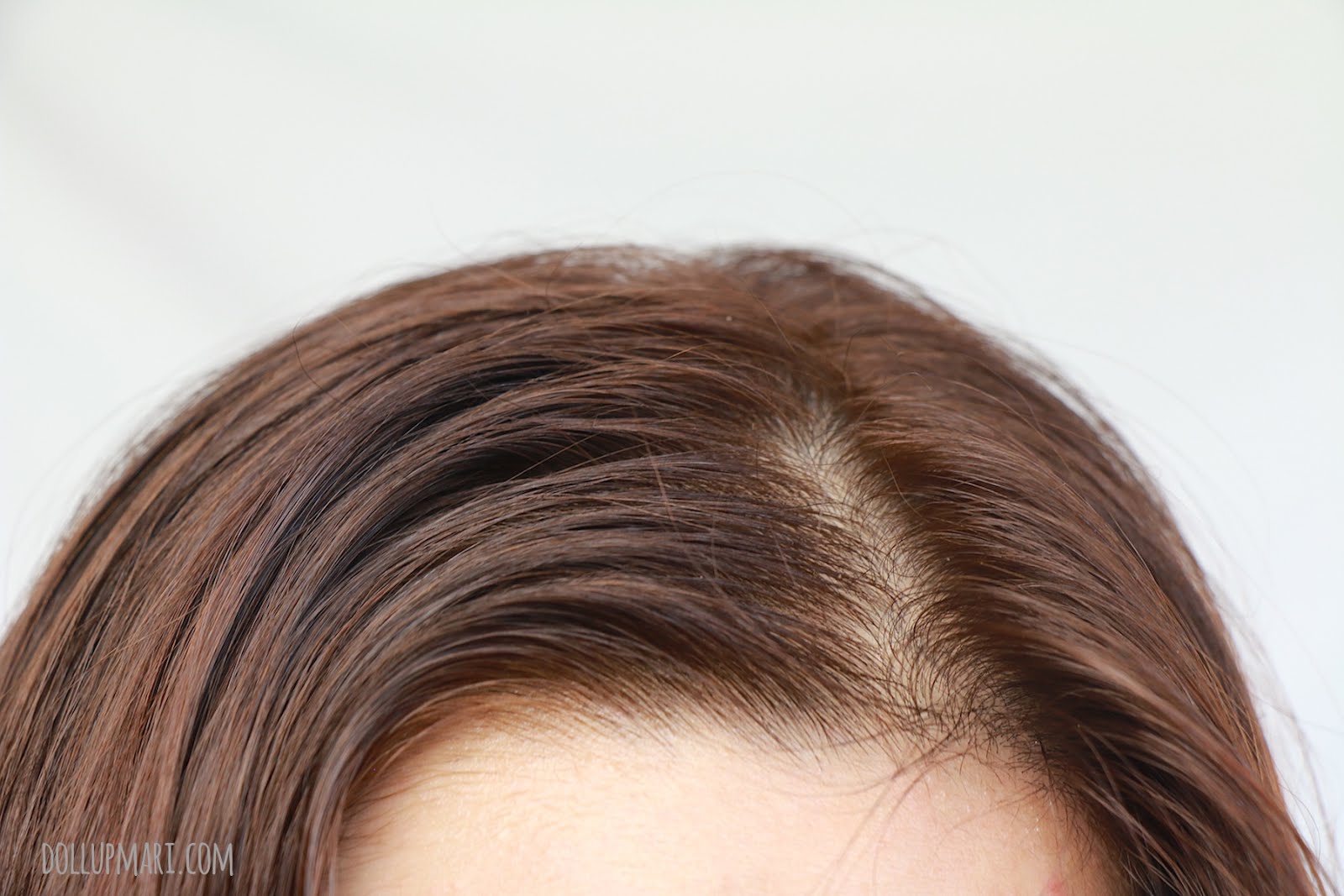 I love the color, and I definitely love that barely any damage happened to my hair. It really felt as if the dye job didn't happen. But in terms of regrowth, I love that my hair's regrowth is gone and my hair color is even all over. Even when I flip my hair or when I look at the hair near my nape, there are no longer any instances wherein I see patches of black, which usually occurs when I still used boxed dyes.
The next time you go to a salon, be sure to ask for Schwarzkopf products for minimal damage and maintained hair vitality.
Top Beauty Blogger, Vlogger, and YouTuber