Happy 10 years, Céleteque! I am actually surprised that they've only been around for ten years because the brand is such an institution already that it feels like it's been there for much longer than that.
I'm in awe of Unilab because by having their own events place (which other people rent out for a lot of other events), I think that they were really able to pull off their mystery mission set up and provide bloggers with decent space to roam in. This is where PANAF has already done their student competitions, and it can seat like 500 people if at full capacity, so the spaciousness was great.
So before the mystery mission, we were treated to makeovers. The line was soooo long because once you do get seated, even if you ask for just lipstick or blush, the makeup artists will really help to do everything they can to help you look your best. I swear almost everyone here only asked for lipstick but were treated to freshly applied foundation and concealer, had their lashes curled and coated with mascara, and basically had their whole face done. The line is long but everyone is delighted with the products and the work of the skillful artists.
It took me quite some time in line before I was entertained, which is why I had a good look at all the makeup that Céleteque makes. For one, as you can see here, they have powders. They are reportedly coming up with darker shades as these shades are too light for most people. I was surprised that the powder shades fit me exactly because more often than not, the "standard" shades for most brands are too dark on me. If you have fair skin, you will love their powders. If not, fret not because I think the gods of Unilab are hearing your prayers.
They have a super versatile cheek blush stick, and their two lippies are the cutest shades if you ask me. Their blush is a matte cream stick in the perfect salmon color, which is why a lot of people end up buying this to mix this with their concealers to make correctors. Or perhaps, for people with very very dark under eye circles, since the blush has no shimmer, it can be used directly on the eye area to correct the colors. In fact, on the day itself, the makeup artists were using the powder blush palette for actual blush and were using the cream blush for mixing with the concealer sticks that Céleteque had.


They have coral and pink for their lippies by the way, and if you are a pink girl, you will totally love it. I think the brand will probably have to eye making mauve and brown based shades if they want to appeal to the current trends. But if you're looking for cute, vibrant shades, you'll like this.
And this is yet one of the bestsellers of the brand, as I think they're the first locally made brand to make a trio palette of contour, highlight, and blush. The contour powder is matte and comes in the perfect yellowish tone to match most Pinays. The highlighter, I have yet to try it and spend more time with it in depth to really give a verdict on how it works. The blush comes in a candy pink and a coral pink, but these colors pat on more lightly, which is why it is both good and bad. It's bad in the sense that it will take more time to get a vivid color onto your cheeks with this product. But it's good in the sense that it is very controllable, so you can pat on a little color for a fresh look. And then you can pile it on to look like me (yes you know how much blush I pile on all the time).

Station 3 is about solving the skin mystery!
So the moment bloggers come in, they are greeted by a worried investigator and the scientist she works with.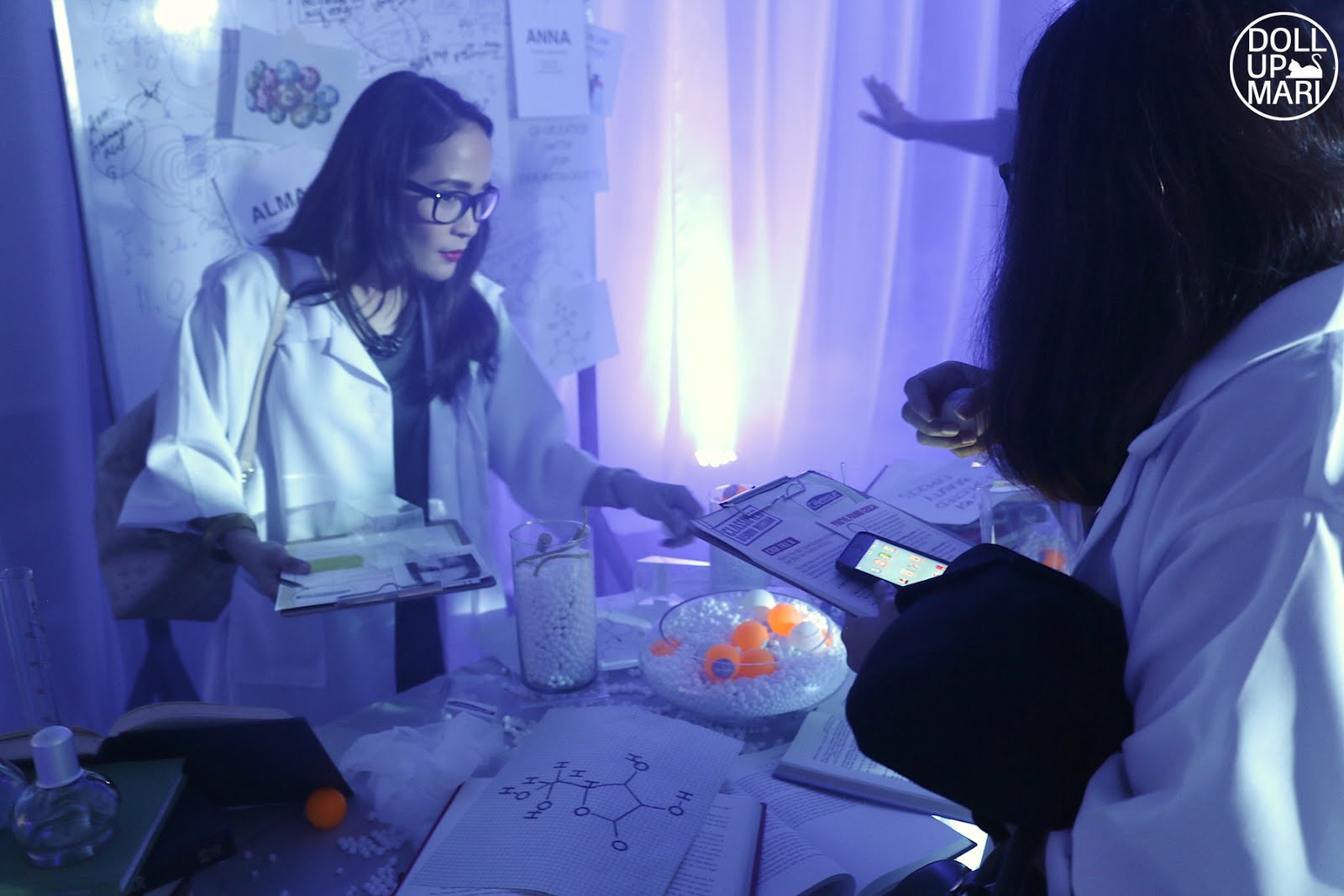 All the bloggers are asked to quickly grab lab coats and clipboards and goggles because the mission is urgent.
The investigator shows the evidence board, a board where there are pictures of women clipped onto the strings. You need to find the girl on the evidence board who matches the description on the clipboard as the photo on the evidence board will reveal her name and the clues to the ingredients she needs to improve her skin condition.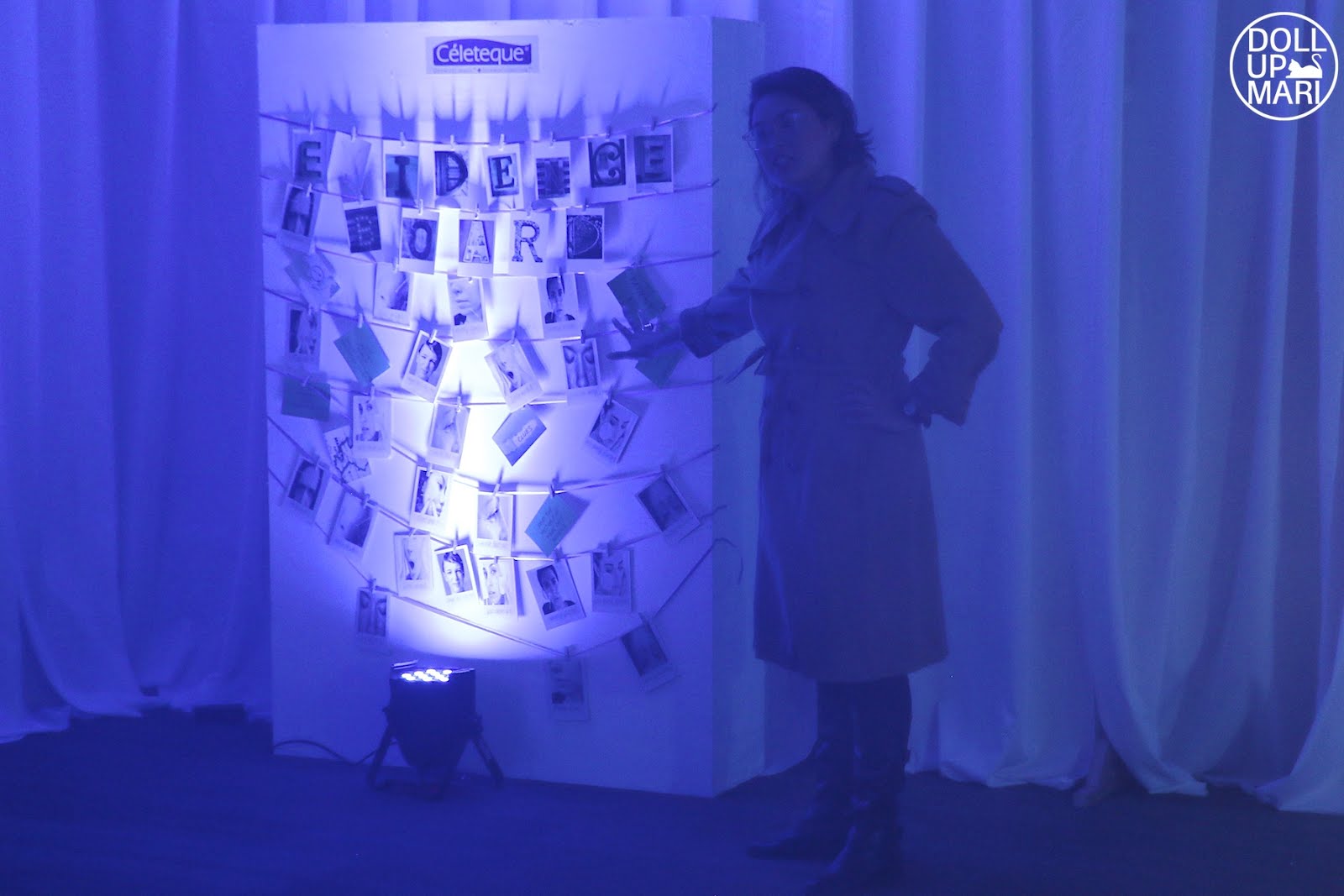 I got Cheska, who suffers from very dry skin. She needs products that have the triple moisturizing system, a special water that has trace elements to rejuvenate the skin, and dual nourishing beads that gently burst on the skin to help nourish and protect the skin.

On another whiteboard is Cheska's name and the hydration ingredients she needs. The other problematic girls are Anna and Alma, who each need different solutions to their problems. But for Cheska, she needs glycerin, provitamin B5, aloe vera, water from Fuji, amd Vitamins C&E.
Everybody is busy at work looking for the ingredients to help save their patient.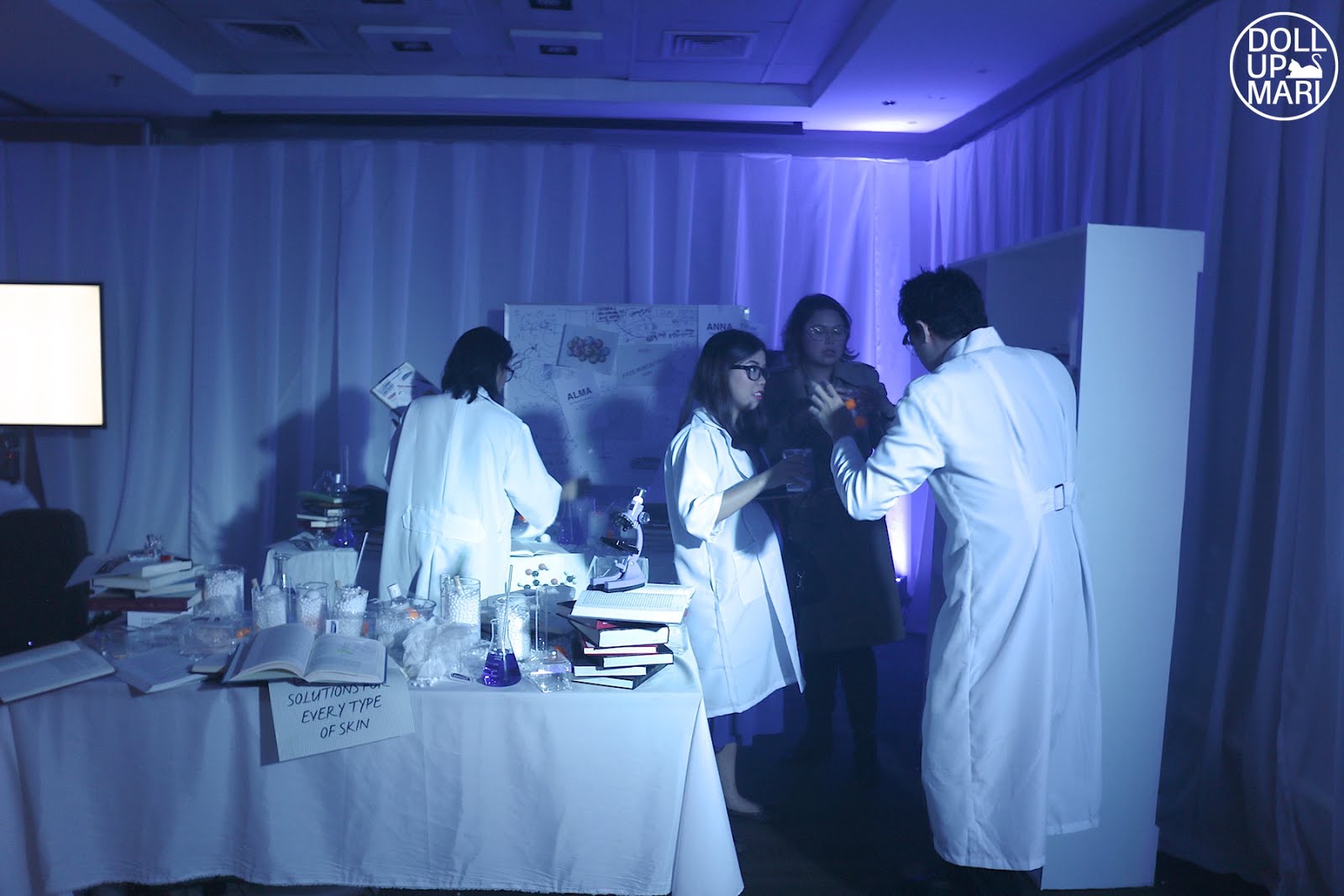 The scientist and the investigator both help everyone in looking for the solutions. The scientist has already figured out the solution to the girls' problems, but he lost the ingredients within his messy lab along the way, which is why he needs help to find the ingredients once more and help the girls get better.
Yes, like 50% of the time, the scientist was stirring all sorts of flasks and beakers in hopes that he would replicate his findings again.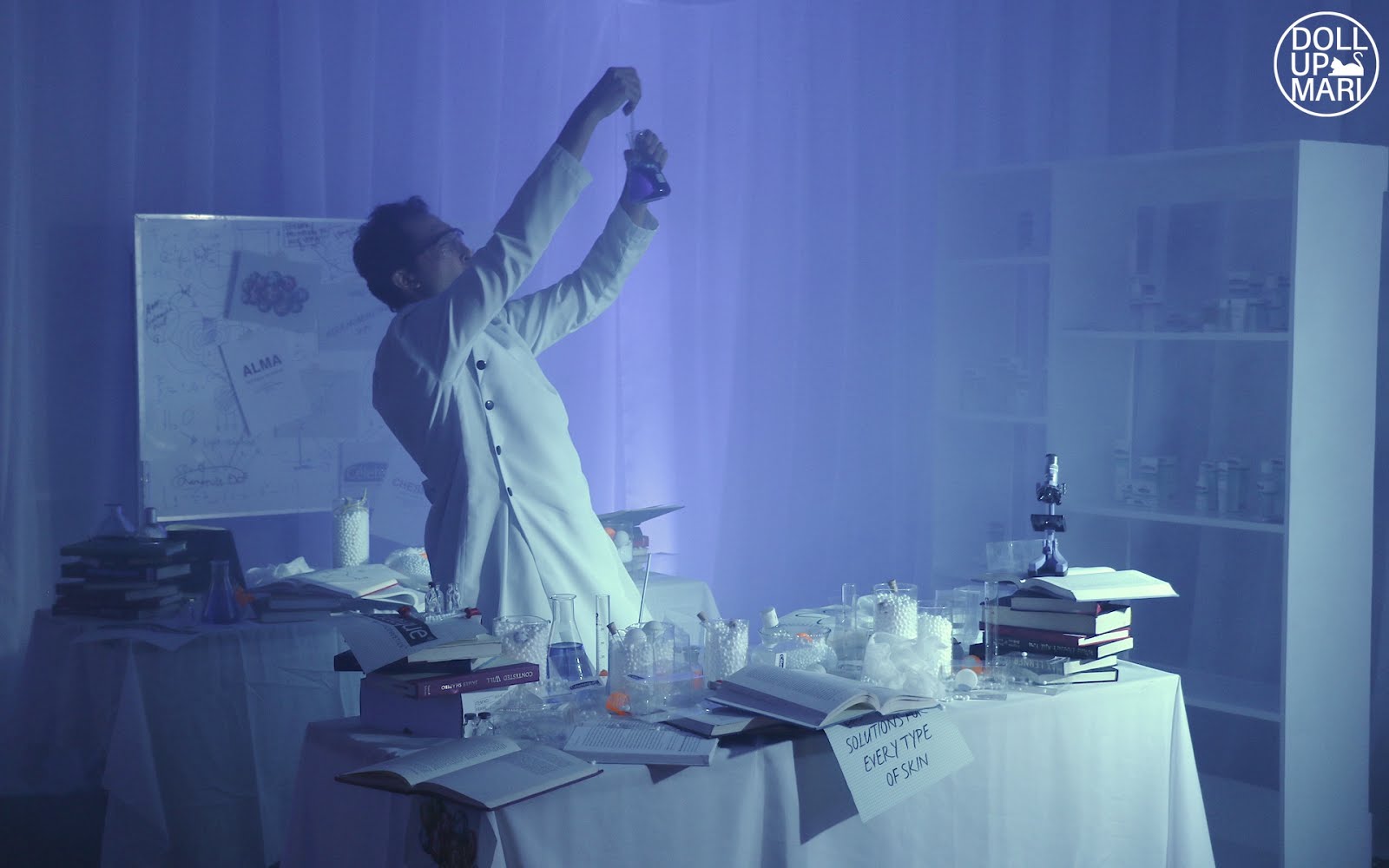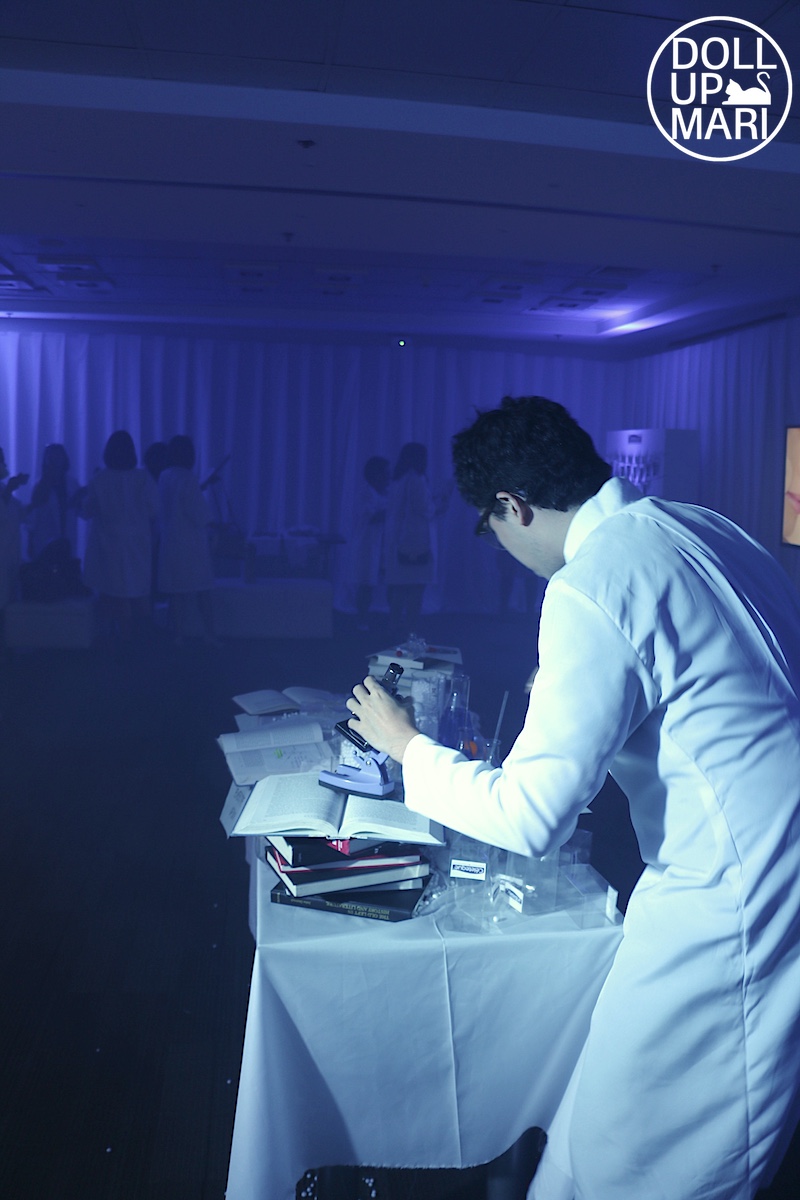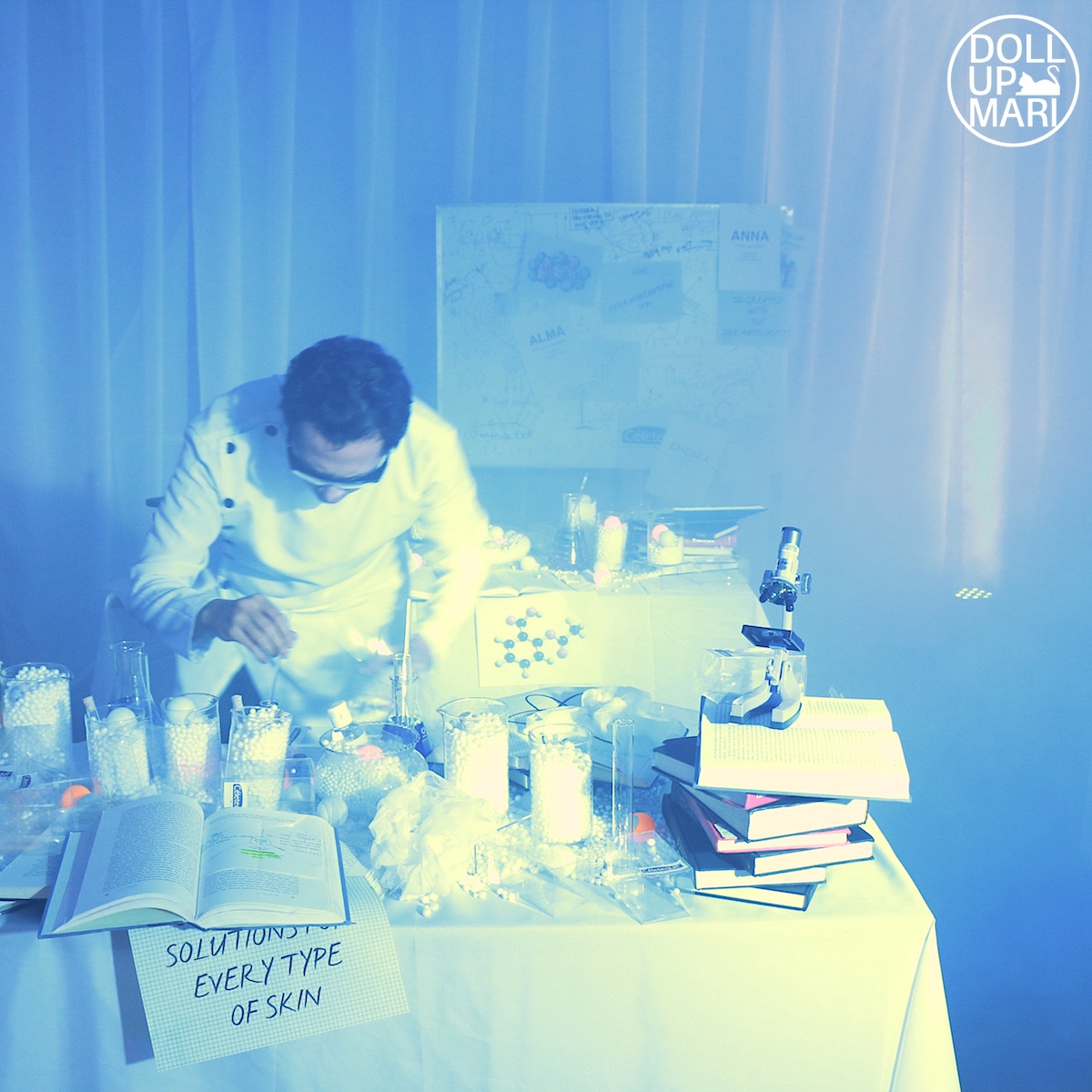 And if you're wondering about what the ingredients look like, they're labeled orbs like this one (which has 'salicylic acid' written on it). Different orbs have different labels, And since the girls have different problems, they need different ingredients. So that means that there are many orbs on the table and you will not find your ingredients immediately as you will have to look at several orbs before you find what you're supposed to use.
So this is how it looks like. There is a plastic box wherein you place all the ingredients.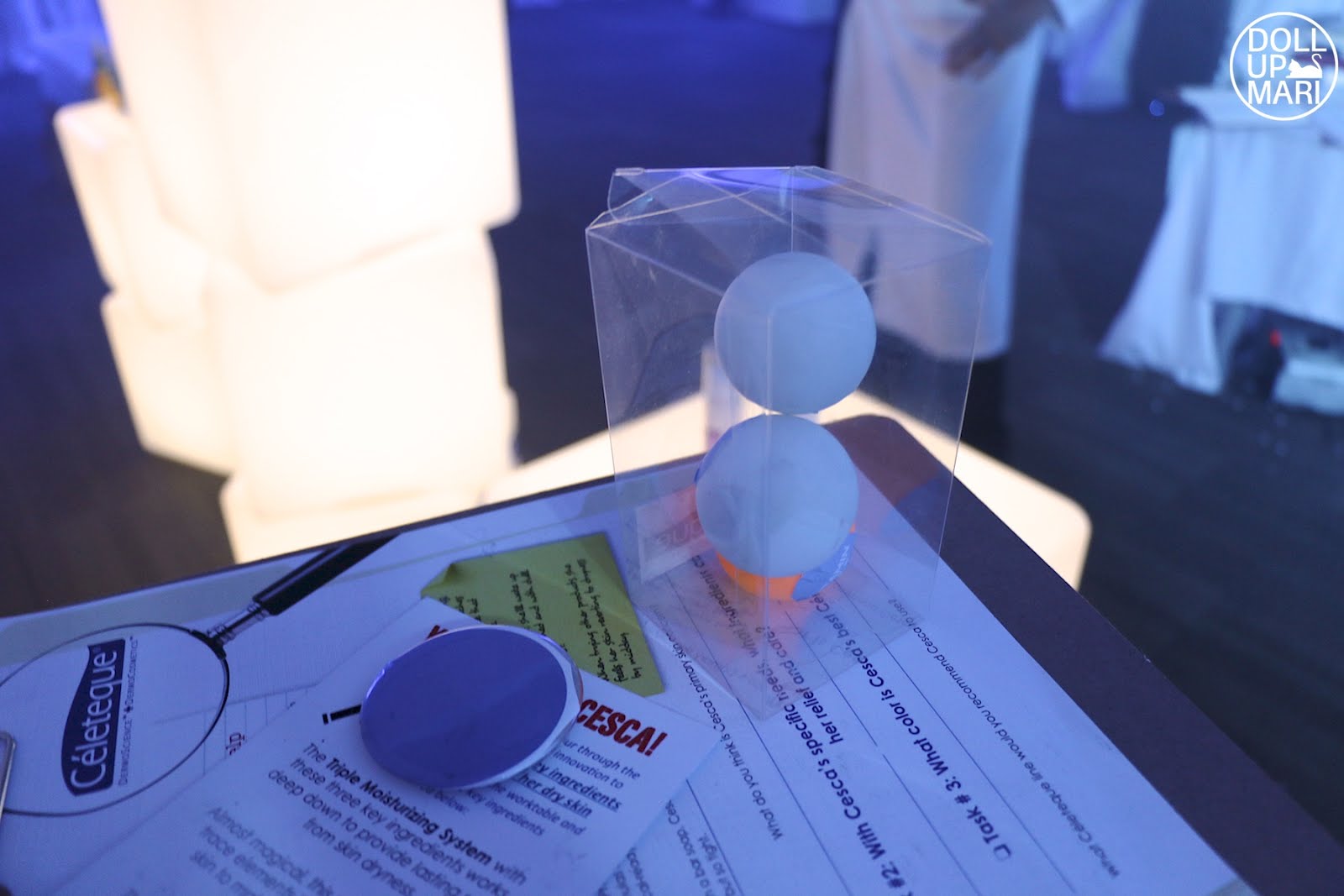 This box will only light up when the right combination of ingredients are placed on it, so it means your mission is accomplished when these boxes light up! Hoooraaaaay!!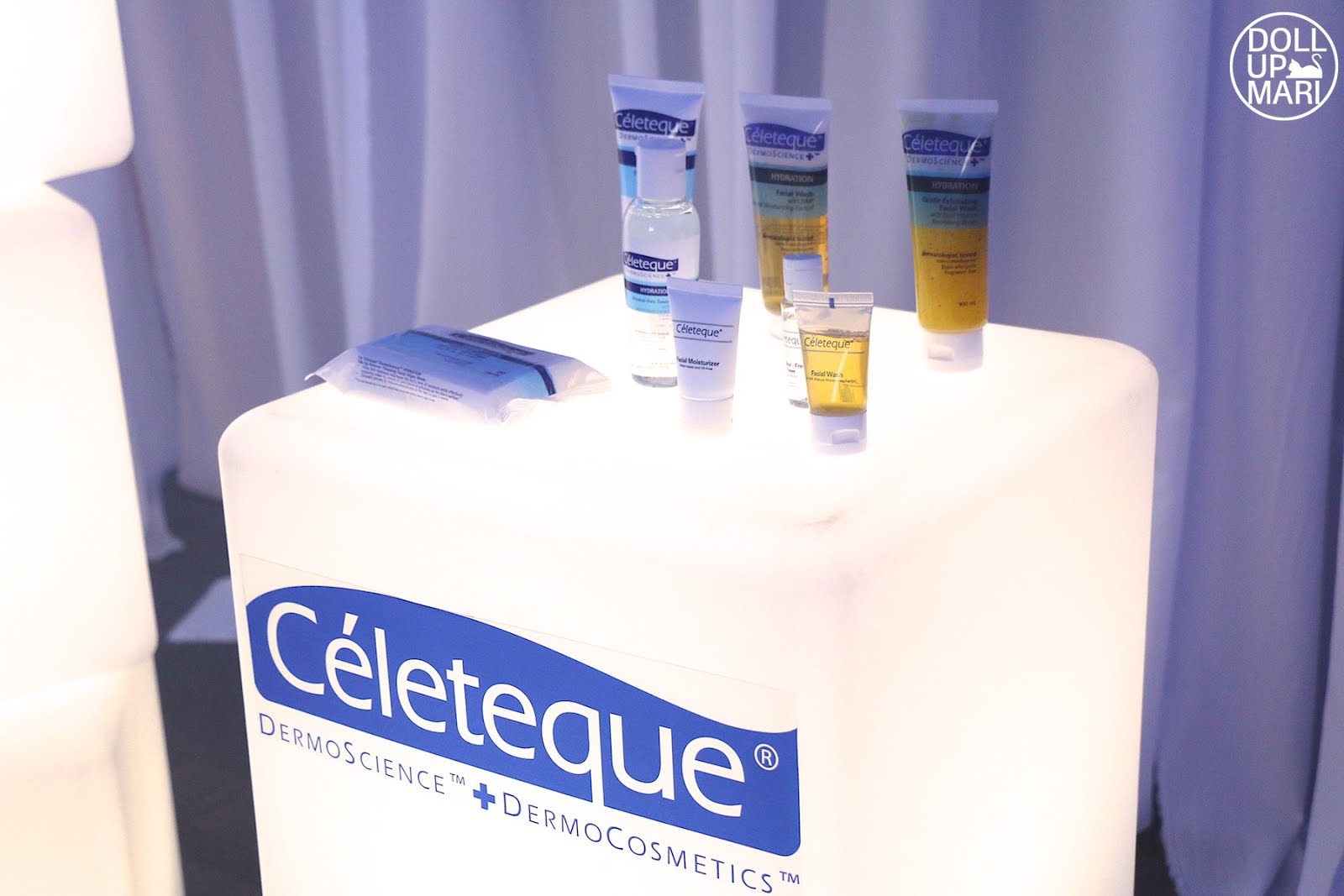 Since the mission has been accomplished, it's time to look at their skincare lines! They have several product lines, each catering to different skin needs and issues.
So they have their Acne Solutions line, and the most amusing part is they have backne spraaaay.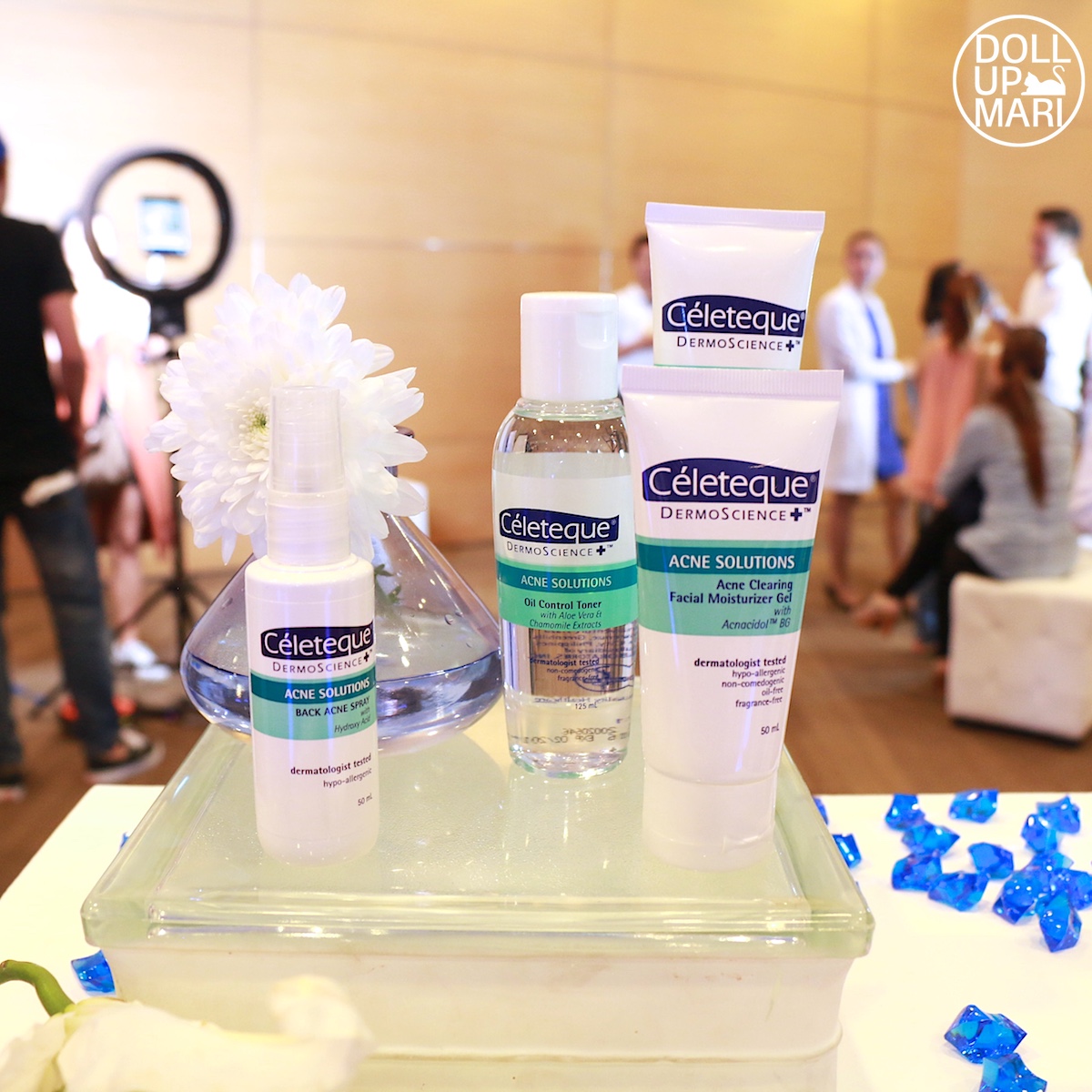 They have a brightening line as well, and the unique part is that this seems to be the only product line with a body product as the rest of their products typically are only face products.
They have an anti aging line, too.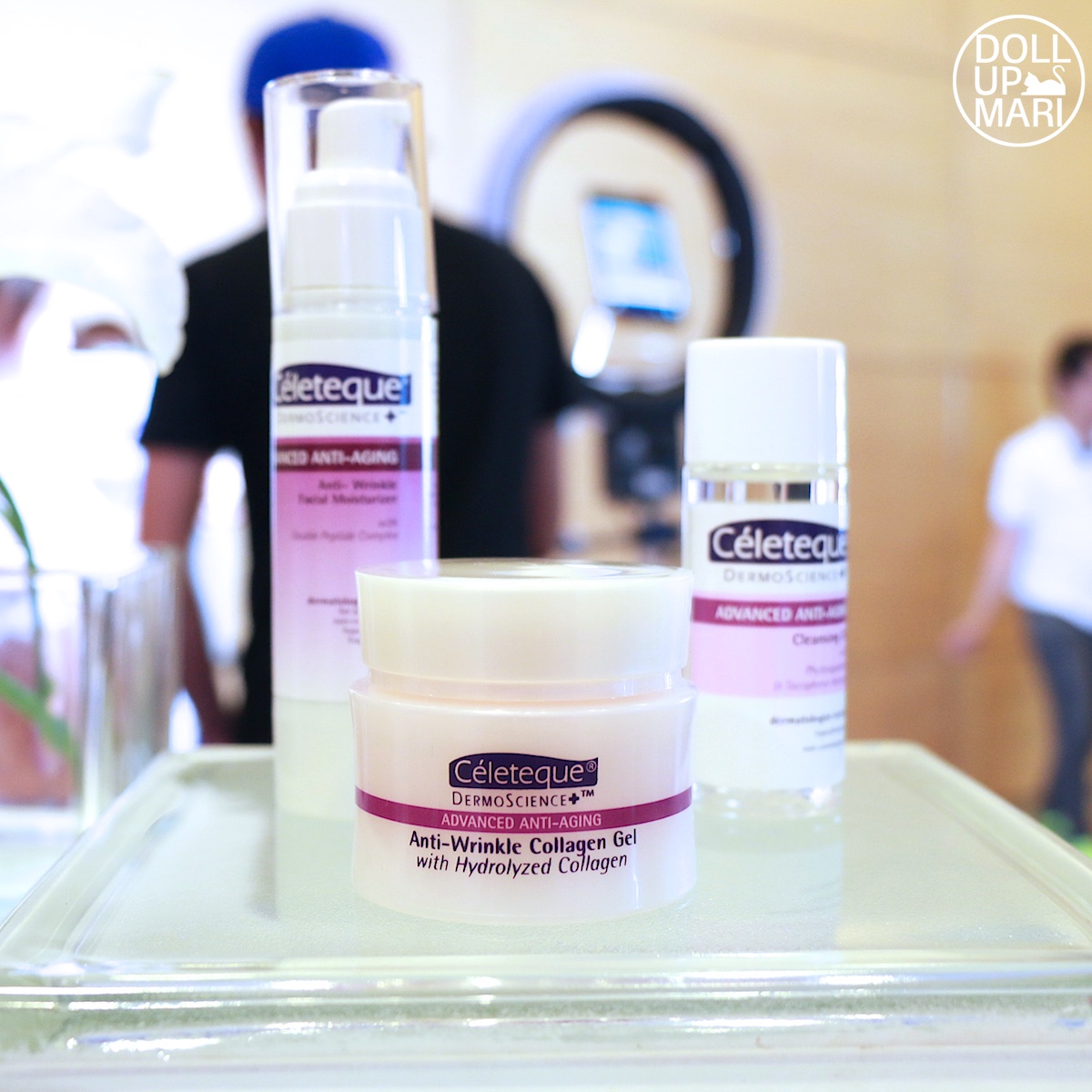 And for sun care the unique product they have is a skin relief after sun gel. There aren't a lot of brands that have this kind of product yet, so if you're looking for something proudly Pinoy, this is the brand to try.
They had a stage set up for the brand team to be able to talk about Céleteque, their 10th anniversary celebrations, and basically take the opportunity to thank everyone for all their support throughout the years.
So yaaaay, may Céleteque have many more Dermobeautiful years to come!
Top Beauty Blogger, Vlogger, and YouTuber from Manila, Philippines