Cosmopolitan wanted to treat its Cosmo Girls to a fun filled afternoon that's all about beauty, so they created the Cosmo Beauty Block and had it done at the SM Mega Fashion hall. Pantene was the co presenter, and since they had a lot (as in A LOT) of activities that day, they invited me over to join in on the fun!
Tadaaaaa, it's so cute to see baby Selena standees all over the place. I have yet to find out what award Pantene exactly won, but they are proud to have won in the Cosmo Beauty Awards 2016.
Cosmo girls thoroughly enjoyed having their hair done. The hairstylists were working round the clock to make sure all the cosmo girls had their hair chalked. Getting the hair chalk on is not as easy as one would think and they used hair dryers and hairspray just to get the chalk to stick on, so I commend them for their efforts.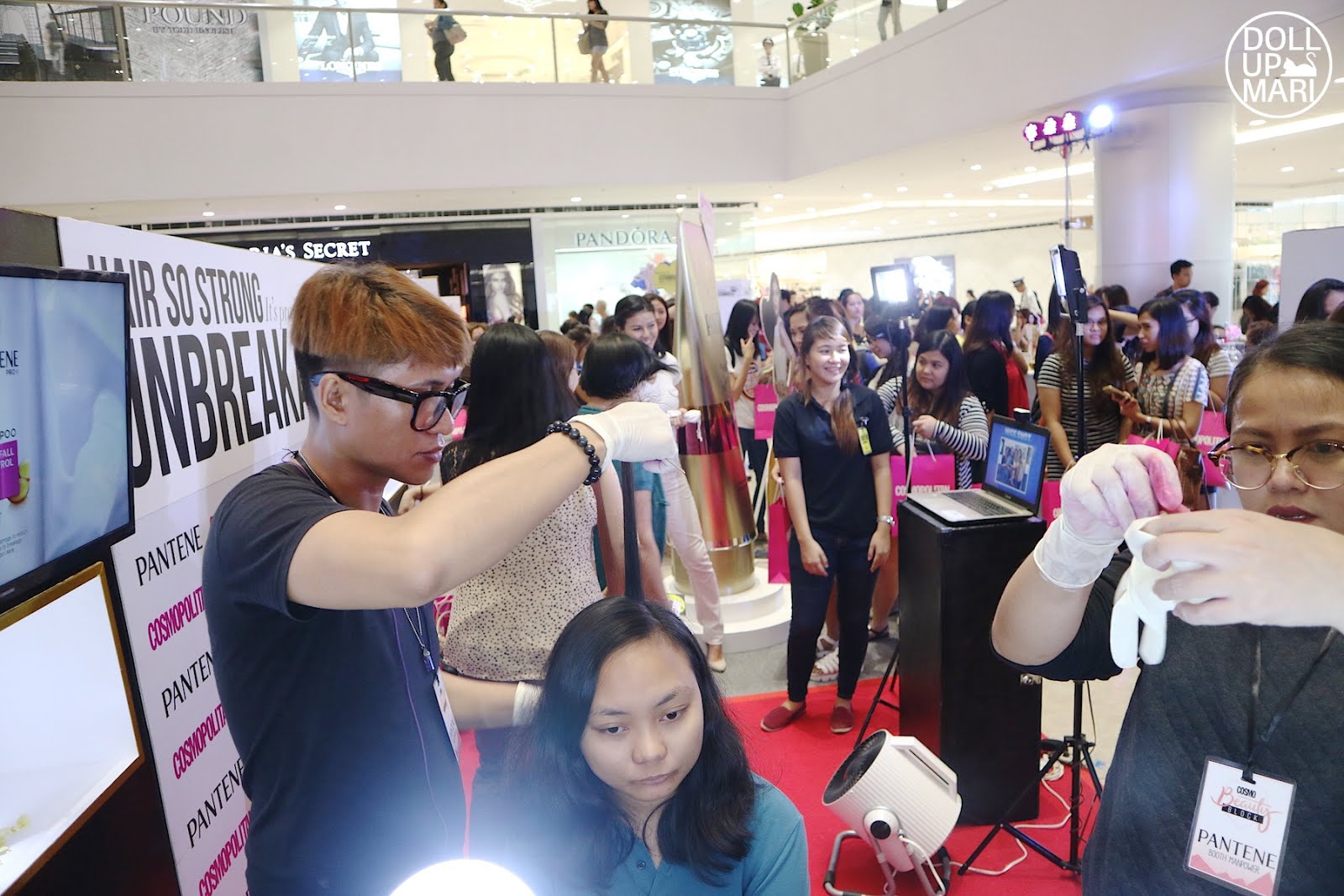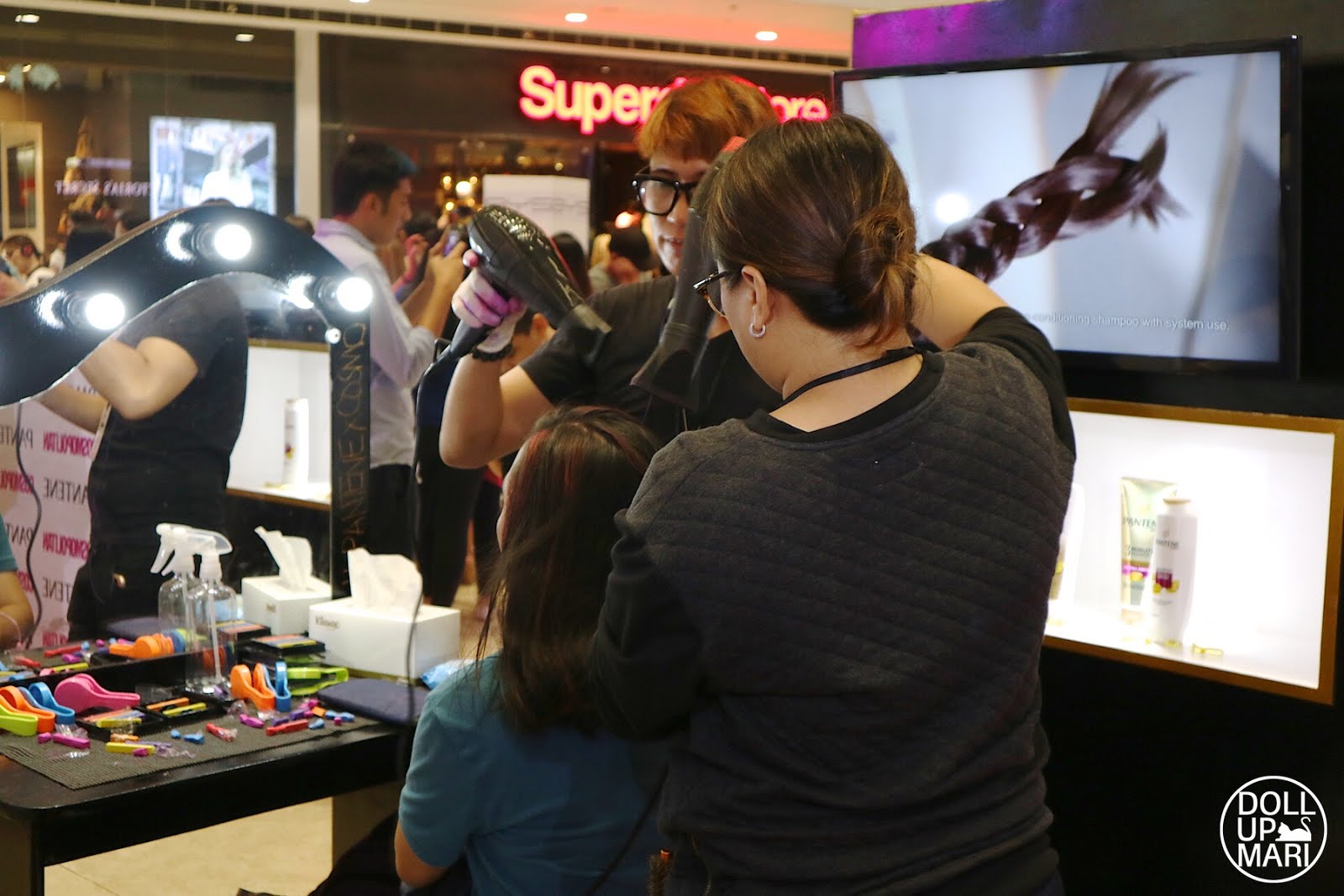 Everybody had super fabulous hair the moment they got to the GIF portion as there were legit lights and backgrounds, and there even was a blower fan in the setup so everybody had super gorgeous flying hair. And this is the legit hair blower that models use in photoshoots, the one that has strong winds but not such a fast speed, so such an effect can be achieved.
For today's stage event it was amusingly all about the secrets related to turning beauty into a competitive advantage or career.
Pat Dy came over and gave a good talk on how to take selfies. With his god status in photography and everything, what most people actually end up asking him is how do they take better selfies. So he decides to talk about it to the audience.
His tip, as seen here, is to face the window light. So what happens is when you're taking your selfie, there's a good amount of lighting on you. One of the other important pearls of wisdom he bestowed was to never look down onto your camera during the selfie. Always look straight, or ideally, upwards towards your camera. Looking down will bring out your double chin and unwanted shadows, while looking up will make you defined. He also shared that when possible, always lean everything forward in photos so that you look slimmer and that your angles are more defined.
Archie Tolentino, seasoned editorial makeup artist, also gave a talk on how to break into the business. I like that his advice is very real and very applicable. I like that he didn't glamorize the makeup industry and really emphasized that it is work. I see a lot of people who suddenly call themselves makeup artists just because of what they can do on themselves. Real makeup artistry is about what you can do on other people and how you can work on different kinds of faces and with different kinds of attitudes. I like that he brought that angle up.
I also super liked that he emphasized cooperativeness as a key to success because that also hits a chord in the blogging world. Popularity is only one thing, but actually being easy to work with, being cooperative and being professional are what will really make one the first person that comes to mind when clients need work to be done.
One of the key highlights of the day, or perhaps the key highlight of the day (because of the extremely favorable audience response), was when Laurent Hebert, creative director of Le Maquillage salon, gave a live demo on how to achieve Selena Gomez's hairstyle.
Before Laurent came with Kwyn, a lot of things happened already. At his salon, he had already shampooed Kwyn's hair and he had already used Pantene's 3 Minute Miracle on her. He then went on to blow dry her hair, and because her hair is heavy, he also curled Kwyn's hair via hair iron before setting it with rollers. He says that girls can also use hot rollers as an alternative, and that girls need not be scared of heat and hair damage when Pantene is around.
His pro tip is that for hair that is protected and flowy, use Pantene 3 Minute Miracle, and take the 3 minute part seriously. Leaving it on for 3 minutes really does give an immense difference, and all that Pantene asks of is just 3 minutes, so do it religiously.
This is Kwyn's first style immediately after the rollers were removed. They used very big diameter rollers on her, which is why she has sexy, flowy waves right after the rollers were removed. She, as seen here, is super happy about how it looks like. The key pro tip is to remove the curlers carefully and not to tug it off in order to make sure that the end result looks like this. Even if it was a live stage demo, Laurent was keen on making sure that he and his assistant, Eric, were taking the rollers off with care.
Apparently, there is a right way to break curls and get that vava voom hair, so as seen here, Laurent has Kwyn bend over. While she was bent over, Laurent tousled her hair, broke the curls, and used hairspray to give it a new form. His pro tip is that for looks that you want to be flowy and sexy, don't use the hairspray bottle too near the head as this is what will make the hair clumpy and stiff, akin to the cold perms we were traumatized of as children. He used the Pantene hairspray and was about 1.5 feet away from Kwyn's head so as to give the new curls form, but to make sure that the look is still flowy.
The reason why he has her bent over, I believe, is because you want to be able to give the hair volume. If you otherwise break the curls while the hair is upright, you will constantly tug on the scalp, which I think will lead to limp hair which is hard to correct later on when the curls are already in place. I'm sure Kwyn's back was sore but she felt like a total celeb because, you know, French hair extraordinaire. And also because we've seen this done on celebs so many times we're all curious and secretly hoping we could try this method, too.
Kwyn was all smiles the whole time as her hair really looked so gorgeous. There were plenty of ooh's, aah's, and gasps from the audience, one I think because her hair looks so nice, but secondly is because Laurent shared a very fresh perspective on doing curls and preventing hair damage.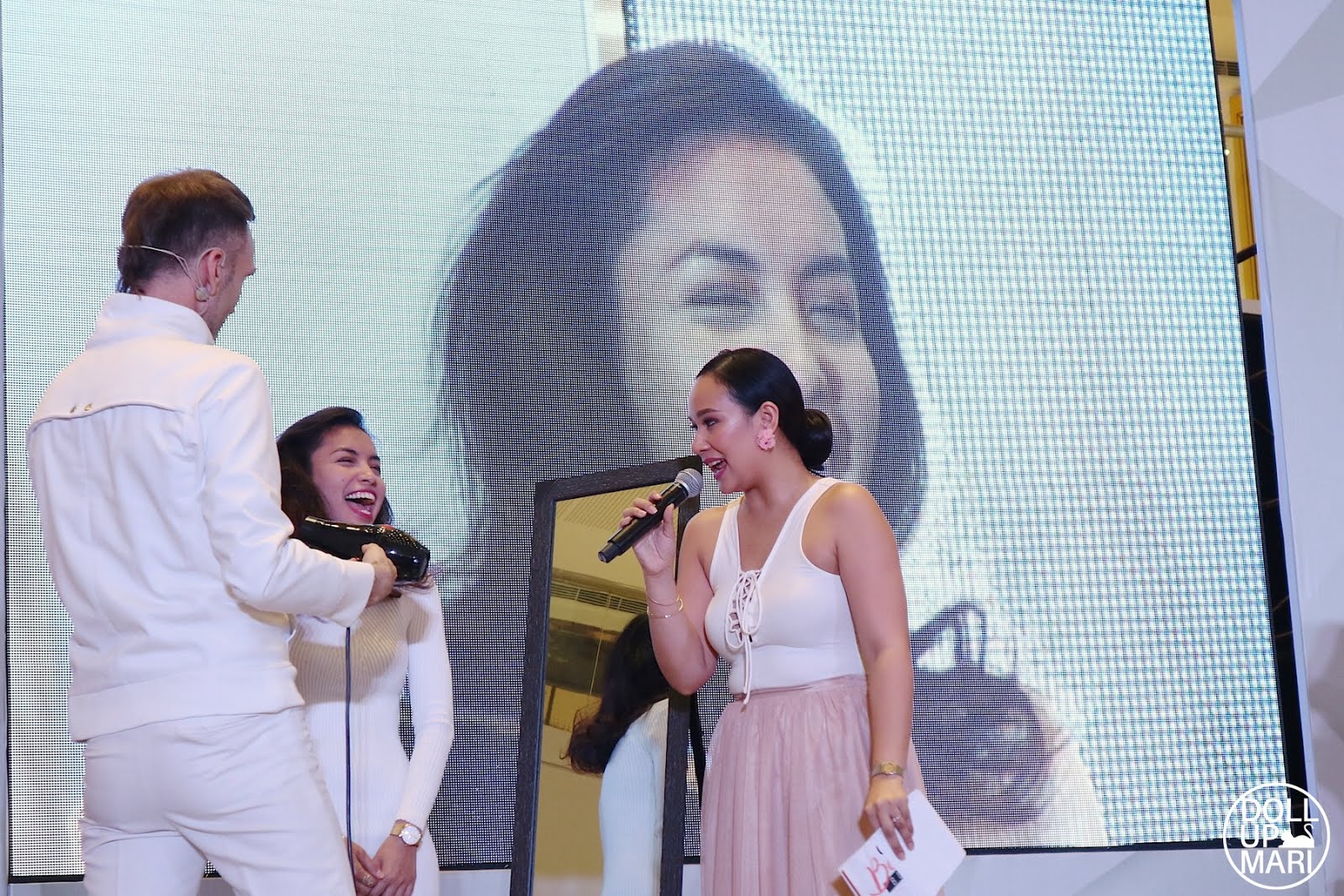 The result is sexy broken curls perfect for any occasion. Her hair was with body and structure, but without the stiffness we usually see when stylists do this kind of hair.
Last but not the least, Laurent also showed how one can turn curls into a sexy ponytail. His pro tip for this one is to use the hairspray closer to the scalp area this time so as to achieve a cleaner look. He still, however, left a lot of bangs and fringes because that's how he personally likes it.
You can be as creative as you want and make pseudo knots and everything using hairpins. He used an ordinary rubberband but covered it with a section of hair. As simple as this ponytail looks he actually did tease the hair so as to make it have body despite being in a ponytail.
And voila, here is Kwyn at the Pantene booth. Everybody was in awe of her hair. When she already put down her hair and left the venue her curls were still so pretty and sexy. I wish I could take Laurent home with me to do my hair hahahah.
But of course, since this is the Cosmo beauty block, there were also a lot of other fun booths by their other partners.
For one, Ever Bilena was proud of having their matte lipsticks win in the Cosmo Beauty Awards.

They also had a lot of Revlon goodies on display, and as far as I know, they sold products at unbelievable sale prices, hence the very long queues to the booth.
Yes, this was the scene the whole day. Staff were constantly bringing out new stocks.
Beauty and Butter also had a display of their products, although I'm not sure if they had a booth activity per se.
EB Girls were busy doing makeovers the whole day.
This event, combined with the plenty of other events I went to that had Pantene as co presenter, has given me almost a year's supply of Pantene already. So till then, I'll be busy using my supplies.
Top Beauty Blogger, Vlogger, and YouTuber from Manila, Philippines