We're obsessed with everything Korean. There's no denying and no turning back now. Every time a Korean celebrity is coming over for a concert or fanmeet, we manage to buy all the tickets and merch within minutes! Samgyeopsal restaurants are opening left and right, but miraculously, all are full all the time. Not to mention all the Korean brands that have already entered the country, plus all the brands that have yet to enter!
Back then, we all had to rely a lot on small online resellers to get our fix of K-beauty brands. Thankfully, SM Beauty has steadily been adding in a lot of brands to its roster throughout the years. Now, they're confident enough to really be center of excellence level for all their branches nationwide in terms of housing K-Beauty brands. They're bringing in a lot of brands, a wide array of collections from the said brands, and bringing them in at reasonable prices.
They invited us to their K-Beauty zone at SM Makati! It's a lot like a mini Myeongdong, coz they really house all the K-Beauty brands you'd find at roadsides in Seoul. They long have had Etude House, Holika Holika, PeriPera, and Club Clio in SM Makati beauty section, so they were already working towards the mini Myeongdong goal for quite some time now. From the neighboring country, they also recently brought in Hada Labo from Japan, so there's no denying SM Beauty is the Asian powerhouse now.
We all have a vision of red-tinted lips, straight brows, and glowing glass skin whenever we think of Korean actresses, so it's nice they have housed all the things needed to achieve that look in one section. So let's take a look at the brands!
They have AHC now. I was not aware about this until the event!
Their mask sheets are so cute!
Speaking of mask sheets, they have so many brands! Mask sheets are integral to K-Beauty, so of course, for it to feel like Myeongdong, there needs to be this feeling of endless selections of mask sheets. I have been trying to use mask sheets thrice a week since the start of Q2 this year, and indeed, there really is a difference if you commit to it. I actually have heard of Korean brides doing like a 60 mask challenge and like doing mask sheets every day from 60 days before their wedding till D-day, and brides have raved about how well it worked! If I ever am blessed with the crazy destiny of ever getting married, I'll definitely try that.
They have house brand Watsons mask sheets and Beauty Buffet in this shelf: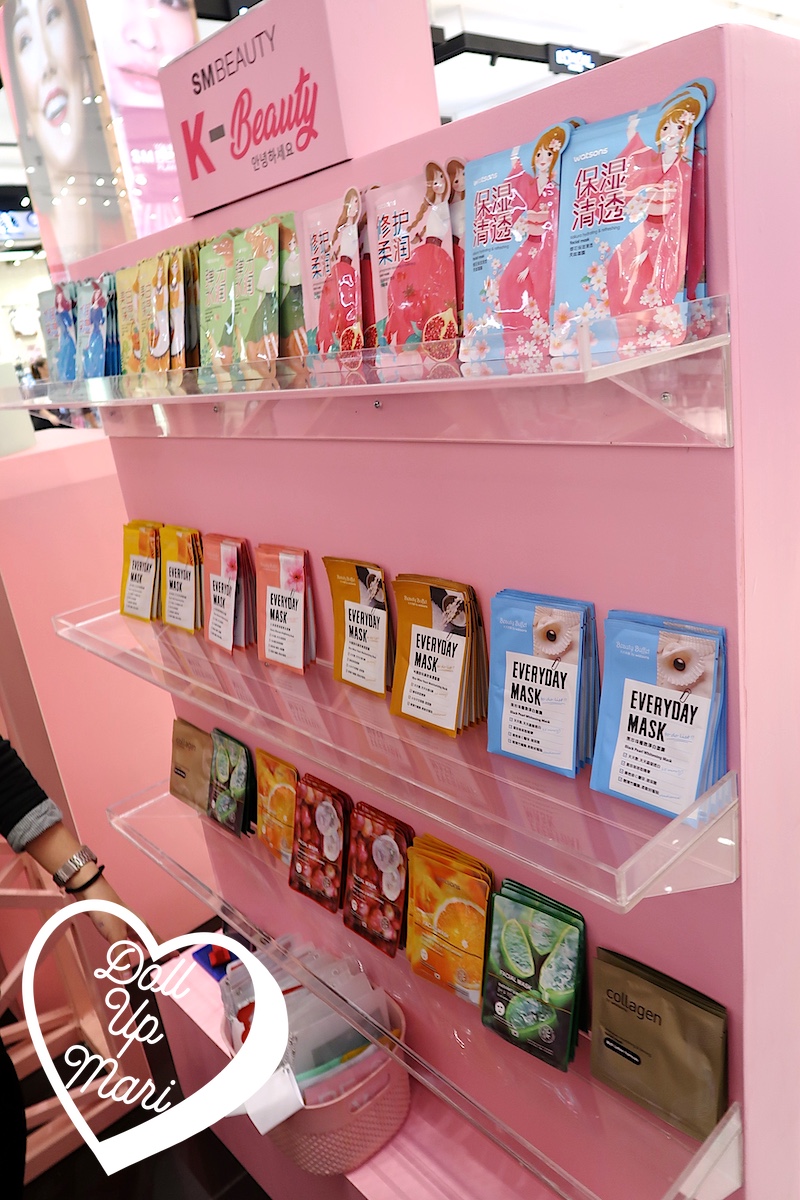 They also have a wide array of products from Esfolio.
As well as Deoproce.
They also have mask sheets for the hands, nails, and feet! There are also charcoal masks. These are from Bling Pop, Purederm, and Dr. Morita.
For any skin concern, Leaders would have the solution. I've been using their masks quite often lately, and I really like how I really get the Korean actress glow with them!
There are also mask sheets from the Collagen line from Watsons, Get It Beauty, and Jayjun Cosmetic.

For those who are afraid of buying full-sized products only to not use up everything in time, QuickFX is there! They are of course famous for their No Shine Mattifier, but they now apparently have CC Cream, Tinted Moisturizer, and Pimple Cream, among others. Definitely eyeing these for my next trip coz they'd be much easier to bring around!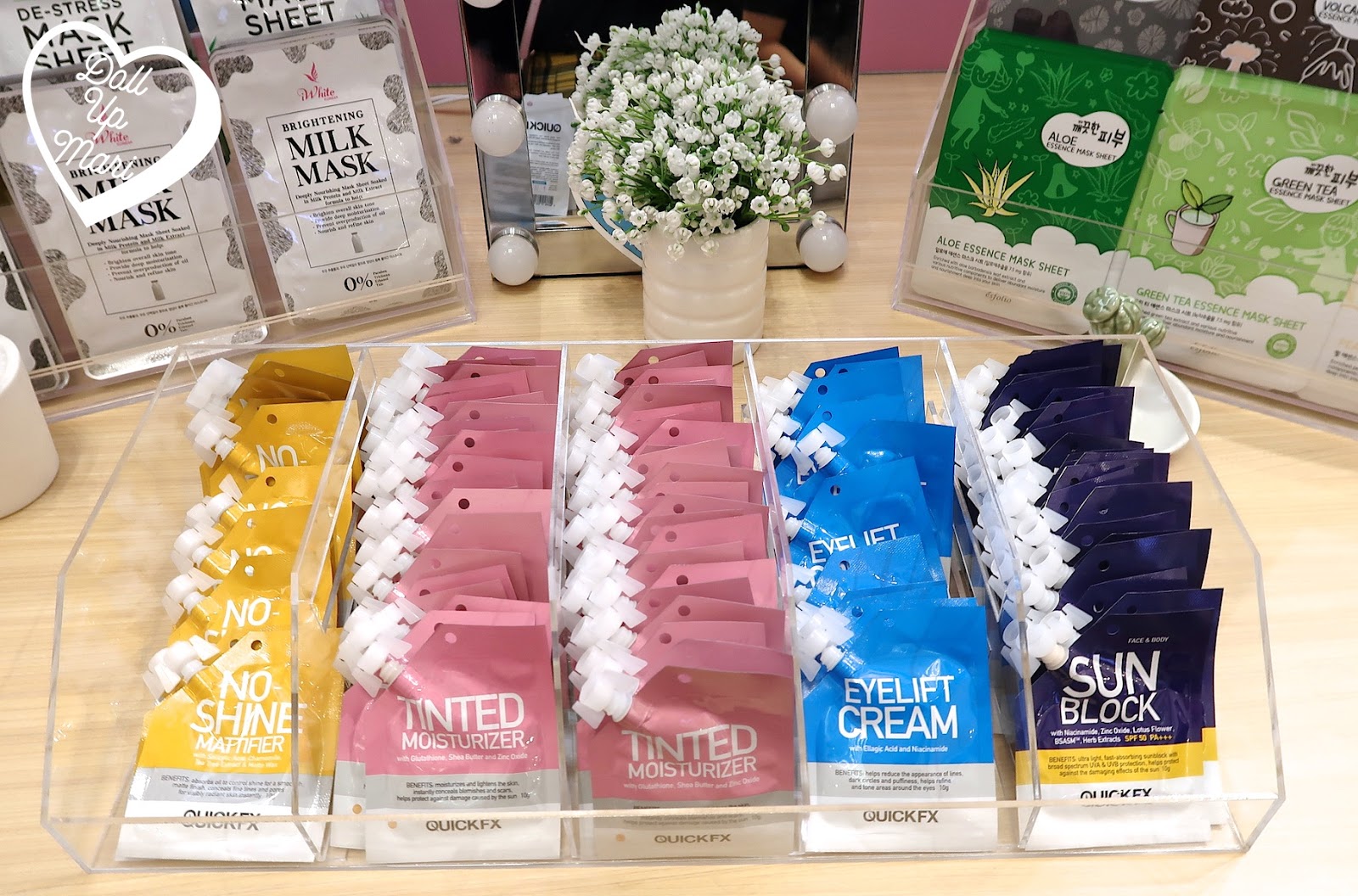 I'm also so happy that SM Beauty took one for the team and brought in COSRX! Almost everybody is raving about COSRX products, and everything they've released so far has been a big hit, so it's really the right time for the brand to be in the Philippines. I remember them having just a few units of a few products in shelves last year, and then the products and the units increased steadily this year. I feel like by the end of this year it's not impossible to be able to find the entire range of COSRX in all major SM Beauty outlets.
Mediheal may be famous for mask sheets, and now they're getting a lot of press for their BTS endorsement, but apparently, they have Aloe Vera gel now! If y'all are looking for a new brand to try, here's one.
Banila Co has upped the ante and has been faster and faster in bringing in product releases. The Philippine counterpart is almost in sync with Korean releases already if I'm not mistaken. Or if there is a lag, it's no longer that obvious.
For those who are looking for a local brand with a K-Beauty collection, definitely, there's BLK Cosmetics for that. It's important that they're here because realistically, Korean makeup is about really bright red lip products and pale base products that a lot of shoppers in the Philippines might not find the shades they need from Korean brands. With brands like BLK, they release items in response to Korean trends, but release it in color palettes suited for Pinay skin tones.
And tee hee here's me posing with Get It Beauty mask sheets
And a selfie with Martin and Kaye
And this!!! Hahahha. They asked us to come in K-Pop star-inspired outfits, and so I ordered a choker, a new top, and fishnet stockings. I really wanted to copy the Challenging Jennie pose because it's really one of the funniest Jennie memes of the year. Jennie always has new memes made about her, but this one was one of the epic ones hahaha
Definitely, for all your K-Beauty needs, SM Beauty has got it all for you!
Doll Up Mari: Top Beauty and Female Lifestyle Blogger Manila, Philippines