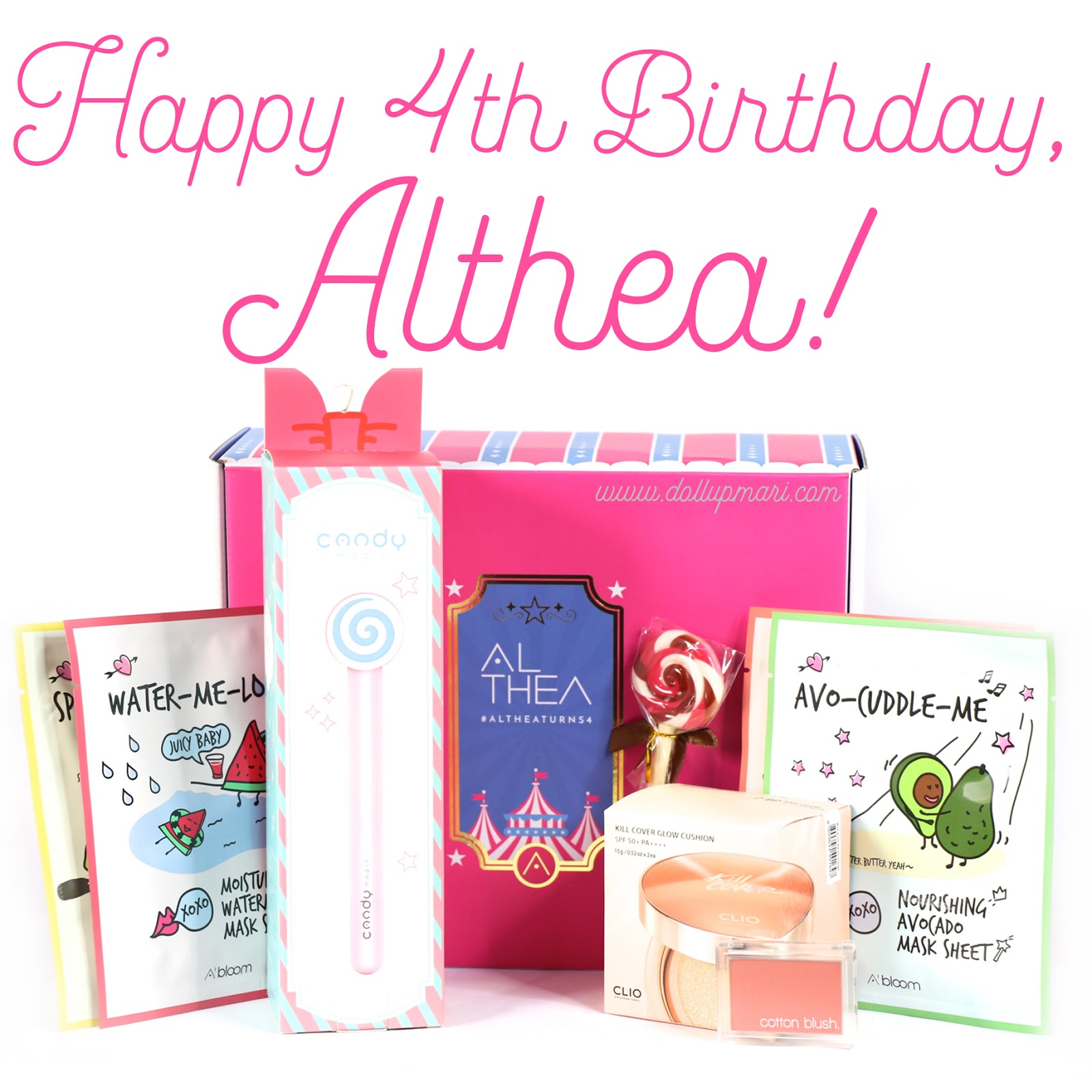 What it's already been 4 years?! Time flies so fast!
Happy 4th Birthday, Althea!!!
And that also just means we've already been spoilt rotten with a delightful K-Beauty shopping experience. I've already been saying it for the past 3 years (3 years since they entered the Philippine market) that Althea is really the best when it comes to packaging, getting items right to your doorstep on time, and making sure that items are authentic and new. The pink boxes in the pink courier pouches have already had a delightful image, and it's always a pleasure to see one.
To celebrate, I also got myself some goodies! Here they are!

First off, the box is so cute! This time, they went for a carnival theme. They have gone for balloon themes and cake themes in the past years, and it's always fun to look forward to the special boxes they'll be doing for special occasions.
And here are the items I got!
First off, I got
Candy Magic Mini Hair Straightener
in Mint (Php790). This is soooo cute, and I love how it's multi-volt, so you can use this comfortably whether you're in the Philippines where 240V is used, or in countries such as Japan or the US where it's 110V that's prevalent. The only sad thing is that I got a defective unit, so even after 30 mins of this plugged in a 2.5A adapter, the plates are still warm to the touch. My schedule is so hectic right now so I don't know if I'll be able to return this, but it's supposed to be working quite well as I've seen reviews of people being able to curl their hair with this iron!
Second item in this haul is
CLIO Kill Cover Glow Cushion SPF50+ PA++++
(Php1540 for 2X 15g). This is one of the more popular cushions at the Hoahae rankings the last time I checked, so when I saw this at Althea, I knew I had to get one. Hoahae is like the Cosme app, but the Korean version, where consumers can rank and aggregate information on various beauty products.
I've also been getting tired of matte finish foundations altogether, so I've been looking for products that promise a dewy finish like this one. I feel like I look so tired when my foundation or cushion formula looks too matte, even if I inherently have oily skin. Like if it's too matte, even if I apply a lot of highlighter, strobing cream, and set with a moist setting spray and aloe vera spray, I still look dull.
I got the shade Lingerie. I don't think I'm exactly this white, but I think that the pinkish undertones of this shade work better on me than the other fair shades in Club Clio's range.
Third item on my haul is
Missha's Cotton Blush
(Php310 for 4g). I've been seeing blogger friends post about this, so I got curious. With all the rage for clay blush and autumn-inspired shades for cheeks as of late, I understood what the hype was all about. This is a lovely peach pink shade that I think will look flattering on a lot of skintones. Korean brands used to make peach shades too brightly that the result doesn't look flattering on everyone. This has a nude brown base, which is why I think the peach will look universally flattering.
BTW, this is the shade Vintage Robe.
From Althea's A'Bloom range, I got myself a
Mask Variety Pack
(Php320 for 12 Sheets)! I've been hearing a lot of raves about their mask range, and thought that it'd be nice if I had more of the masks to be able to evaluate them. I usually think that it's more accurate when you use up several sheets of a mask before making a predicament. Sometimes when your stress is too excessive, or you've been exposed to too much pollution recently, even a good mask sheet will not look so magical. It's better to see how a mask works on you when you're at differing stages and activities in your life.
As a present, they sent a lollipop pen! So cute!!! They always come up with all sorts of cute stuff every year, and it's always a pleasure to see what they'll come up with. They also sent a balloon this year. I remember receiving a party hat, mini Althea boxes, and cupcake toppers for past Althea anniversaries. They always got something up their sleeve.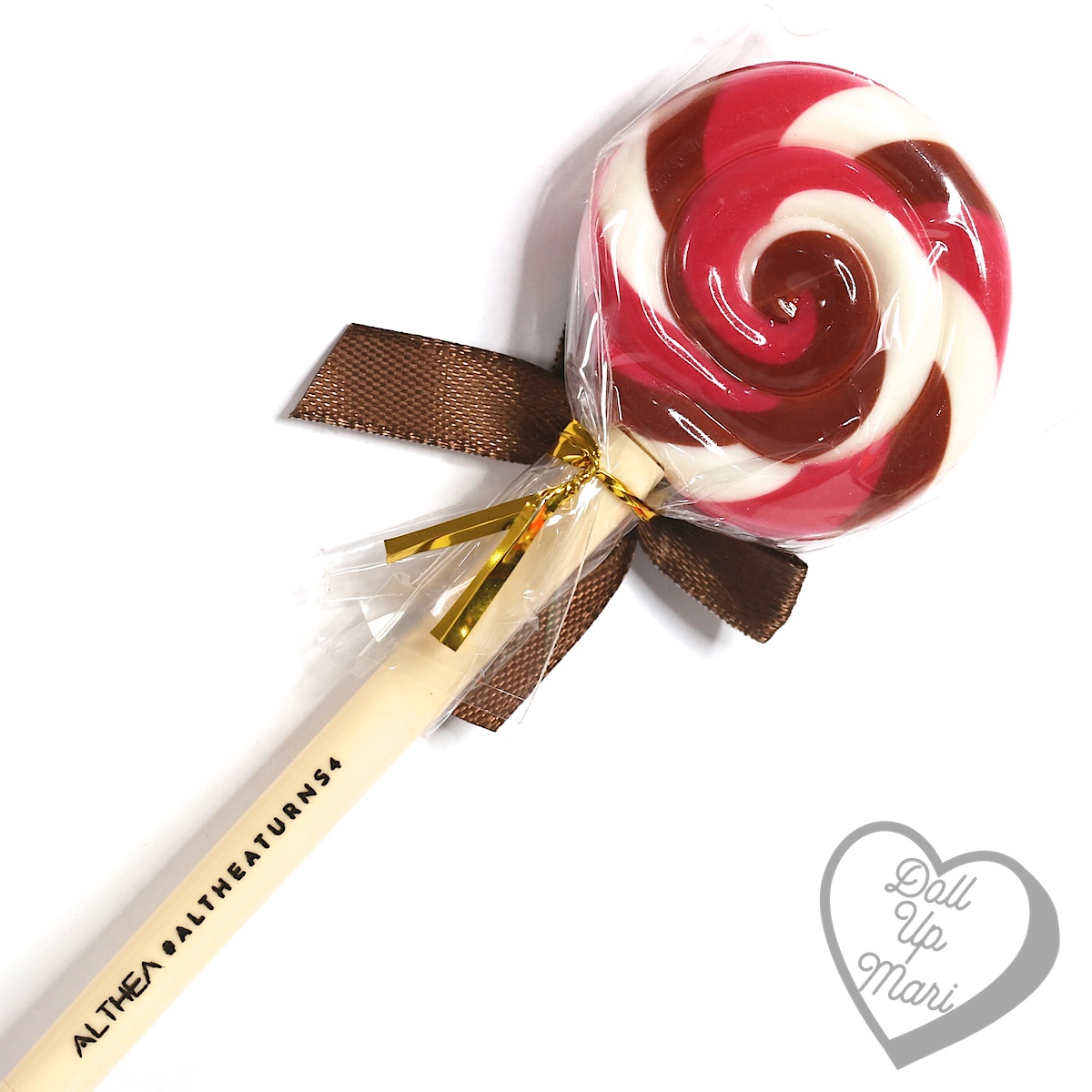 And there's also a raffle! Purchases made within July 1-31, 2019 are eligible for these raffle stubs, subject to availability. They'll choose the winners next month. So much Althea Magic Points to be given away! Here they are:
USD200 worth of Althea Magic Points (3 winners)
USD50 worth of Althea Magic Points (5 winners)
USD20 worth of Althea Magic Points (10 winners)
USD10 worth of Althea Magic Points (20 winners)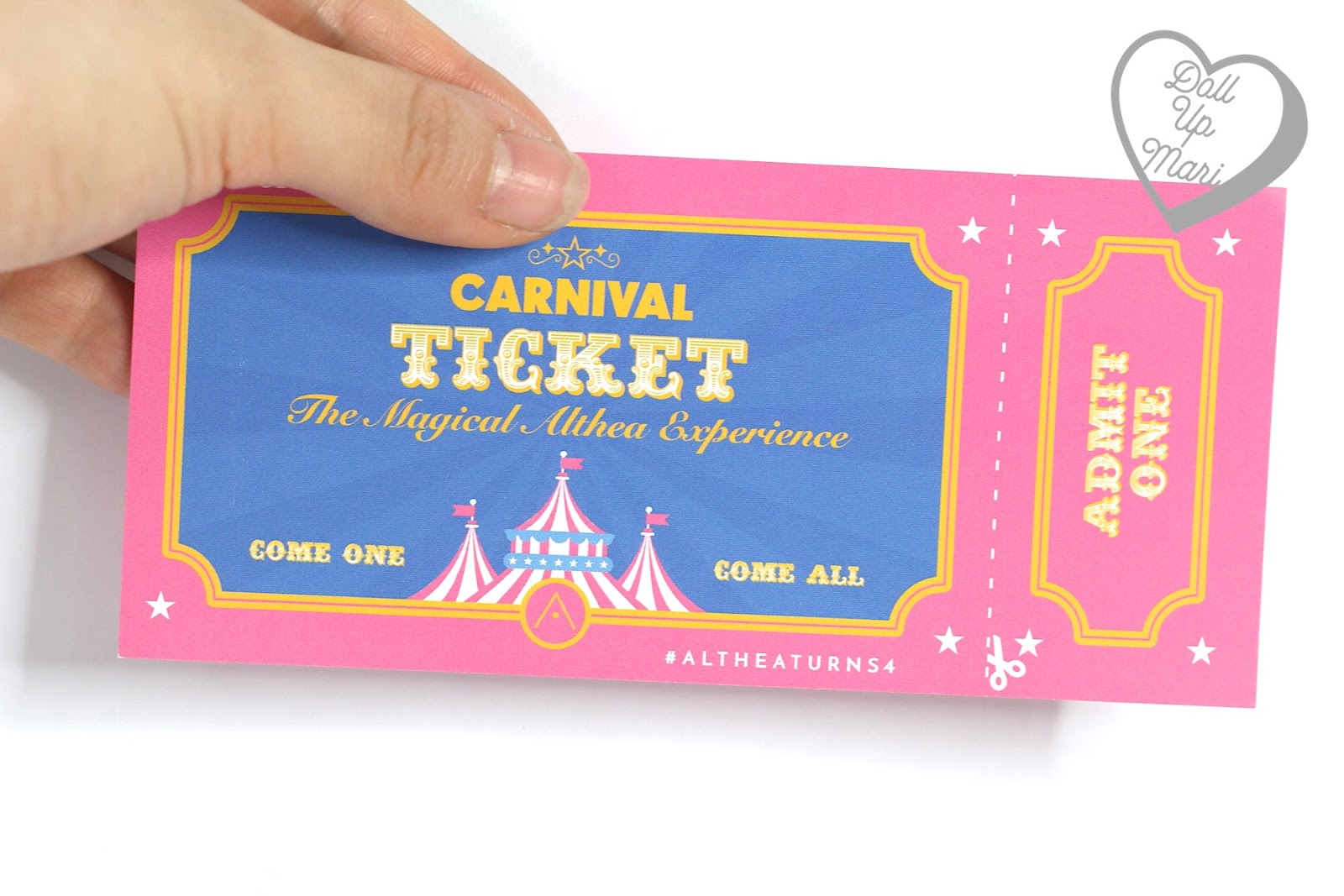 What's more, they're giving away a trip to Korea! Fans who shop and post their Althea birthday boxes on IG stand a chance to win a trip for 2 to Seoul and tickets to Lotte World,
subject to T&C
. Participants of their IG contest also stand a chance to win USD500, USD300, or USD50 worth of
Althea Magic Points!
There are also discounts and deals left and right on the website if you pay attention, and new arrivals almost daily. So what are you waiting for? Shop now!
Doll Up Mari: Top Beauty and Female Lifestyle Blogger Manila, Philippines