Pizza Express is now at Megamall!!! For those who are craving for the freshly baked pizzas of the British chain, y'all can now get your fix at Megamall. Pizza Express is smartly accommodating the metro, with a branch at Uptown Mall BGC for Makati/BGC and south people (for now), SM North EDSA for north people, and now this new branch at Megamall, establishing its hold of the middle of the metro. This is the largest store in the country to date, and if anything, its great pizzas will bring it to bigger and bigger spaces.
I was so excited to have been able to try all the good stuff!
For the curious folks out there, Pizza Express is an Italian restaurant but is a British chain. Peter Boizot, the founder, wanted to bring authentic Italian food to Britain. The first store opened 50 years ago in London. Good pizza is good pizza, so the chain quickly spread to many countries. The Philippines is among 13 countries where you can find Pizza Express, and this Megamall branch is its 630th store.
Children definitely will not get bored as Pizza Express has an open kitchen. This way, another perk is that as the pizzas are baking, the lovely smell wafts through the whole restaurant.
We were quite a lot of guests, and the staff could probably see the hunger in our faces, so they were in crunch time. I commend them for working so efficiently. Usually, in closed kitchens, you can shout and bark orders and stuff, but in this kind of setup, they need to be graceful under pressure and keep their voices at an optimal level.
Chef Dan Segall expressed how excited he was that slowly but surely, Pizza Express is having the chance to introduce authentic Italian cuisine to the Philippines. He has been going around SEA Pizza Express stores to train and monitor things, and hopefully, he'll be back in Manila more often in (hopefully) more Pizza Express store inaugurations. The DNA of Pizza Express is really just all about bringing good Italian food to people from halfway around the world, so it's important to pay attention to the details to uphold the authenticity of the way the food is made.
Okay now let's get to the food!
First off is the Lemonade "Pizza Express" (Php120). This is sooo good!!! I was expecting powdered commissary lemonade to be served, but instead, this is a refreshing cocktail of sparkling water with lemon juice (and for sure some other secret ingredients). They serve this with a tiny tub of syrup and you can add according to your liking. This is honestly one of the things that left the strongest impression on my mind that night as it was mind-blowingly good.
Their Mozzarella and Tomato Salad (Php275) is a combo of tomatoes, cherry tomatoes, and mozzarella, drizzled with a pesto sauce. This is definitely the salad to go for if you want something fresh and light. I also found the combo of tomatoes and cherry tomatoes interesting, as the textures and tastes were varied.
I was also able to try their Bosco Salad (Php430) and Chicken & Apple Salad (Php380) as well. The Bosco salad is perfect for those who are obsessed with mushrooms and prefer a vinaigrette. If you are like me and are fond of lots of fruits and nuts in a salad, the Chicken & Apple salad is laden with tons of walnuts and dried cranberries, in a creamy dressing.
As for starters, their Truffled Parmesan and Mushroom Dip (Php285) is the real deal, the show stopper, the scene-stealer. If you are fond of anything truffle and mushroom, you will totally love this. Their dough balls taste so good! Imagine the taste of pizza crust, but made soft and made into a ball shape. Unless you were the child who forcefully shoved your pizza crusts down people's throats, you will fall in love with their dough balls. The dip is best enjoyed hot, as it's a gooey concoction of cheese, truffle cream sauce, and loads of mushrooms. This is one of the best dishes to order if you want to forget the stress you went through the day.
As for pasta, here's their Spaghetti Frutti Di Mare (Php495). Diners are treated to generous helpings of mussel, squid, and shrimp.
And another house specialty is their Spaghetti Carbonara (Php355). There are thousands of places that offer Carbonara, but what makes this memorable for me is the absence of commissary cream of mushroom soup. In most restaurants, if you will notice, the carbonara tastes like store-bought white sauce or cream of mushroom soup. Usually, it's just a battle of who can sprinkle more bacon onto their carbonara. The Pizza Express version, on the flip side, has a 'less polluted' taste as it's mainly fresh cream with the taste of cheese. It competes in taste, not through the amount of bacon heaped on top, but instead with a freshly prepared gourmet sauce. I want to reorder this at my next visit!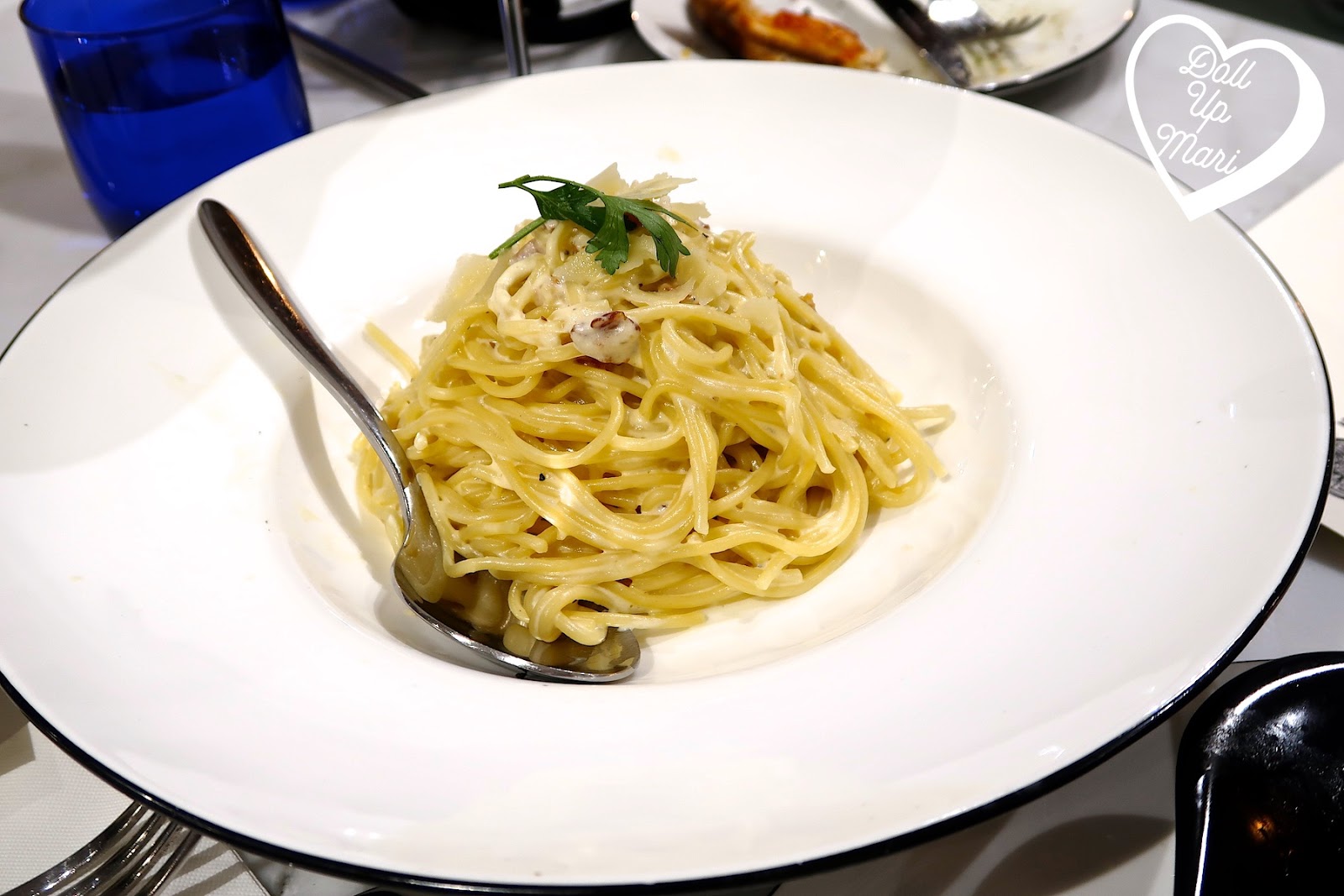 As for pizza, theirs is uniquely theirs. The crust is not thick. But it's much moister and softer compared to the general notion of what thin-crust pizzas usually are. Their pizzas are perfect for my mom who prefers thin-crust pizzas but is very very sensitive to crust stiffness. We shall see when I bring her there!!!
I was able to try their Campana Pizza (Php510) which, to me, is unique thanks to the ground pork on it. This also features sausage crumbles, kale, and mozzarella.
Another memorable one is their Le Rose Pizza (Php520), which I super liked thanks to the prosciutto on top!!! I like how the other relatively milder toppings balance out the strong prosciutto, so it's the perfect kind of savory. It's no longer good when it's too much of a savory item, so this is just right. This is sort of one of the flagship pizzas, so if you can't decide, it's a good idea to go for this one.
For dessert, we got to have Gelato (Php120)!!! This is supplied by Manila Creamery, which is why the texture is perfect. This is one of the few instances I was able to feel that this is truly gelato and not ice cream as the texture was smooth, creamy, but light and fluffy.
And as for selfies!!! One with Alexa who was my classmate back in elementary!!!
And with Sab whom I have not seen for ages.
For good pizza and a great array of Italian dishes, head on down to Pizza Express, 3/F Mega Fashion Hall, Megamall! If you're from the north like me, head on down to G/F Main Building, SM North EDSA!
Doll Up Mari: Top Beauty and Female Lifestyle Blogger Manila, Philippines