Sarah G is known as first and foremost, phenomenal singer. And then throughout the years, she's proven her prowess in dancing and acting. For some, she's also a fashion icon. Given that there is a multifaceted side to her talents, it didn't come as a surprise that when she came up with a makeup line, the products are multifaceted and multitasking. Pop Studio is all about affordable but high quality finds that will soon become irreplaceable staples of your kikay kit. Here are some of the good stuff to watch out for!
Pop Studio Hits Matte Lipstick and Lip Balm (Php249) is lipstick and lip balm rolled into one, but really rolled into one! There are a lot of brands that market their lippies as hybrids of lip balm and lipstick, but they only mean a lipstick that's comfortable to wear. Pop Studio really does have a little tub of lip balm at the bottom!
BTW this is shade 03.
See?! See?!
I really think this is a class act from the brand because I've seen tons of brands use the bottom tub on a lippie for color guides. The moment you send in an inquiry with the brand, they'll tell you that you can't use the product in the bottom and should only use it as a color guide alone. I like how they created this product where everything really is consumable. I guess the tricky part is that you'll really need to open the tube to check the shade, and that if you own more than one, you can't unscrew several at a time as you might misplace the labels.
Pop Studio Lip and Cheek Tint Duo (Php299) might sound basic, but it's really twice the product rolled into one! Most brands usually label their tints as lip and cheek tints to state that the product can be used on both areas, but for Pop Studio, there really are two tubes.
The tricky part is it'll take some time to remember which tube has the applicator for the cheeks and which has the applicator for the lips. You'll have to put in some effort to remember that the tube with the logo and label has the lip applicator, and the blank one has the cheek applicator. This is also my guess that the flat applicator is for the cheeks, while the doe foot one is for the lips. It doesn't really take too long to get used to remembering the tubes, so it's not much of a hurdle. I really appreciate the gesture because I think it's more hygienic to have one applicator and one tube for each area.
BTW this is shade 'Reds 02'
Pop Studio Falsetto Lengthening and Volume Mascara (Php249) is a great choice for those who want to have fanned out lashes.
There are two silicone ends to this, and my guess is that the carrot shaped one is the volumizing one and the slender one is the lengthening one. This is based from the characterization of my other mascaras tee hee. Silicone wands mean that you can easily achieve defined but still separated and fanned out lashes. I'm not sure though if the mascaras on each tube are of the same formula or of a different formula.
Pop Studio Majors Eyebrow Pencil and Brow Mascara (Php299) is yet another nifty product as it's going to reasonably help people achieve volumized brows. Past theory is that to make your brows look fuller, you had to draw them on thicker, or use a lot of pencil, but now we know that the result is just over harsh brows. The key to make brows fuller is to have a certain level of background color going on, but to fluff up the brows with brow mascara. I actually use eyelash mascara to volumize my brows! I no longer use as much eyebrow pomade or pencil as I did back then as I realized that it's mascara that makes the brow hairs stand the way you want them to and to be volumized.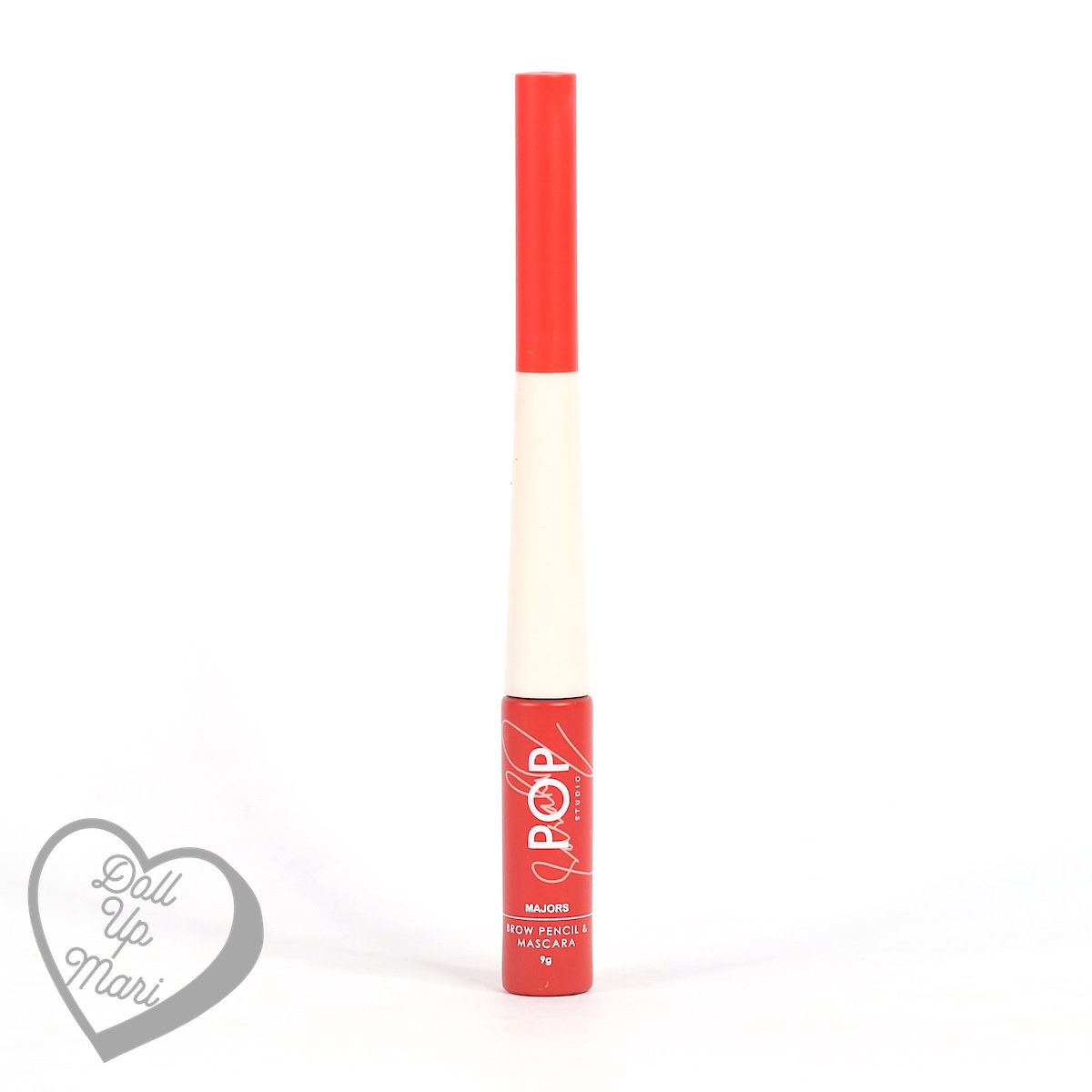 The other important thing with brow mascara is that it gets people out of a vicious cycle of over plucking and overdrawing!!! Usually, some brow hairs are a bit long that they look like they're out of place, so the tendency is to pluck them out, only for the bald spot to need overcompensating with lots more pencil or wax. The key is to actually use a mascara to brush such hairs to the right place, and to set them in that position. If you saw Catriona Gray's makeup tutorial, she actually uses lash glue to set those kinds of unruly hairs in place!
BTW this is in the shade Taupe 02.
Pop Studio Minors Liquid Eyeliner Pen
(Php249) is perfect for those who like to do a good winged eyeliner look. You can use the thin side to outline the wing, then use the thick side to shade. Or some people actually will use the thick side to shade in everything first, then just use the thin side to make a flick. No matter what look you wanna do, or how you wanna use this product, the possibilities are endless.
Pop Studio Covers Foundation Stick and Liquid Concealer (Php349) is the perfect base makeup product for people on the go, as it's so compact. I learned from brand managers that they usually will bring in foundations in heavy glass bottles, because of Filipino tendencies to think that if it's a heavy glass bottle, they're getting more product. Even if it's impractical, there are consumers who will buy bottled foundations because it seems like the more generous choice, despite tubes being able to hold the same amount of product with much less bulk and weight. This is why I think it's a breath of fresh air to see a foundation in such a compact packaging. 4g is already actually enough for at least 6 months I think, so even if it looks small, it's actually quite a lot of product already.
And yes, they did manage to sneak in one whole concealer in this compact product! The concealer is 6g, which might also sound like it's a little, but actually is a lot. I used a 6.5mL tube of concealer for over a year!
BTW this is in the shade 'Light 01'.
Pop Studio Tones Blush and Contour (Php349) is already both blush and contour in one pan. On one aspect, I appreciate that they already had the right amount in the pan, as most people will take at least a year to actually finish one full sized pan of blush or contour. This is the right kind of size that a person would be able to consume before the product's expiration date. Although I'm concerned about how this might end up to be if it ends up cracking. I'm also concerned about how one is not gonna accidentally pick up blush pigments if one just wants contour, and vice versa.
Pop Studio Duets Mattifying & Coverage Powder (Php249) is something which I think utilizes the dual pan better. If I use a coverage powder, I feel like the texture is sometimes too heavy. On the flipside, if I use a mattifying powder, I feel like my dark under eye circles are not covered. So why not have a powder already with both?
And those are the goodies!
Doll Up Mari: Top Beauty and Female Lifestyle Blogger Manila, Philippines