Clio Professional Rouge Heel Velvet Lipstick (07-Bird Kiss) Review

Clio Professional Rouge Heel Velvet
is Clio's foray into super matte lipsticks. The name comes from the lipstick's design inspired by stiletto heels, with matching color-matched case bodies and sleek one-click casings. The promise is high-intensity color and impressive pigmentation in just one effortless swipe, and a luxurious and long-lasting powder matte texture. This review is for the shade
07-Bird Kiss
.
Texture Scale:
Clio Professional Rouge Heel Velvet Lipstick is definitely the ultimate matte lipstick in the universe. It's the winner in all aspects. The finish is ultra-matte, the texture is a dream, and the color payoff is so intense that each shade really can define one's entire look.
Of course, the packaging and presentation are amazing. The lipsticks themselves are shaped like sexy stiletto heels for optimized application, especially on the lip area by the cupid's bow. The casing is a sleek black one-click cover, which takes a bit of time to get used to using, but is definitely a gamechanger once you're used to it.
The texture is a dream. It's like a mousse tint turned into solid lipstick form. It glides on so smoothly without any skidding, has a thin and wispy feel, and has no hot or sticky feeling at all. The finish is perfectly matte, but there's no annoying powdery feeling on the lips at all. It's really comfortable to wear, and it's also enhanced by the fact that since this is so pigmented, one can get away with applying just a comfortably thin layer, instead of needing to pile it on.
The other benefit of it having such texture and color payoff is that one can apply a layer thin enough so that it won't keep on moving around. Usually, one piles up a lipstick because it hasn't colored the lips, but by the time it does, it's already moving around so much that it gets off too easily. This can last even through the night assuming you won't eat nor drink. It also leaves quite a good tint on the lips so there's that, too. But if you intend to eat, you'll really need to retouch.
Perhaps the only barrier to consumers is the price, as it's steep with respect to drugstore brands, and also not the cheapest choice when compared against Korean counterparts. It takes quite a bit to buy one, but indeed, each one is totally worth it.
––––––––––––––––––––––––––––––––––––––––––––––––––––––––––––––––––––––––
A bright and cheerful coral pink.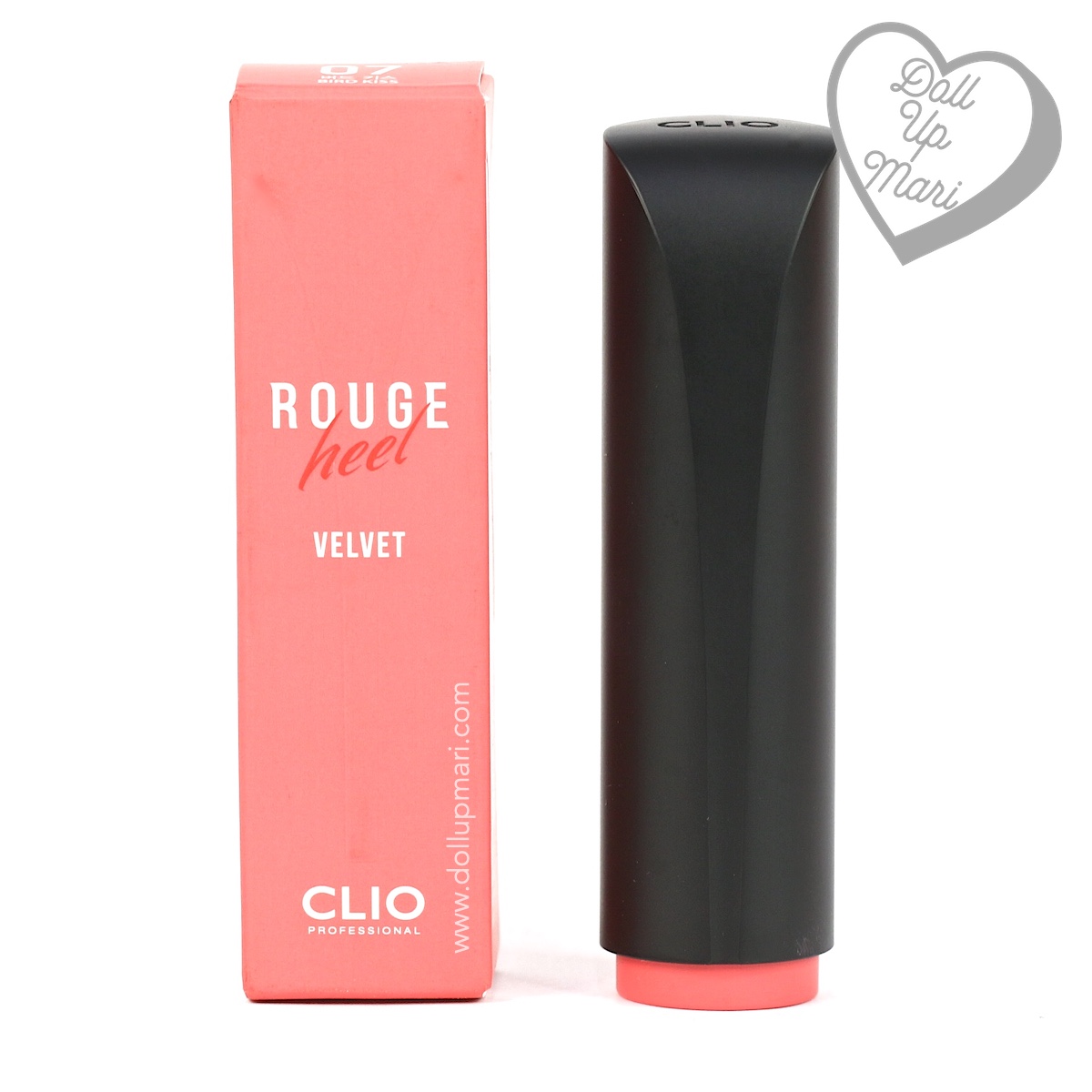 Clio Professional Rouge Heel Velvet Lipstick (07-Bird Kiss) Box and Casing
Clio Professional Rouge Heel Velvet Lipstick (07-Bird Kiss)
Clio Professional Rouge Heel Velvet Lipstick (07-Bird Kiss) Zoom
Clio Professional Rouge Heel Velvet Lipstick (07-Bird Kiss) Swatch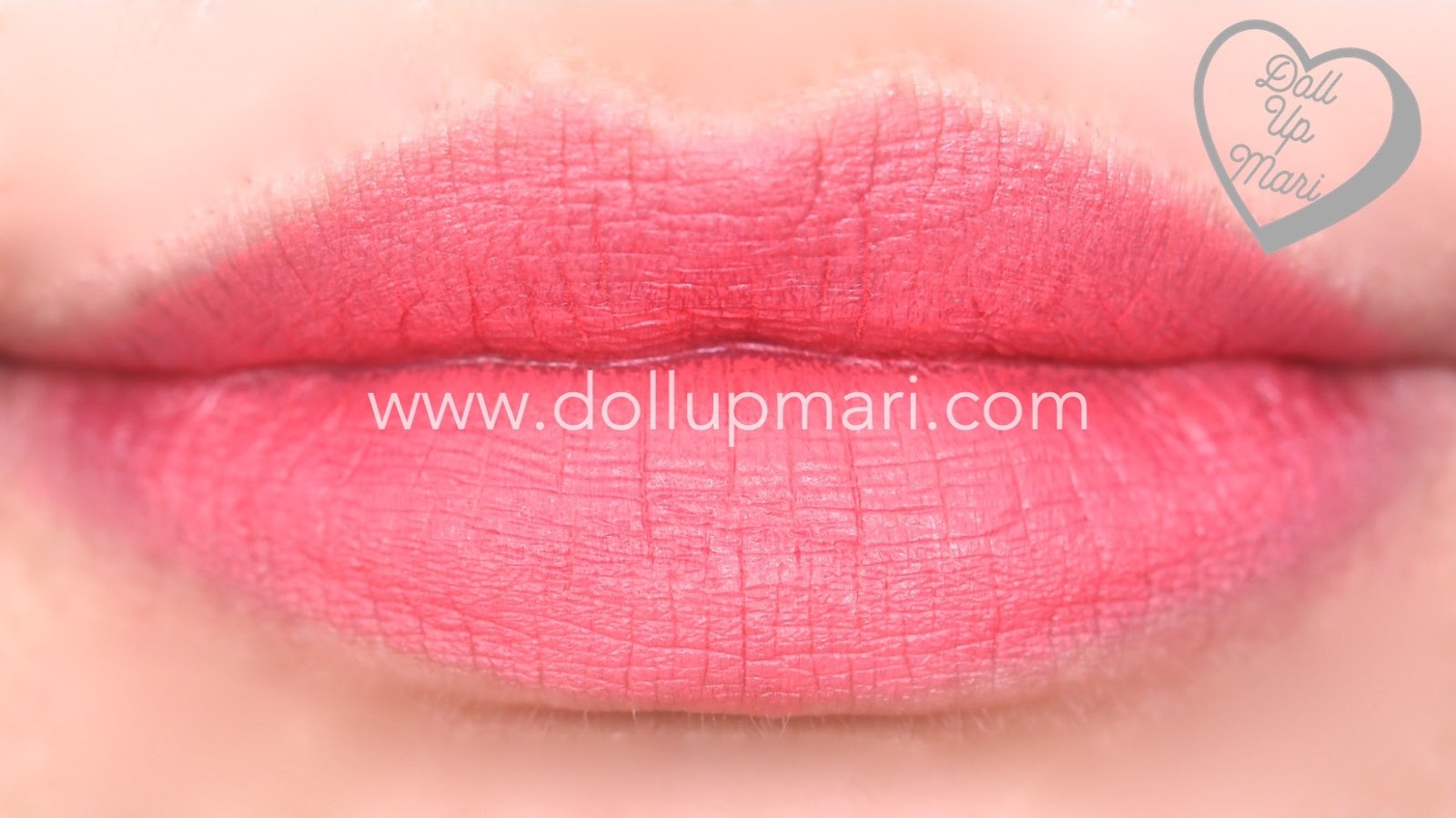 Clio Professional Rouge Heel Velvet Lipstick (07-Bird Kiss) Lip Swatch
Doll Up Mari: Top Beauty and Female Lifestyle Blogger Manila, Philippines