It's always so nice to be able to attend pocket events after 2.5 years!
Cetaphil's Ultra Protect Bar Workout Series
is by far the second event I attended this year. Since the pandemic started, almost everything transitioned to seeding (i.e. sending stuff over). It's been quite complex to organize events due to all the scheduling and logistical hurdles given the pandemic, so I feel like we have yet to just resume in-person events.
But anyhow! Cetaphil invited us over to One Life studio at Estancia Mall to have a private pilates session to discover their Ultra Protect Bars. Cetaphil has long had soap bars, but something that's often overlooked is that their bars are anti-bacterial! Cetaphil's soap bars have what's called "3D Derma-Mimic Technology" which means that the bars cleanse your skin at an antimicrobial level while repairing and strengthening the skin barrier against water loss. We've all had to use so many antibacterial soaps and alcohol sprays in this pandemic, and at this point, I think everyone has experienced some sort of skin dryness or irritation by now. I do have flakiness at times due to all the washing needed in these trying times. I really appreciate this technology from Cetaphil as most hydrating bars do not have an anti-bacterial feature.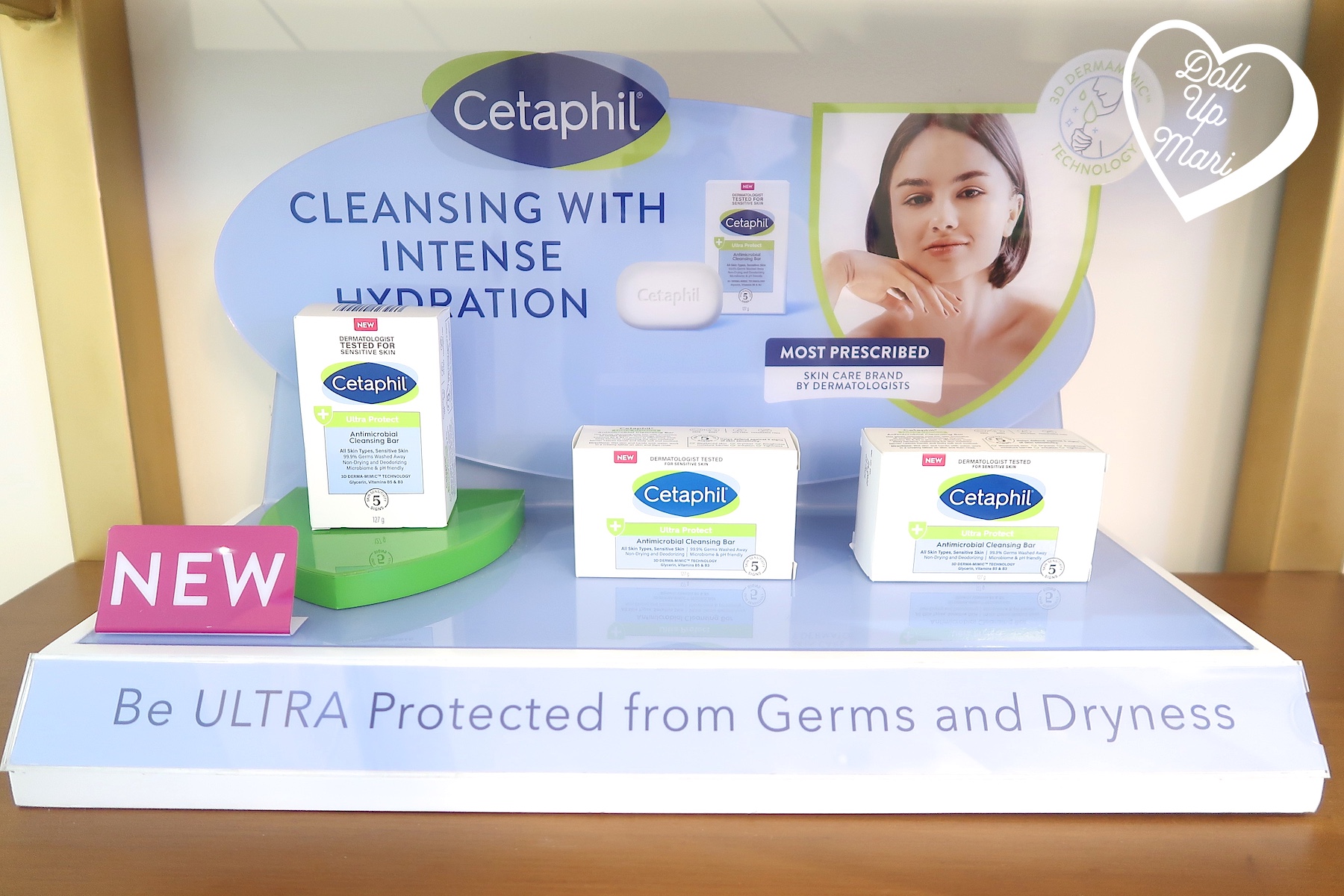 Cetaphil's other products were also on display. They've had some repackaging this year, as well as some new additions to their collections, so this was sort of a sneak peek to all that.
For those curious, this is how One Life studio looks like! I was actually a bit intimidated when I got here because I have poor flexibility. I have tried pilates-based classes before and ended up disliking them because of how confusing and boring the classes were. But when they explained that we would have an instructor pay attention to each one of us, I felt relieved because I sorta knew that the instructor would let me do something that I can do at my own pace. I have very flexible hips but very very stiff hamstrings, so I really can't do a lot of the reaching most other people can easily do.
Representatives from One Life go ahead to explain the studio's amenities as well as how glad they are to be collaborating with Cetaphil. One Life studio is named as such because hey, we only have one life. People easily forget that aspect and neglect various aspects of their health. In a sense, pilates and Cetaphil come hand in hand towards better health in different ways. Pilates brings forth a healthy physique. Cetaphil brings forth healthy skin.
I got to take some selfies before we began! The event was a pocket event and was very intimate, as the studio had only 5 or 6 stations. They wanted each attendee to have fun and be paid attention to, especially since most of us were not knowledgeable about pilates. I exercise quite often and am used to moving about and being active, but I'm really just not flexible in my hamstrings, which is why I've avoided pilates-like exercises nyahahaha

And now, for the staged photos hahaha. While we were actually executing the exercises, the coaches were very busy monitoring our form and making sure that we were able to follow the movements. This is why there was no time to take photos. But I really wanted to have souvenir photos of me seeming flexible and cool, so here are those staged photos.
I've been used to exercising without a mask, and I was glad that this workout was a mask-on workout. We also weren't doing high-impact movements, so I didn't find myself catching my breath during the workouts.
The pandemic shutting down al PR events also meant that I haven't seen my blogger friends in the longest time! So nice to have seen Gretchen after ages.
And of course a group photo with the lovely ladies of One Life. I'm so glad they did not give up on me despite my stiff hamstrings hahaha. I had a great time working out under their guidance because they made me do moves that were challenging, but still within the realm of what's possible with my body. I had a great time experimenting with the various machines.

Cetaphil Ultra Protect Bars are available at stores stocking Cetaphil as well as Shopee and Lazada for Php390 per bar.