I have always known Dolly Wink but have always just looked from afar. I've seen it in the blogs often enough to remember the products, especially the eyelashes. For years now, I've been hearing praises about the whole Dolly Wink line, not just the falsies. Funnily, it's only now that I get to actually try and see what everyone's talking about.
In a nutshell, Dolly Wink is a makeup line created by Tsubasa Masuwaka in cooperation with Koji Honpo Company. Tsubasa is kinda like the queen of the gyaru's in Japan. The gyaru subculture, on the other hand, is all about looking naturally glam, and with mesmerizing eyes. The reason why Tsubasa has an eyelash line was because she was the pioneer of lower lashline falsies. Gyaru is different from Ullzang because ulzzang is more about the skin and the fresh face while gyaru is onto a more glamorous direction and that upper falsies are really a must. You can probably excuse yourself from the lower falsies if your lower lashes are 0.5cm long or longer (which is most probably not the case for the majority)… I shake my head everytime someone says 'oh look at my gyaru makeup!!!' but there aren't even any pairs of falsies on! Not even the upper falsies! Please call it Ulzzang instead…
So much about that hahaha. This review is on their eyebrow powder. I was browsing the shelves in Log On Taiwan when I saw this. In Hong Kong, I haven't seen testers for Dolly Wink yet, especially in Sasa, and if there are testers, they're just not conspicious enough. Thankfully, the testers for Dolly Wink products in Taiwan was just so visible that I swatched this eyebrow powder out of curiosity. I was so amazed with the fine milled texture and the pigmented nature of the powder that I bought in on the spot. It was really pricey at 500-something NT (like 750-800 pesos) given that it comes with no waxes or stencils or whatever add ons, but I think it's a standalone star.
As for why I got honey brown, it's because this is the lightest shade available. In general, my face looks meek and innocent that I prefer to use light colored eyebrow products because if I use legit products for brunettes, I look snobby, or if not, I look like a meek sheep with eyebrows. For me to be able to pull of dark eyebrows, the rest of the makeup has to be dark, too, and that's not what I go for most of the time…
For those interested, here are the ingredients. (I know it looks small here on the blog itself but if you right click and open the photo in a new tab you'd be able to see it zoomed in)
And here are the directions. The general suggestion is to use the brush to swirl on the two colors to get this mixed color which you will then apply on your eyebrows. It also does suggest to use Dolly Wink's eyebrow pencil to supplement the powder…
This is the product up close. You'd notice that the lighter color is of a larger fraction of the pan. This is also another reason why I got this because in most of the other eyebrow products out there, either the dark and light shades have equal sizes or it's the darker shade that occupies more space. I loved how I can get more light powder <3 <3 <3
And this is the brush. It's really, really, really, small. It's smaller than a matchstick. On one hand, it's so hard to use because it's super duper small, but on the other hand, the bristles are shaped in such a way that is really convenient for application. It's not as thin as a slanted eyeliner brush, it's a bit thicker than that, but it's not too thick that you'd sacrifice having a narrow tip on the end of your eyebrow.
When swatched, this is how the two colors look like. In all fairness, the dark color isn't really that dark either. The only thing that surprised me was the presence of shimmer. Whyyyy? I have no idea why my eyebrows need to be sparkly… I'm just thankful that the shimmer is not so obvious, and judging that I was able to miss out on this aspect while swatching in the store, it musn't be so obvious if you don't use harsh lights… (yes i know this is just a photo of my arm but there's a softbox, several house lamps, a makeup mirror with 6 bulbs and the camera flash all working together to light this arm of mine)
And now these are photos of me putting the product through the test!
As you can see, I have thin eyebrows with not a lot of hair… To make up for the bald spots I used setting wax from my other eyebrow kits in conjunction with this one so that there'd still be enough product on the tips of my eyebrows and the bald spots in between.
And this is my other eyebrow after. I guess you can see the sparkle given that this is a zoomed in photo under harsh lights… What's important though is that it went on really smoothly. I did not have a hard time in letting the powder particles stick onto my eyebrow hairs, though I'd have to say that it cannot work on bald spots unless I use a primer or use the powder alongside a wax. But for people with more regular eyebrow hair growth, this shouldn't be an issue.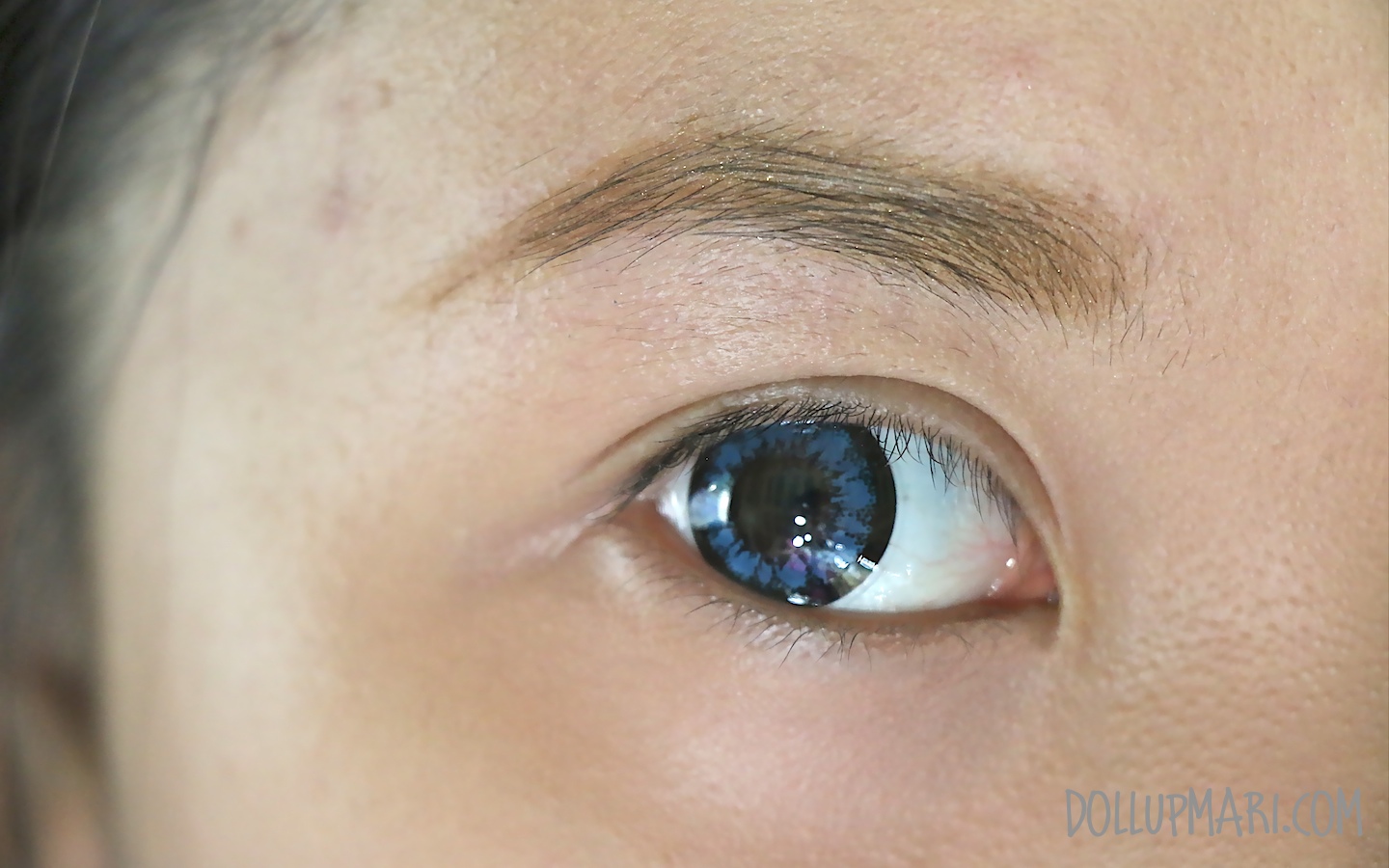 Overall, it's not really that light on the eyebrows after all. It's just right. You don't need to be blonde just to be able to sport this color. And if you also have a meek face like me, this kind of look will do more wonders compared to using darker shades.
In terms of value for money, I still do think that this is a bit pricey given that a lot of other brands offer similar products at a fraction of the cost, but I really am impressed with the quality and pigmentation. I am actually eyeing on buying the other shades for use on my makeup clients! Ha ha ha.
What's your preferred eyebrow product? Please do tell me in the comments box!