So yeah, I was in Korea for a week last month! I was invited to take part in Charis' Beautiful Journey in Seoul. Charis is an influencer based platform that allows bloggers like me to be able to make people experience rare K-beauty products I like in logistically feasible ways. I can go on and on yapping about rare K beauty brands and products, but if it's not feasible for people to own the products then it'd be hard. So that's where Charis steps in. It helps to bridge that gap so that consumers can also try the products.
C

heck out my site!!!
They treated us to so many products and places while in Seoul that there really is one vlog per day. I also learned a lot about Charis and the brands that they work with, so you'd also see them mentioned here and there.
The first activity of course is getting to Lotte Hotel Seoul. I couldn't help but feel special to hop on a BMW on my own! I thought we'd be made to congregate then ride buses, but they really had luxury in mind.
I wasn't able to find out what this building is, but it's a very striking neighbor of the hotel. Directly across the hotel's doors are Samsung office buildings, but I don't know what this building is.
This is the view from the hotel. If you do peek to the left in real life, you'd see a lot of Samsung buildings as well as electronic screens. In the 7 days I was in Korea I learned all about Samsung's corporate social responsibilities because there was an electronic screen playing their CSR vids all day long hahahahaha.
This is how the room looks like in Lotte Hotel. This is a room in the old building (there is a new building already). The hotel is not new, but they make constant efforts to make sure that the rooms are up to date when it comes to interiors and amenities.
The moment I settle down, staff knock and I am greeted with this welcome box! There was a butter cookie (which was sooo good). They also gave us Beige Chuu's eyeshadow and eyebrow pencil. There is also a tub of InsbyN Arcoco Skin Shield Cream. I used this immediately and fell in love with it. It smells like coconut water mixed with lemon, but what I like is how it has a light yet buttery texture and makes the skin silky without making it oily. I also got to try Hanskin Royal Ampoule BB which was interesting. Hanskin, as far as I know, was one of the first brands to jump onto the BB Cream bandwagon, so there is much to be learned from the "pioneer."
Lotte Group was nice enough to give us all a box of macarons! They do macarons really well and chowing down on this box was not hard to do.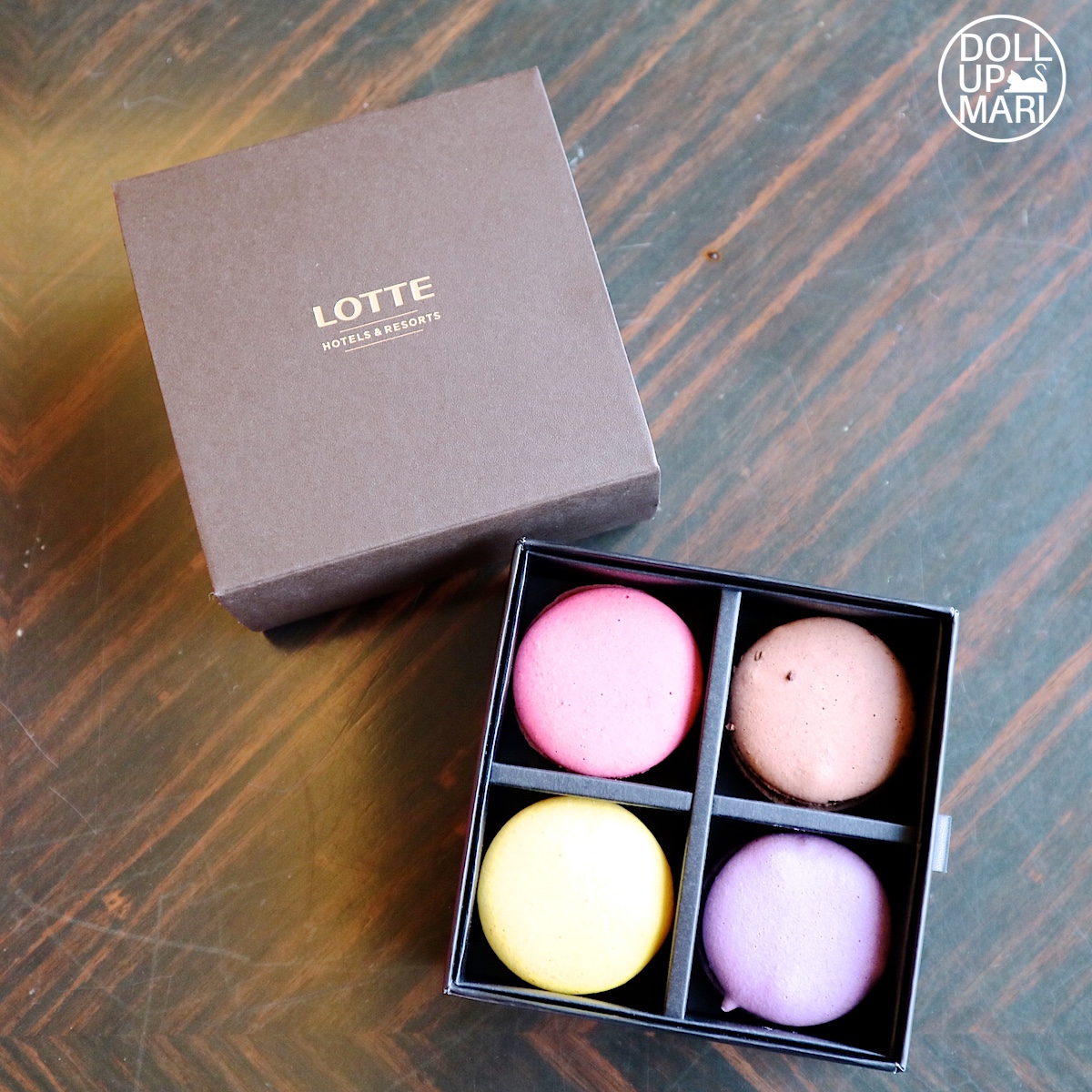 The first day's activity is a welcome dinner for everyone to be able to settle down and mingle with the other bloggers. Some bloggers flew at midnight and arrived at like 5 or 6AM, while some like me took early morning flights to make it by lunchtime. Some others flew late in the morning to make it in the afternoon. They couldn't make us do any activity for the first day as everyone had different flights. We were 48 girls from Singapore, Taiwan, China, Malaysia, Indonesia, Thailand, and the Philippines, so getting everyone together was not easy.
Anyways, my dress was from Zalora, which if I remember correctly was something that I got in the middle of 2015. I just never had the chance to wear it and I thought that it's so pretty of a dress to not be worn so I finally found some use for it. My shoes are from Zevida Shoes, I got these when I was in Platinum Mall in Thailand last August. I did my own nails if you zoom it in!
We had our first dinner in Korea! Lotte Hotel prepared a feast for us, and I appreciate how thoughtful they were with the dishes. There are vegetarians, Hindu and Muslims in the group so I like the vast array of seafood and vegetables to cater to these parties.
I guess it's obvious I was sooo hungry when dinnertime arrived. I got to Korea at about lunchtime (I went with AirAsia so it's only a small sandwich that they gave), and then I got to the hotel at about 3PM. I got to check in at about 4PM, which I thought was not enough time anymore in order to explore Myeongdong. So I had to wait for dinner, but well I had a feast anyways.
People were still a bit stiff at this point as it's the first day and people are just starting to get to know each other.
Daniel (Chief services officer) goes onstage to give a word to welcome everyone.
Daniel (center), alongside Kimberley (left) and Andy (right) welcome everyone to Korea. Nicole (far left) also helps them translate. They showered us with a lot of gifts and contests! There were drawlots, guessing games, and trivia questions about Lotte Hotels, and tons of gift cards and beauty products were given away.
The dessert was soooo goood. I sweaar. Seeing this again gives me sooo many flashbacks i sooo wanna go back to Korea. The Lotte group really does macarons well, and basically everything on this plate tasted so good.
So yaaaay, that's it for day 1! I have sooo many other adventures coming up!
Top Beauty Blogger, Vlogger, and YouTuber from Manila, Philippines