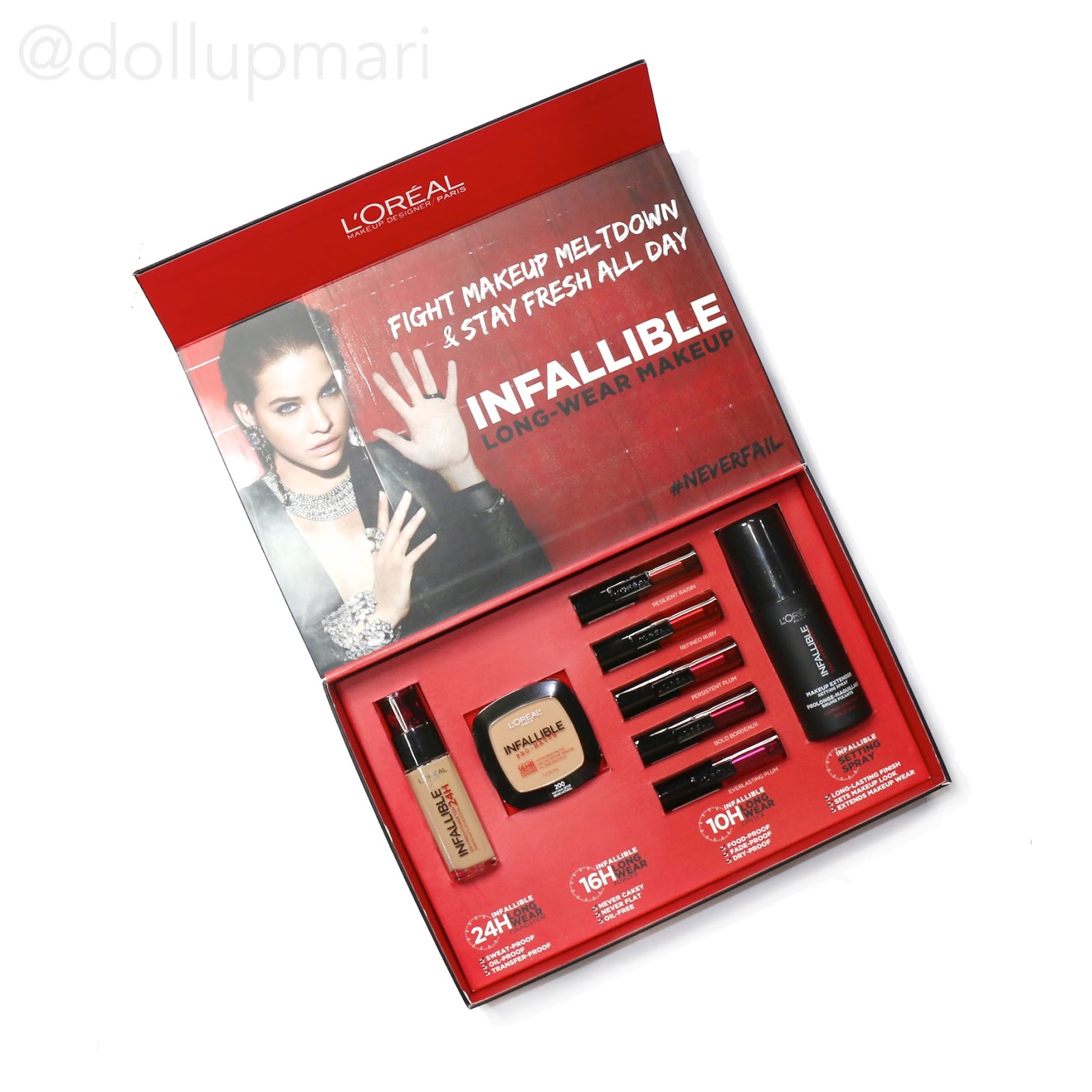 I am soooo soooorrrryyyy!!! This took soooo loooong!!! I'm currently restrucuturing my blog uploads. I have long been having a lot of inefficiencies when I produce content, so I'm trying my best to get rid of inefficiency, even if it means having some posts get stuck first. I'm trying to blog in cycles instead of first in first out, so yeah it's long and complicated that I might need to explain in one whole video in itself.
For now, let's talk about the #NeverFail box from L'oréal! The Infallible range has long been heavily acclaimed in the US, and so its arrival to the Philippines has been met with much enthusiasm. Though reception as of late has been mixed, especially with regards to the foundation, at the core, each item is designed to be as long lasting as possible.
They sent a box that says "Say Goodbye To Makeup Fails." It's true because a lot of the makeup relies on the base makeup. I find it easier to look for good and affordable eyeshadows rather than foundations and powders.
The moment you open the box you see a very sexy Barbara Palvin clinging onto a wet glass panel. I seriously still have no idea how she was "dropped off the VS Fashion Show for being too fat." How can this sexy woman with perfect makeup clinging onto a wet glass panel be fat? How?
So they sent over their Infallible 24H Stay Fresh Foundation. This promises, as the name implies, to last up to 24H. I have tried this and personally, I think I'm sure it will not reach 24H. But this is relatively more long lasting than the usual foundation. The perfect foundation formula for me is the type that works like a flexible liquid lipstick for the face. This is a little bit like that kind of breed, but I think I have yet to try the Pro Matte one from the US before I can give a full verdict. I also need to go to the store to try my own shade because this shade in particular is a bit too dark on me. I don't know if it oxidizes heavily or just happens to be dark that it creates all sorts of illusions.
And yaaay, this is my 2nd Infallible powder! I received one last year (though I'm sorry I haven't blogged about it yet!!!). This is thin, wispy, and lightweight. I still need to retouch every so often with this powder, but it doesn't cake because it's thin and applies evenly.
I also received another bottle of setting spray!!! I still am thinking to myself if setting sprays work in general or hinge more on the placebo effect. I think I really need to sit down and list down every single thing I use for a look and then re do it again with the spray and do similar things in order to find out. As human beings we will lean towards different products each time we do our makeup, and of course, we will tend to do different things and be exposed to different environments on a daily basis. So I think that in general there is just this aspect that setting sprays cannot be evaluated perfectly because there are so many permutations in the products we use and the activities we do.
But I give points to this one for not smelling spoilt! Setting sprays often have bad odors and I like that this one smells like grapefruit. I feel like most setting sprays smell like white glue and I hate it so much when that happens.
Last but definitely not the least, they sent over 5 (of 20 afailk) of the shades of Infallible's lipstick! This targets to be food proof. I think that the key to this is to actually choose lighter shades because I think that darker shades tend to fade more drastically. I initially didn't have a good first impression with these lipsticks until I went to a kiosk and tried a nudy pink shade. The pink was there all afternoon long and faded subtly into the night, and I think that's what I'd want more out of a lipstick. These five shades are deep, beautiful shades, but since they're so dark, it's so noticeable when they start to fade.
To add, these are good products, but one needs to wait at least 30-40 minutes before being able to eat. I have tried using this then eating immediately, and the lipstick faded along with each napkin wipe. I tried using this some other time wherein I did my makeup, chatted to a friend for 40 minutes, then only proceeded to eat 20 minutes after that in a resutaurant. At that instance my lipstick didn't budge even if I had oily food because it had properly set already. So yeah this is really good against food but I am still wondering if 40 minutes waiting time is reasonable for most people.
I am so sorrryyyy reviews for these will come out once I restructure my work strategy. Please bear with me!!!
Top Beauty Blogger, Vlogger, and YouTuber from Manila, Philippines