Welcome back to Mari's great backlog crisis! To squeeze in some life updates, I changed from full time work to part time work, so I'm working double time right now to catch up with all my backlogs. Again, to my dear readers and brand partners, very sorry for all the delays!
Moving forward though, I thought I'd do a quick blog post on Canon's event last February. They launched their Pixma G series printers as well as their BLISS crusade. BLISS stands for Borderless, Limitless, In Service Satisfaction. Borderless and limitless are of course the more obvious parts as the Pixma G series printers make borderless print outs, and can print up to 12000 sheets per ink refill, hence limitless. As for service satisfaction, Canon has already implemented a customer friendly system of home pickups and deliveries for repairs or servicing. In general, even out of G series, they really try to find ways to make repairs less tedious. My Canon printer broke earlier this year, and while I did have to bring it to the McKinley repair center, I had it delivered to my house with no extra cost from the transaction fee charged from me. It's the little things like these that make life blissful (no pun intended), because realistically, printers, like all other devices, will experience problems after extensive wear and tear. We don't think about it at purchase point, but in reality, the aftercare and the service matters a lot for gadgets like printers.
Just to show you guys, this is how the print outs look like! As it's relatively more affordable to print with G series printers, even common folk can afford to print this much, and with this much colored ink involved. Each ink refill bottle is only Php295, and can print up to 7000 colored pages and 6000 black and white pages. Through better pricing, people can afford to live their lives better through the little things. I mean even just tutoring kids will already be impacted by this greatly! When I was little, my mom would make carbon copies of simulation quizzes for me to do at home. If I have kids someday, I know I have all this technology backing me up so I can make colored cards, visual aids, and other educational materials so they can learn things better.
This is also a highly recommended series for entrepreneurs and small business owners given how much collaterals and artworks this printer can print in this kind of high resolution at affordable rates.
But of course, for more professional needs, Canon has a lot of highly sophisticated copiers and printers.
Another key example of borderless is how this image was printed! Jijo De Guzman, one of Canon's crusaders of light, went on a fearless trip to Albay when the Mayon volcano was on the brink of eruption. He took this photo of residents looking far away, to the volcano, which by then was already thick with smoke. To make this large print, they used 4 sheets of paper and a Canon G series printer, and because the printer can do borderless printing, it was possible to put together 4 print outs to form one photo seamlessly.
And this!!! The Canon Message In Print is now out! If you are fond of secret messages and hidden inks, well, this is the 2018 version. G series printers can print hidden messages in print outs that can only be decoded by the Message in Print app. Like you can flip the print out and magnify it over and over again and not see anything, but the moment you use this app to scan the print out, it will decode the hidden message! The possibilities are endless with this app, whether you want to send a message to a loved one or to simulate a spy game for kids.
Benny Yu, head of CMPI Consumer Imaging and Information division, spoke about his delight to be bringing in the printers, as well as their new service perks, and for all the other things they have in store for all of us this 2018.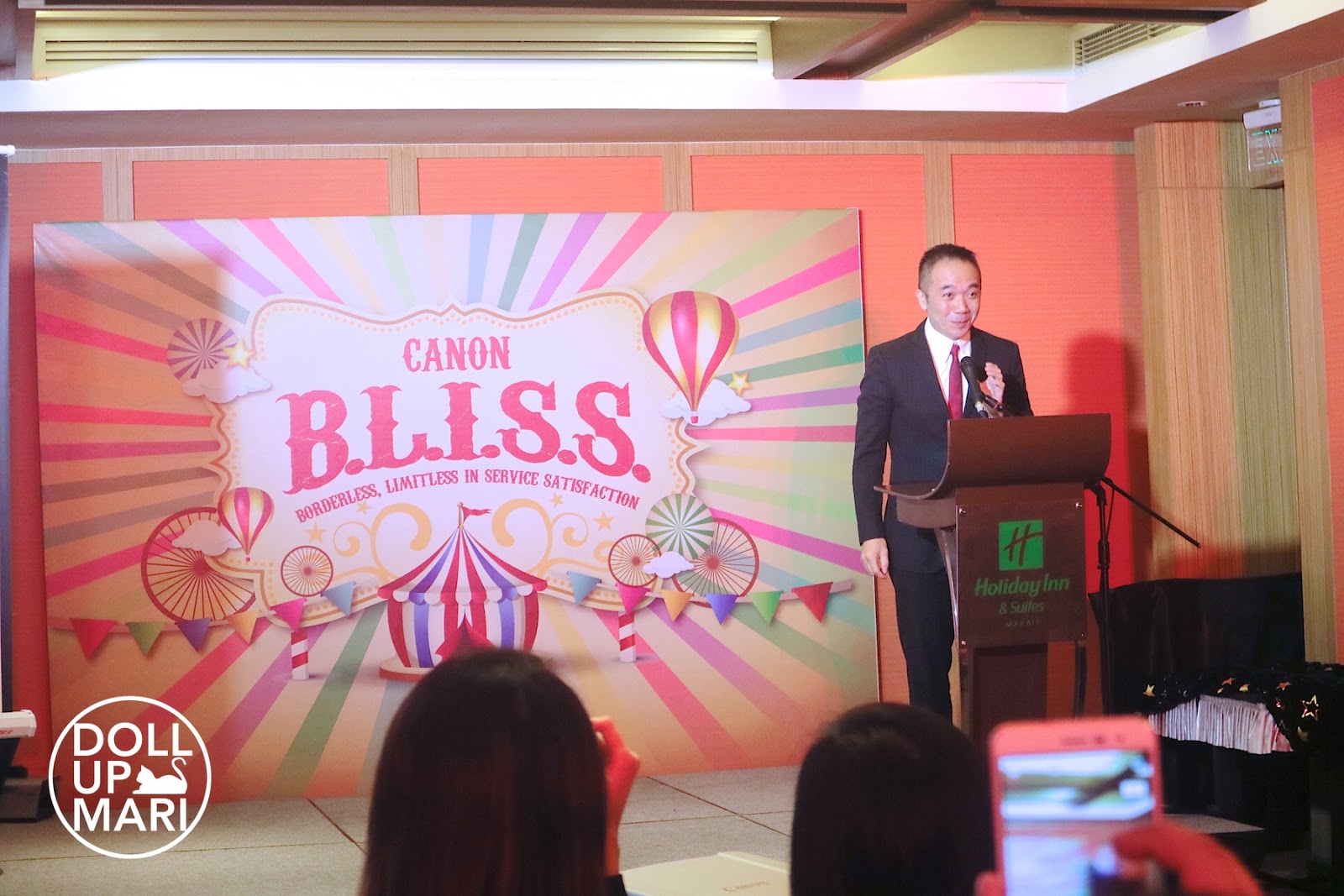 As it was all about magical products, they invited Alakim over to do magic! Ah, when it comes to Canon events, the fun part is always when they hire entertainers. During their 80th anniversary they hired Spit Manila to do improv comedy. Itt's been almost a year and I am still laughing at the jokes.
They do have a lot of promotions and bundles with their G series printers, so be sure to check it out in stores!
Top Beauty and Female Lifestyle Blogger Manila, Philippines