Snail White Crème Body Wash, Whipp Soap, and Moisture Facial Cream
Finally! No need to hoard these babies in Thailand. No need to pester people to do the same either!
One of Thailand's skincare behemoths, Snail White, is finally here! Whether you've seen this in Thailand, on the blogs, or in Tita Krissy's vlogs, there is a reason why everyone's talking about this. After just 5 years, Snail White has already managed to sell 2 million units in Thailand. Plus, Snail White's cream is now the market leader, besting even more established household brands.
What's the secret? Of course, it lies in Snail Secretion filtrate, which makes up Snail White's trademark Snail Potion formula. Snail secretion filtrate mimics human collagen closely, which is why it brings about immense moisture and suppleness to the skin. Not to mention how it helps to get rid of fine lines and wrinkles.
Why aren't there any snails in a Snail White themed flatlay? That's because the mature helix snails are put back to nature once they've done their part! The snails are busy relaxing in fields and forests, that's why there's no one available to pose on my flatlay. To add, Snail White has already harnessed, processed, and refined the Snail Potion they use, which is why we need not do the hard work ourselves!
In Thailand at present, Snail White has 22 different products. In the Philippines, they brought in their facial wash, face cream, body wash, CC cream, and special bar soap. Here are some of their key products.
The first key product is their Snail White Snail Secretion Filtrate Moisture Facial Cream (Php995 for 30mL). This is the gooey, creamy kind of snail cream we expect snail cream to be. But this one has a much lighter consistency, and also is easier to absorb, which is so important in the hot weather. I've tried legit Korean snail creams, and while they are thicker and more emollient, it takes soooo long to get the cream to be absorbed by the skin. There is also no sticky feeling with this one, which I know is bound to make a lot of people happy.
I'm quite surprised that despite how lightweight it is for a snail cream, my skin feels bouncy and hydrated after using this. It's having the extreme moisture benefits of snail cream without the usual stickiness that snail creams come with.
But this does smell like black gulaman, whether you like black gulaman or not. This contains lavender, ginseng, centella asiatica, bisabolol, and ginger, so it's quite a herbal formula. This is why to those with more sensitive noses, the scents of the individual ingredients are noticeable. If you've tried this and felt the same way about the scent, know that you are not alone.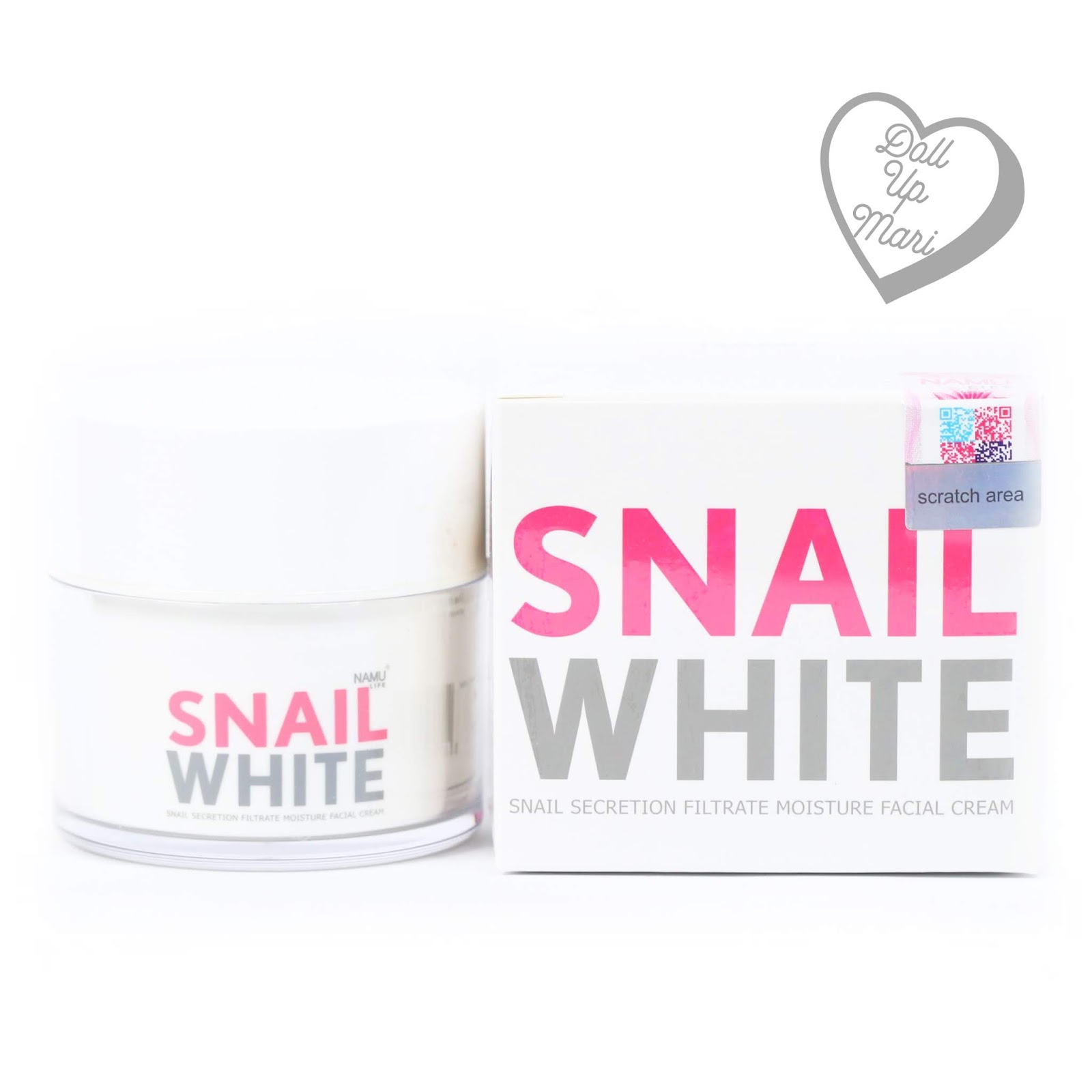 Snail White Snail Secretion Filtrate Moisture Facial Cream
The other interesting thing is the packaging! To keep the cream moist, and for hygienic purposes, it comes in a premium airtight pump pot. You simply press on the flat surface to make the product come out. One pump is usually enough for the whole face, and then the second pump will be for the neck.
For those who are into extremely luxurious showers, Snail White's Crème Body Washes (Php295 for 500mL, Php145 for 200mL) should be on your try list! These lather to a very very very rich foam. And the fragrances are amazing!!! I've already used up one bottle of their body wash before, and indeed, every shower time felt so luxurious. This body wash is the gold standard when it comes to lather and moisturization.
It comes in Natural White with Caviar Lime.
This smells like what we expect mild baby cologne to smell like.
Snail White Natural White Caviar Lime Crème Body Wash
And it comes in Deep Moisture with Baobab.
This smells a lot like what we expect milk and honey body washes to smell like.
Snail White Deep Moisture Baobab Crème Body Wash
Perhaps the product that's making the most buzz online is their Whipp Soap (Php295 for 100g)! When the immaculately white Kris Aquino sang praises for this soap and how she loves using the built in net as a loofah for her body, fans of course went gaga. Even peeps who may not necessarily be fans of the Queen of All Media were curious about this soap as she really is glowing white. Kris is literally radiating light from head to toe in real life, I swear. Even friends who have worked with her closely over a long time have told me that even when you're after the starstruck phase, she will still come off as glowing white to you.
Much to the relief of fans and soap aficionados, this is just Php295! I know a lot of people were fearful that prices would be exorbitantly jacked up, but for the most part, they worked to make the prices as fair as possible.
Snail White Whipp Soap
Be careful of the cheap stuff online, coz there are fakes and grey market ones (
pati ba naman snail cream hay naku
)! Be sure to only buy from their official accounts on
BeautyMNL
,
Lazada
, and
Shopee
. Or to shop at SM Store outlets and Watsons (online and offline).Only shop at legit channels to be sure you're getting the real deal. To add, for the soap and cream, always look for the holo sticker bearing a QR code of authenticity. And be sure that the sticker has not yet been tampered with.
Who's ready to #UnlockBeauty? I know I am!
Top Beauty and Female Lifestyle Blogger Manila, Philippines