Summer is around the corner, so it's great to have refreshing K-beauty goodies from Althea!
For those who are looking for a light, fresh, and cheerful fragrance, Althea recently released their collaboration Stay Fresh Body Sparkling Mist with Titi Kamal! And for those who are looking for a gentle but thorough cleanser with a minty feel, there's their Pore Purifying Serum Cleanser.

Althea's Pore Purifying Cleanser (Php430 for 150mL) is their answer for those who are looking for something like Clean and Clear's facial washes, but want something less drying. To add, this has mint extracts, which is why it leaves a cool feeling after usage. During the summer months this will indeed be a staple, especially when it's so hot.
Personally, I like how they have added yet another cleanser to their cleansers and cleanser-washable mask family. They now have the Contour Cleanser, Real Fresh Skin Detoxer, Milk Peel Cream Mask and then this. I like how the contour cleanser is the foam type one, the detoxer is the gel one, the milk peel is the mousse, and then this is like the clean and clear style one.
However, I'm also baffled as well on why they released so many cleansers in such a short span of time. Of course there is some market research or data on the consumer segment that led to such decisions, and I like that there is a wide range of choices for the cleansing preferences of Atheans. But I feel that the whole Althea Exclusives universe could use serum, emulsion, mist, toner, ampoule, and like deep mask/deep cream. For this range in specific, I reaaally wish they'd have a balancing skin or toner mist given that pore improvement is the goal of the range.
As for my experience, this has a gentle lather. It's the least foamy amongst all the cleansers Althea has. But this is also the good part especially for those who are sensitive about soap residue. Upon application on wet skin, it has a gentle lather and does quite a good job stripping dirt and makeup. I was able to get my eyebrow wax+powder, blush, and face powder off with ease. I had a hard time getting this one to remove my concealer. But on the flipside, I think that's good news coz I had difficulties using this to remove my Althea Flawless Creamy Concealer. If you were eyeing to get that concealer, it's got good staying power, so go ahead and try it!
It has this deep clean feel, but not the drying kind. One of the features is keeping pH at the right levels, so I think that also contributes to why this works to not dry out and irritate skin. I also appreciated that there was no weird eye stinging feeling after usage, and no blurriness. The best part indeed is the minty feeling! One of the features of this product is that this helps to cool your skin a bit to calm it down. It's a slight cool, but just the right kind of cool. Don't worry, it's not overwhelming, and as I've mentioned, this leaves no blurry or teary feeling to the eyes. I know some of you might be worried that this'll feel like a liniment and make you tear up, but this really has a very subtle mintiness that is faaaar from the strength of a liniment.

As for those who want a light, bright, and fresh fragrance, indeed this is it. I'm bad at describing fragrances, but Althea's Stay Fresh Body Sparkling Mist (Php450 for 100mL) is like a sunny Sunday morning in a bottle. It has a fruity floral fragrance which smells bright and sunny, but has a laid back feel to it. It's definitely the perfect fragrance for any afternoon outing, garden event, and summer getaway. I have been using this a lot for church as it really smells like a Sunday. I'm so sorry if it sounds so absurd, but that's how it feels like.
According to the site, this is "A blissful dream is brought upon by the sparkling fragrance of sweet orange and peach that is followed by an ever-graceful echo of rosy floral notes." It has Damask rose water, orange flower extract, and elder flower extract. The scent itself mainly features rose, orange, and peach. I know calling it "Sunday in a bottle" sounds so vague, so yeah, there you go.
And yes, this is a collaboration with popstar Titi Kamal!!! I am actually shocked to learn about her age as I thought she was like 16-18 years old. How do I look this good when I reach her age?! Maybe this fragrance is secretly a youth elixir (???)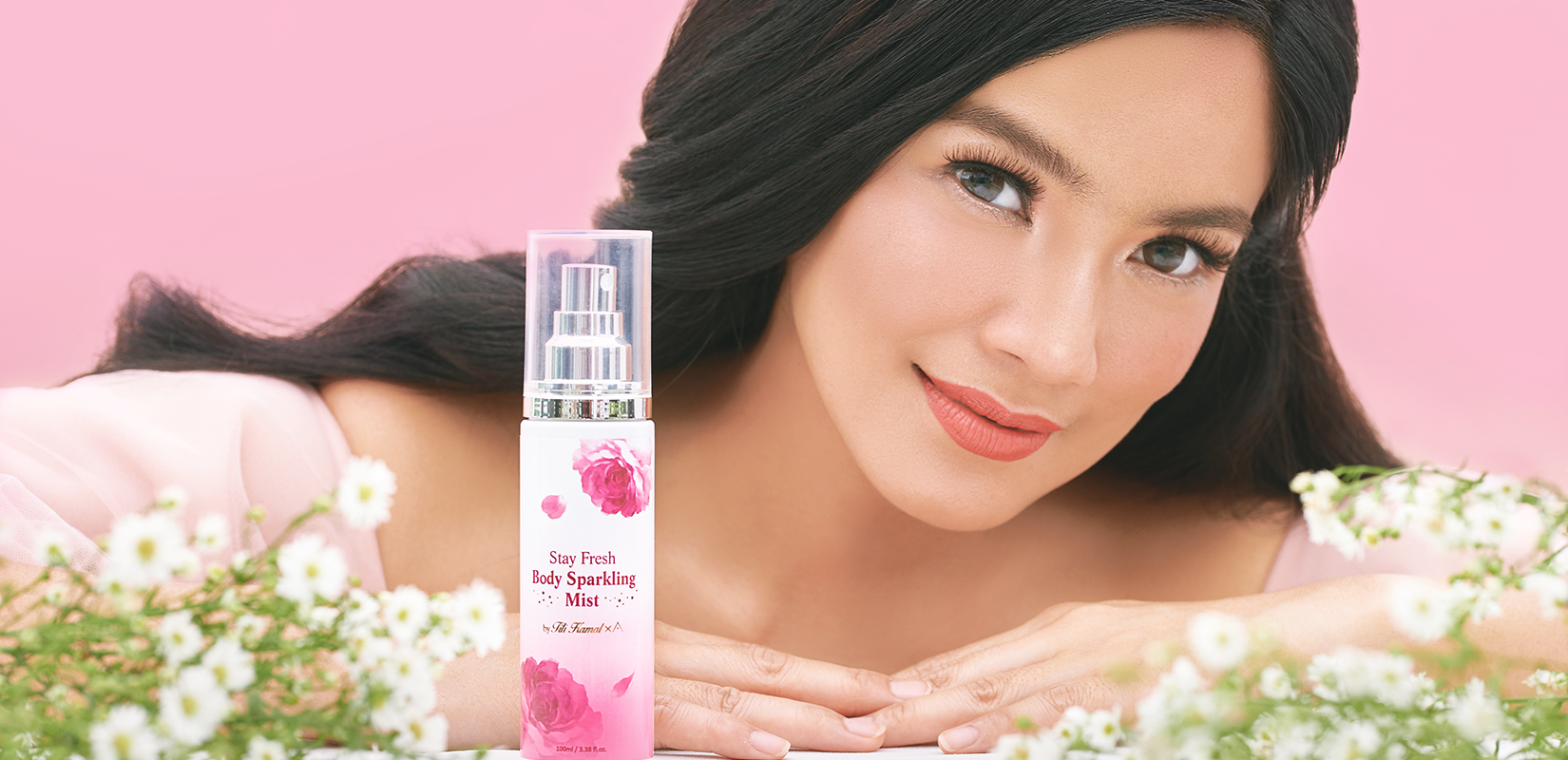 I actually feel that this is the best one to watch out for whenever Althea holds sales and promotions. This, I think, is the kind of fragrance that is universally pleasing. Even my mom who is soo sensitive to fragrances has never complained whenever I used this! Now that's something. If you want to give a birthday or Christmas gift that's sure to be used and appreciated by any kind of recipient, this will have to be it. I immensely enjoy the fragrance, and it's always exciting whenever I spritz this on.
I just wish that the fragrance would last longer. This smells so so soooo good, but the scent fades away sooner than expected, and I'd need to reapply often to keep the fragrance on the whole day. This is the kind of fragrance that you'd need to bring along with you. As for bringing along, I also think while the bottle is slender, there is a more compact way to package this. I also wish that they would release a smaller SKU, like a 50mL bottle, for those who are looking for something that will really fit even in small purses, or for travel. But other than that, I just looove how this smells!!!
Summer is reaaaaaal reaaaal soon, and I hope that you all have fun and get to try new things! I also hope that y'all will try these refreshing releases from Althea.
Doll Up Mari: Top Beauty and Female Lifestyle Blogger Manila, Philippines