It's the time of the year again!!!! This is my 4th E! Bloggers Ball––time flies so fast!!! And yes, they tried something new and made it the E! Pop Gala instead of the usual E! Bloggers Ball. With the Pop Gala concept, we were able to have fun interpreting our favorite looks from pop icons who matter to us. I've been an obsessed pageant fan ever since, and have been obsessed with Pia Wurtzbach since forever, so I wanted to channel her look. I really loved this particular look she had for her final photoshoot as Miss Universe, and so this is what I chose to channel. She's famous for her blue dresses, but the practical side of me also kinda realized that if I copied her blue dresses, it might be weird for me to reuse the dresses in real parties. I like this look because while it's something she did wear, the dress is something I can repeat in other parties.
As for the source (I know this is what you guys wanna know)? Her dress definitely is Sherri Hill, but I got the
Serene Hill
version of the dress! It took about two weeks for the dress to arrive via DHL if I remember correctly.
For the makeup, I took inspiration from this other photo of her from the same photoshoot. She had soft brown smoky eyes, high brows, and strong contour.
I took those three elements, although I made it more dramatic because it was a night gala, and also because Pia is just that pretty that she can survive on less makeup than me. Heck, she doesn't even need makeup!
For my rendition, I went stronger on the eyeliner and the lashes. I also had glitter going on on the lid area. But I kept the eye makeup generally as soft as I can while keeping the hues intense. I also didn't apply as much blush as I usually would and focused a lot on contouring. For the lips, I mixed Maybelline Color Jolt in Stripped Down and Creamy Mattes Lipstick in Nude Nuance.
My earrings are from Stylenanda, while my tiara was a Valentine's Day gift from my sister. It's so hard to find a DIC replica now, so I just went with my Mikimoto replica just so people would have an idea that I was channeling a Miss Universe look. Even when DIC was still the crown provider, it was already quite hard to find a replica. There'd be like tiaras with some rectangular blue gemstones on them, but the design really wasn't like the DIC one.
And tee hee here are some of my favorite shots!!! I just edited them into one hihi…
And tee hee here are some photos of me at the ball!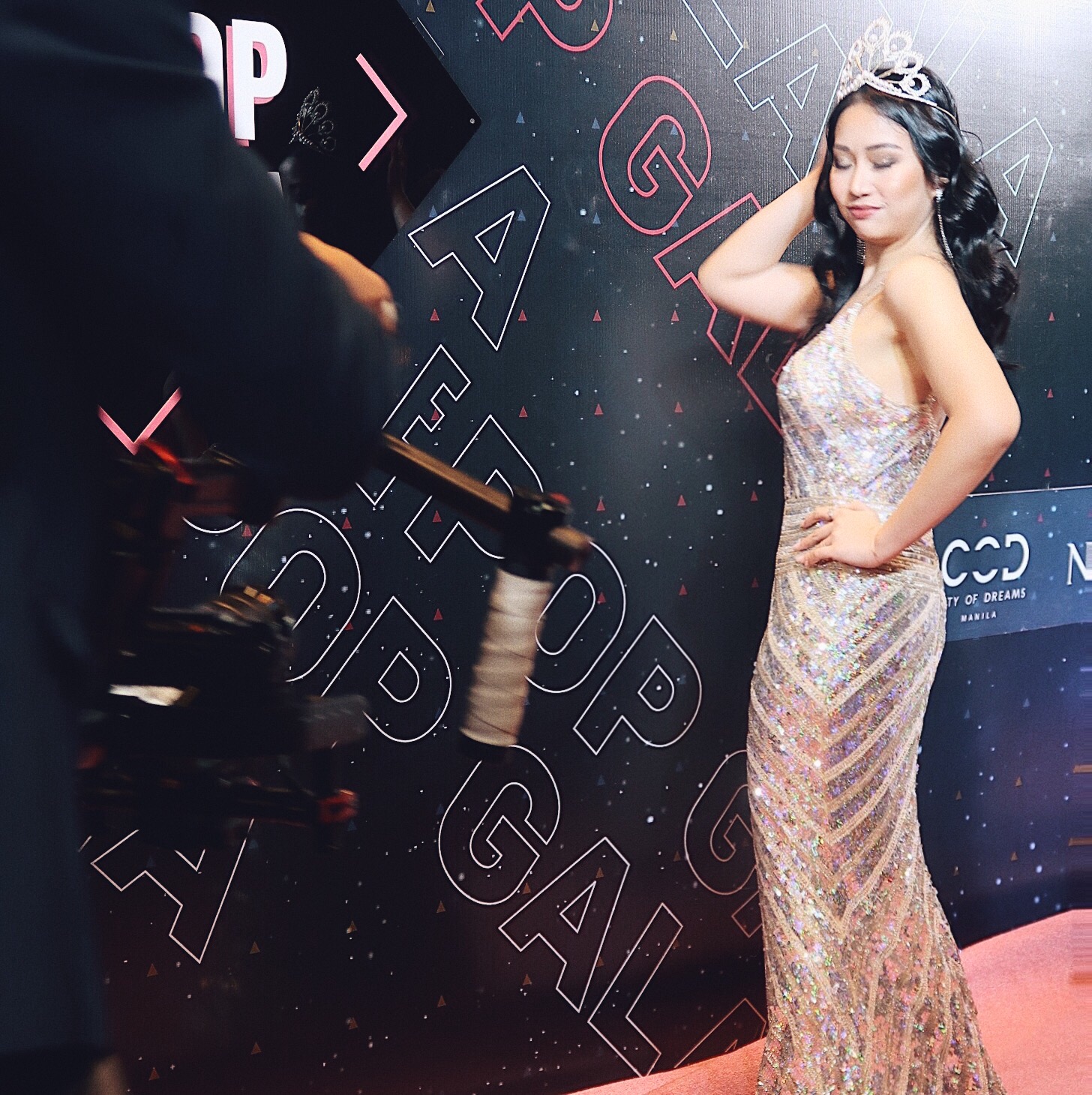 As for the program, it was short and sweet. It was just all about awarding the winners for the various categories for the year.
And there was, of course, a very important moment of appreciation for the peeps of E! Philippines for staging this kind of event. To stage it once was already a big deal, so it's amazing they've kept at it for four years now. There were also executives from E! Singapore who provided regional support for the endeavor.
And weeeelll the rest are selfies!!! Usually, it's what happens hahaha. As traffic has been worsening from its already deplorable state, a lot of people aren't into attending events in general anymore. And realistically, a lot of people only do blogging as a side hustle and have a day job, or are still going to school, so it's school or work that would have higher priorities in the person's schedule. To add, this is also the only blogger event that I can think of that is of this scale wherein almost everyone is actually there.
So yaaaay, a photo with Mama Anne whom I have not seen since April 2018!!!
With Rems and Kaycee. I just saw Kaycee the day before the ball, but Rems, it was my first time meeting him!!! I had a lot of fun watching him on TV, so it was amazing to meet him in person.
With the always beautiful Chelsea Robato.
And with Hazel whom I just met the day before.
And with Ruth whom I genuinely also have not seen in so looong
Amd Charliene and Phylicia, whom I used to see all the time, but I haven't seen in quite some time.
With Julianne and Raf, who look amazing as Kylie and Jeffree!!!
And with Jamie, another pretty lady whom I have not seen in ages.
With Michelle whom I just also saw the day before the ball…
And with Lindsay. Without her, there'd be no E! Bloggers Ball, there'd be no E! Pop Gala!
Doll Up Mari: Top Beauty and Female Lifestyle Blogger Manila, Philippines