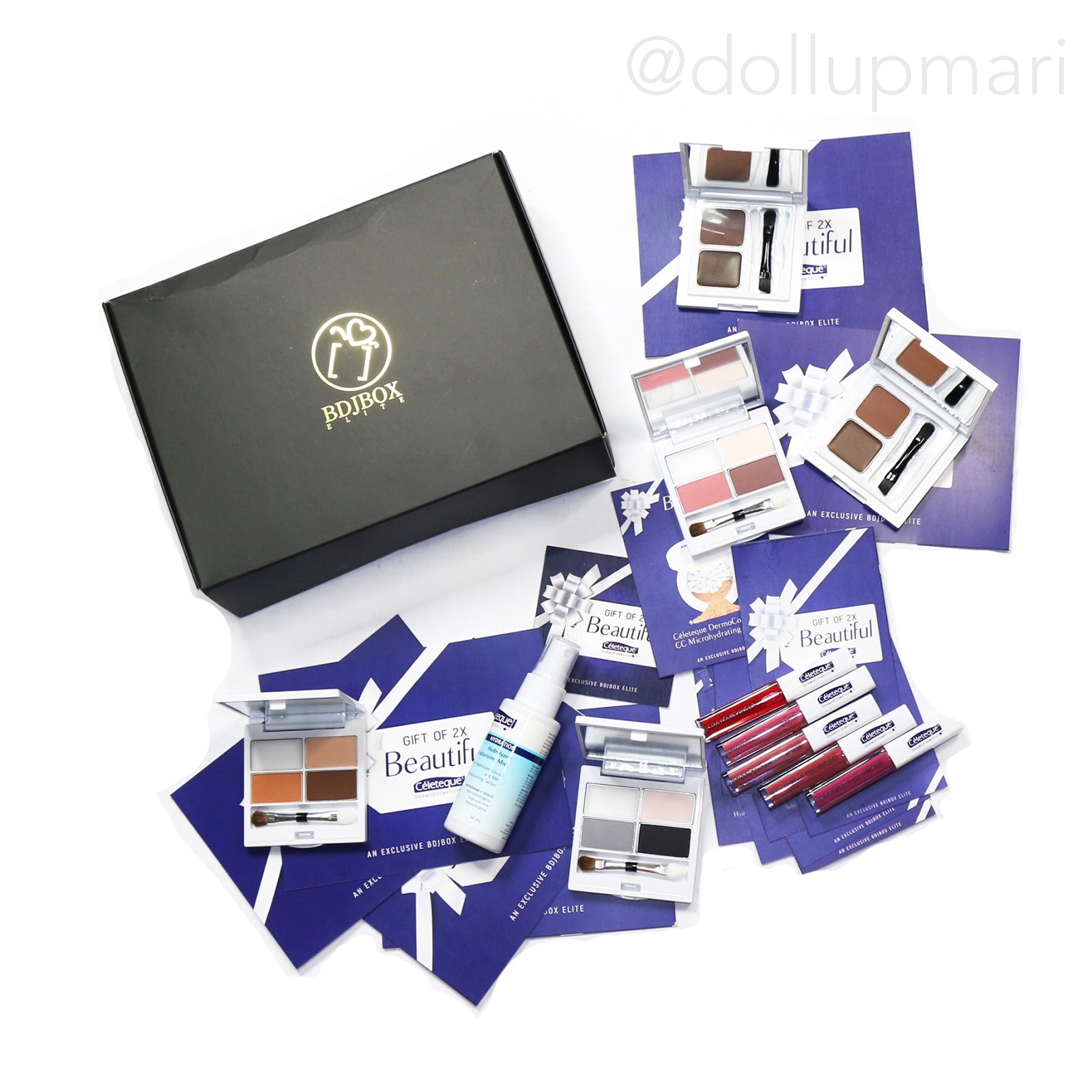 This is craaaaaaay. Craaaaaaaay. Serious kind of craaaaaay!!!
It pays to be a BDJ Bella because you really just don't know when treasures like this will pop up! I am sure everyone in the BDJ system got the heart attack of their lives last year (yeah December is soooo last year like ugh don't me) because for Php1480, they got ALL these Céleteque items you see in this flatlay PLUS OTHER ITEMS which could no longer fit the flatlay visually coz it'd already look toooooo crowded by then. I have personally bought BDJ Elite boxes before so I had an idea that this box was gonna be the slay my queen level it is.

So this is the mystery blue BDJ Box Elite that they teased bellas over for quite some time! this is about 3/4 the size of a piece of bond paper, so you can't really tell that the loot inside is heart attack inducing. It really will just surprise you when it does.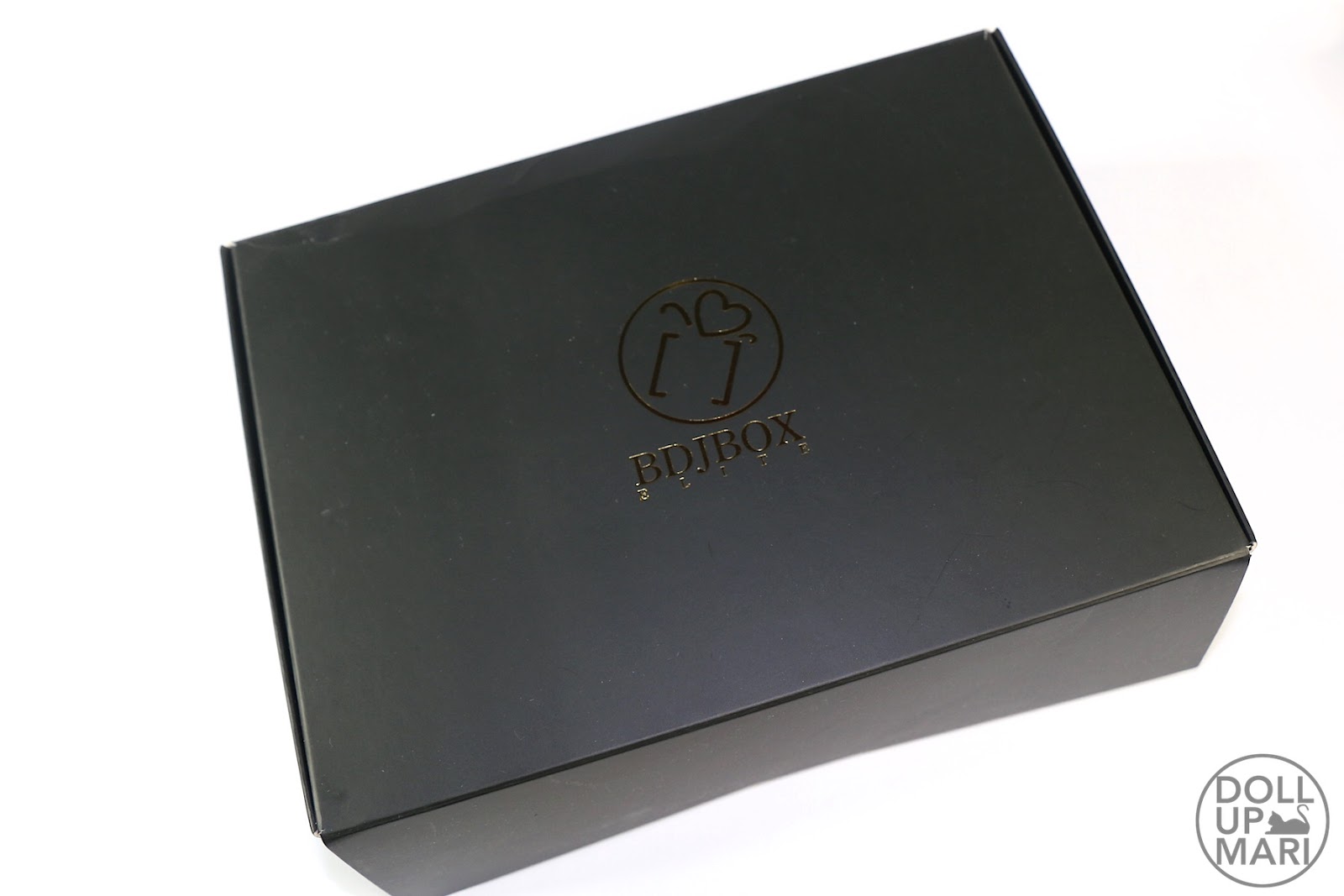 Since BDJ started out with the motivational planners after all, I was not surprised with the inspirational stuff they had going on on the box lid.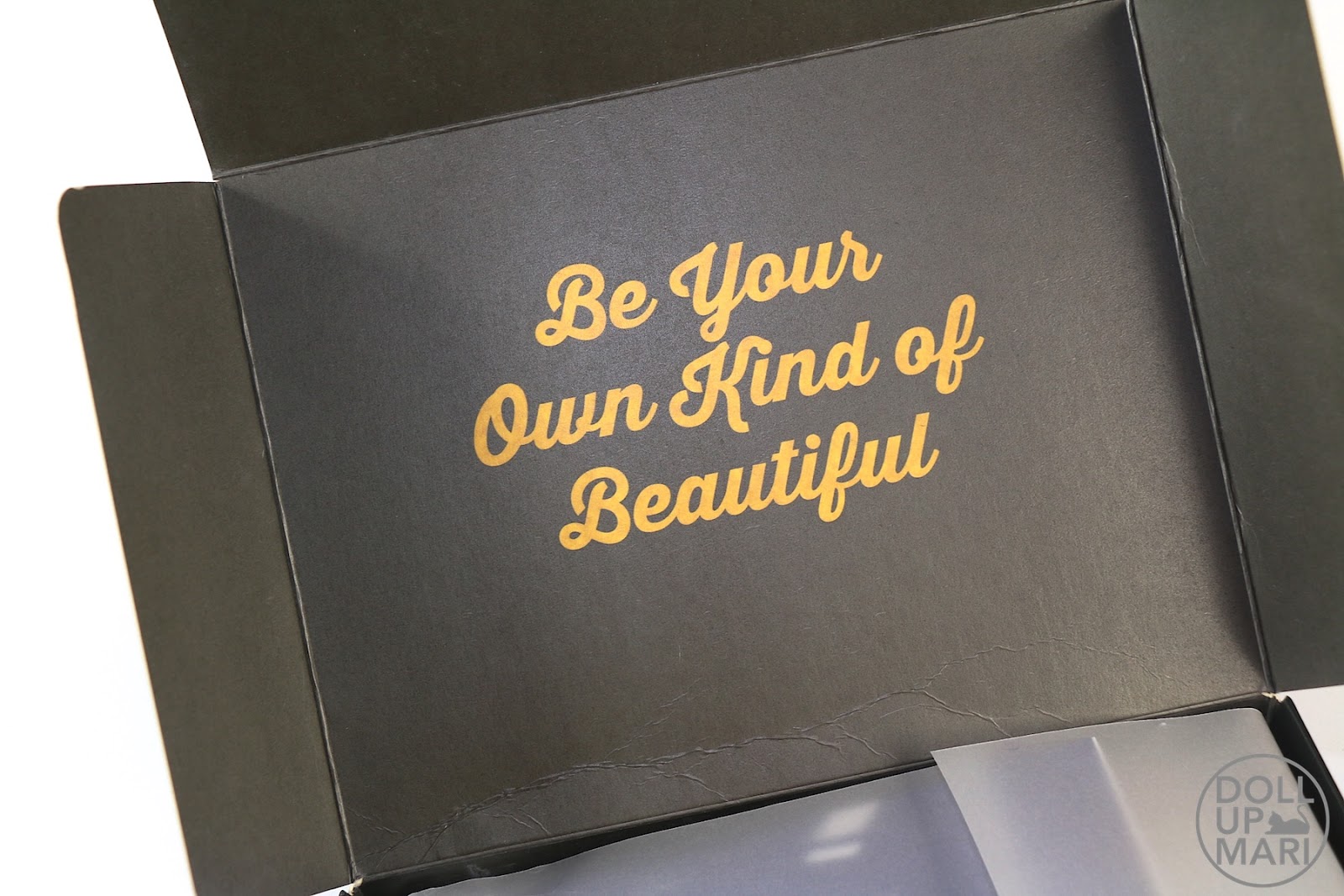 Y'all know things 'bout to get serious when you see the BDJ parchment paper and BDJ sticker. I have seen this sight before so the familar parchment paper is sure to send all sorts of retail therapy signals to most bellas.
The moment you open the box, the company wants to extend the suspense so they have cards and all.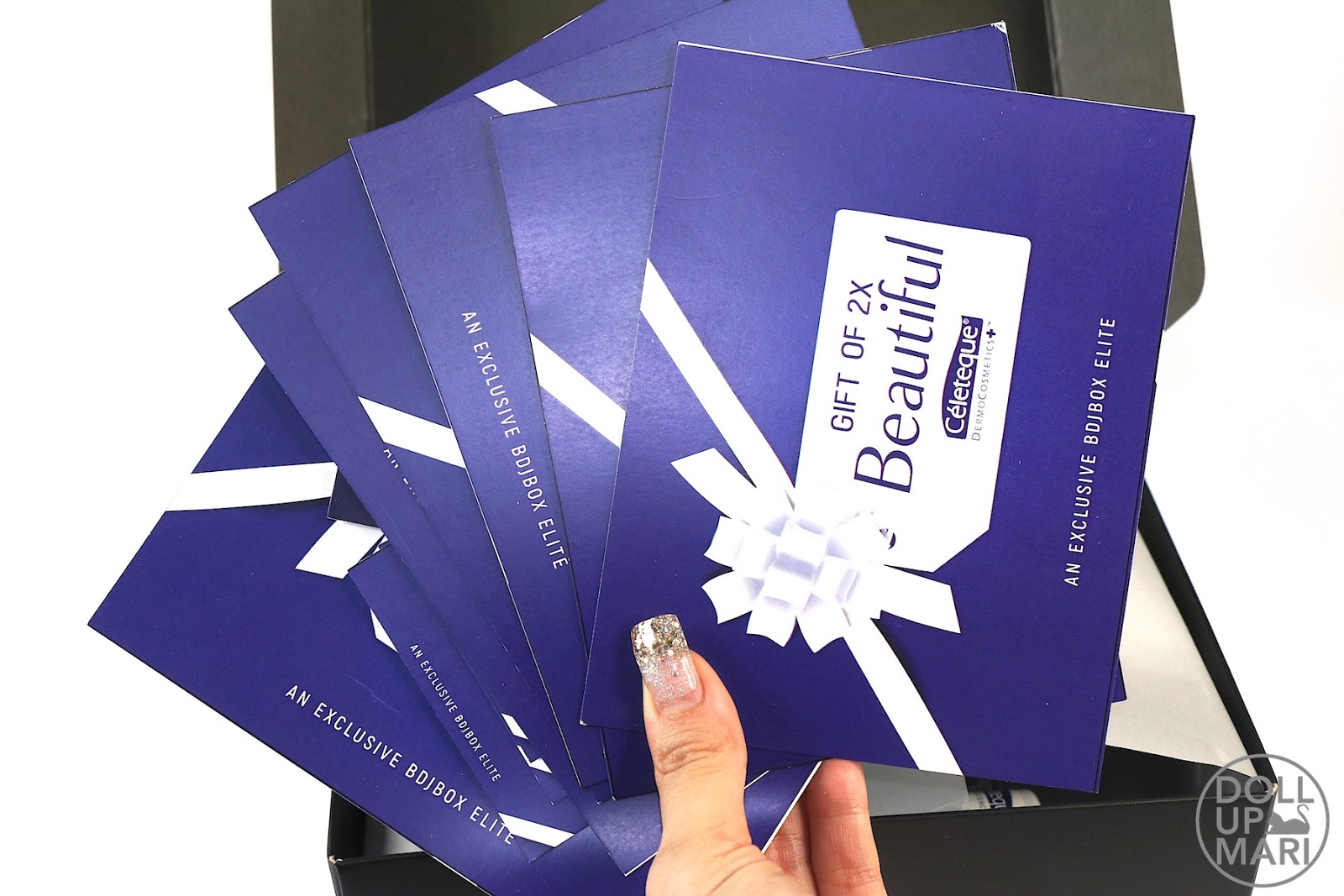 Naw these cards aren't just space takers, they're tutorial cards on how to use the box's products as intended.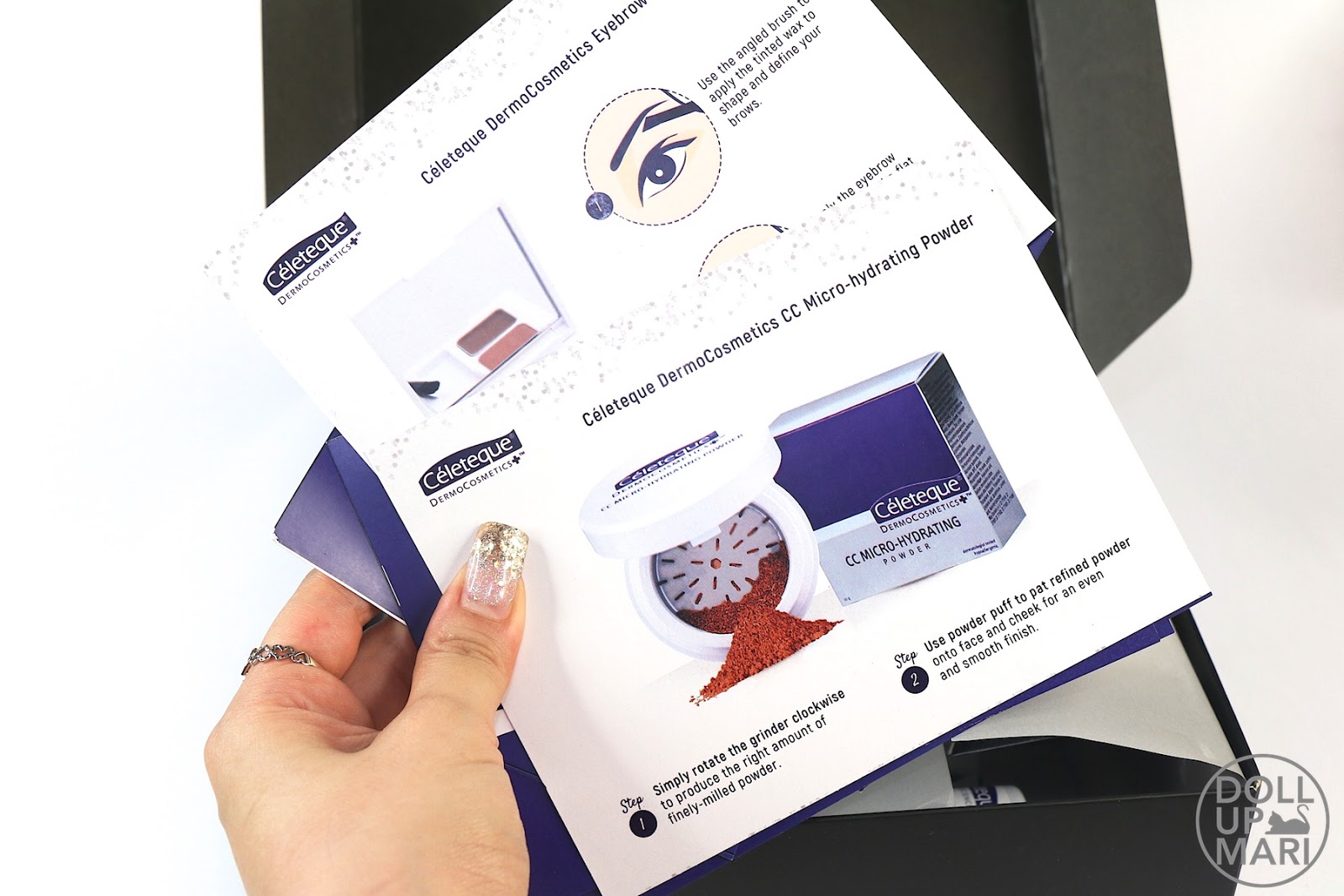 There is also a smaller set of cards featuring the products, their shades and their prices.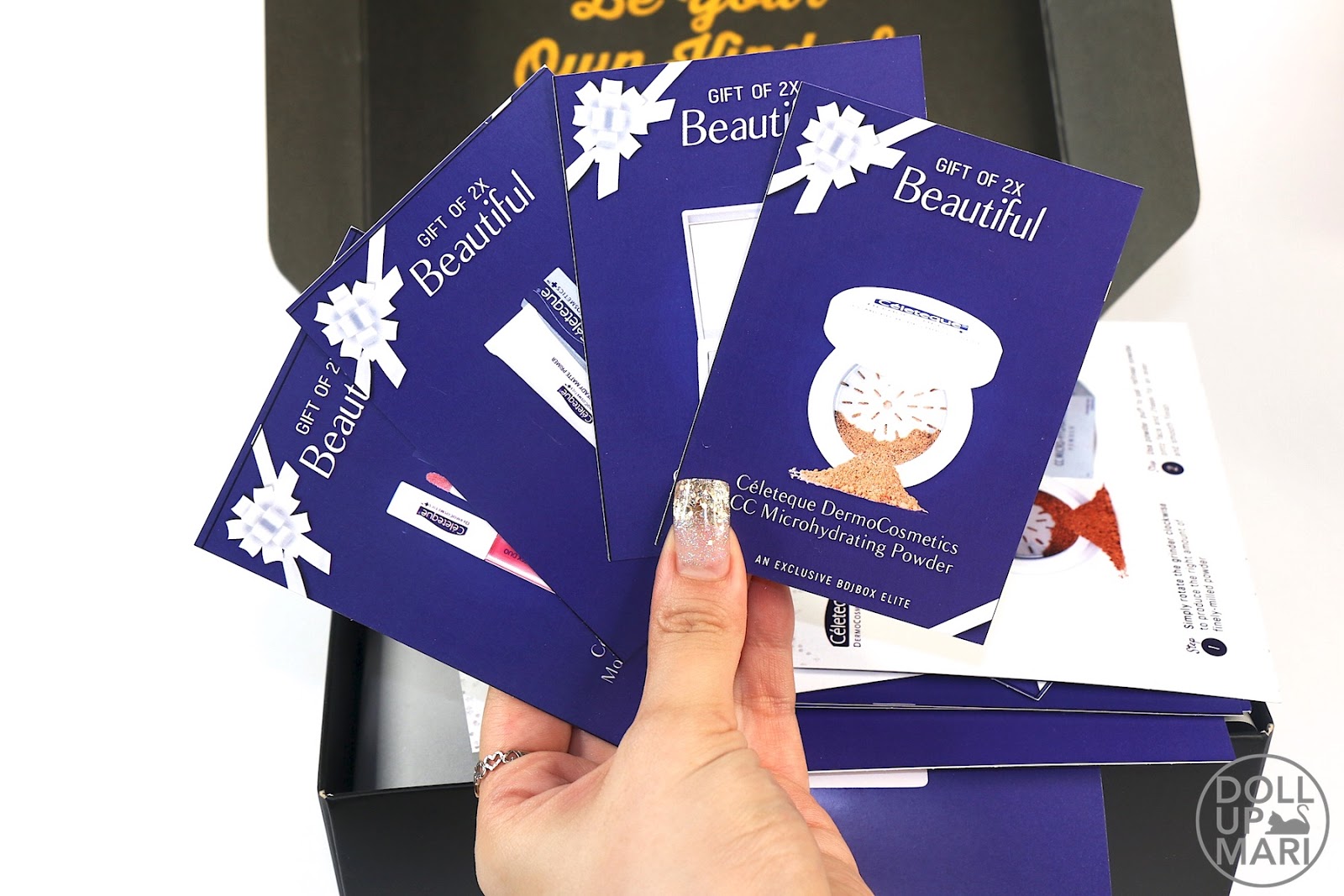 The moment you get all the cards out, this is more or less what you'll see. (weeeell these boxes are sold out already but future boxes are sure to be this extreme so watch out for it).
And so, let's break it down, count the items, and see how much money everyone who got this box saved.
1.) Céleteque Dermocosmetics Longwear Eyeshadow Palette (Php725) in Pink Orchid
Before we look at all the shades, I just want y'all to know that the upper left pan is a cream base/primer. The other three pans are the eyeshadow shades. All of the eyeshadows in this collection are matte.
This shadeprofile is I think something that a lot of people will be investing in in 2017. I honestly think that if I were to show all the eyeshadows to my mom, she would reach for this palette without even thinking about it. I like that since this product line is matte, you can use the white shadow as highlighter, the pink one as blush, and the brown one as contour. You can also mix the pink and brown shadows to get mauve eyes to match your mauve lippies.
2.) Céleteque Dermocosmetics Longwear Eyeshadow Palette (Php725 for 6.5g) in Warm Brown
This is my personal favorite in the bunch! I reaaally learned to explore all sorts of matte browns in 2016, so any palette that has a good exploration of matte browns takes the cake for me. I love using matte browns for transition, so even the tan and beige ones in this palette are bound to be helpful to someone like me. I currently have taupe-ey browns so these ochre and sienna toned browns are bound to be interesting for sure.
3.) Céleteque Dermocosmetics Longwear Eyeshadow Palette (Php725) in Smokey Grey
I have yet to see how pigmented this is, but if it is, I think this will be a refreshing release for the citizens of 2017 because as far as I have seen, most smoky palettes of 2016 were metallic or jewel toned in nature. To those who would like to define their eyes without the shimmer, or for those who would like to use the grey one as eyeshadow and the black one as eyeliner, this might be something promising.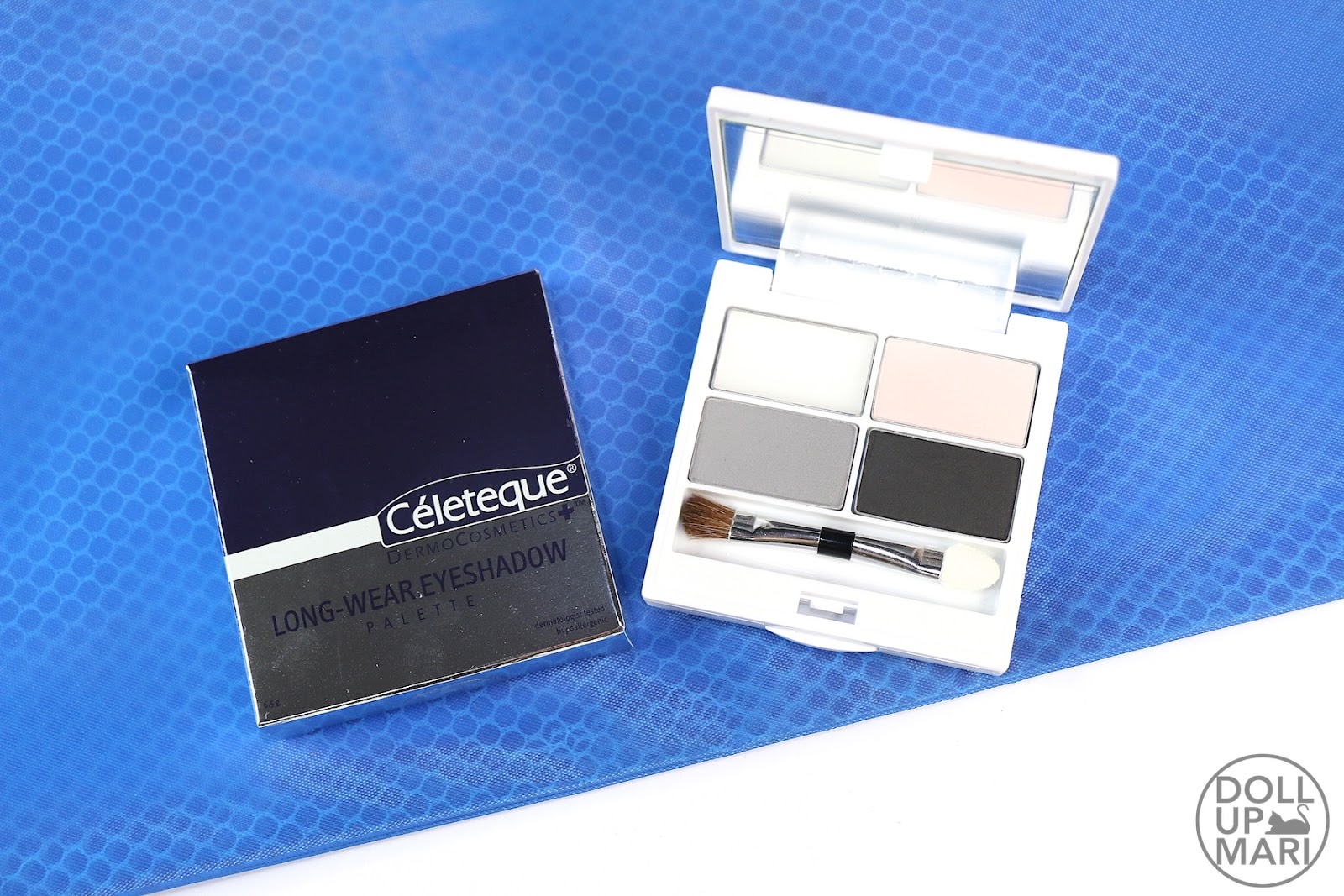 4.) Céleteque Dermocosmetics Eyebrow Defining Kit (Php600 for 6.5g) in Dark Brown
This is not a new product in the market per se, but I like that more local brands like Céleteque are making their own colored eyebrow wax releases. I have several colored wax products, and since I started using this kind of product, I don't want to go back to my old ones (with clear wax) anymore. Colored wax makes the job so much easier and so much faster and so much more legit. I have eyebrowdery already, so now, all I need is a little bit of powder and wax to look like I can stab people with the sharpness of my brow look.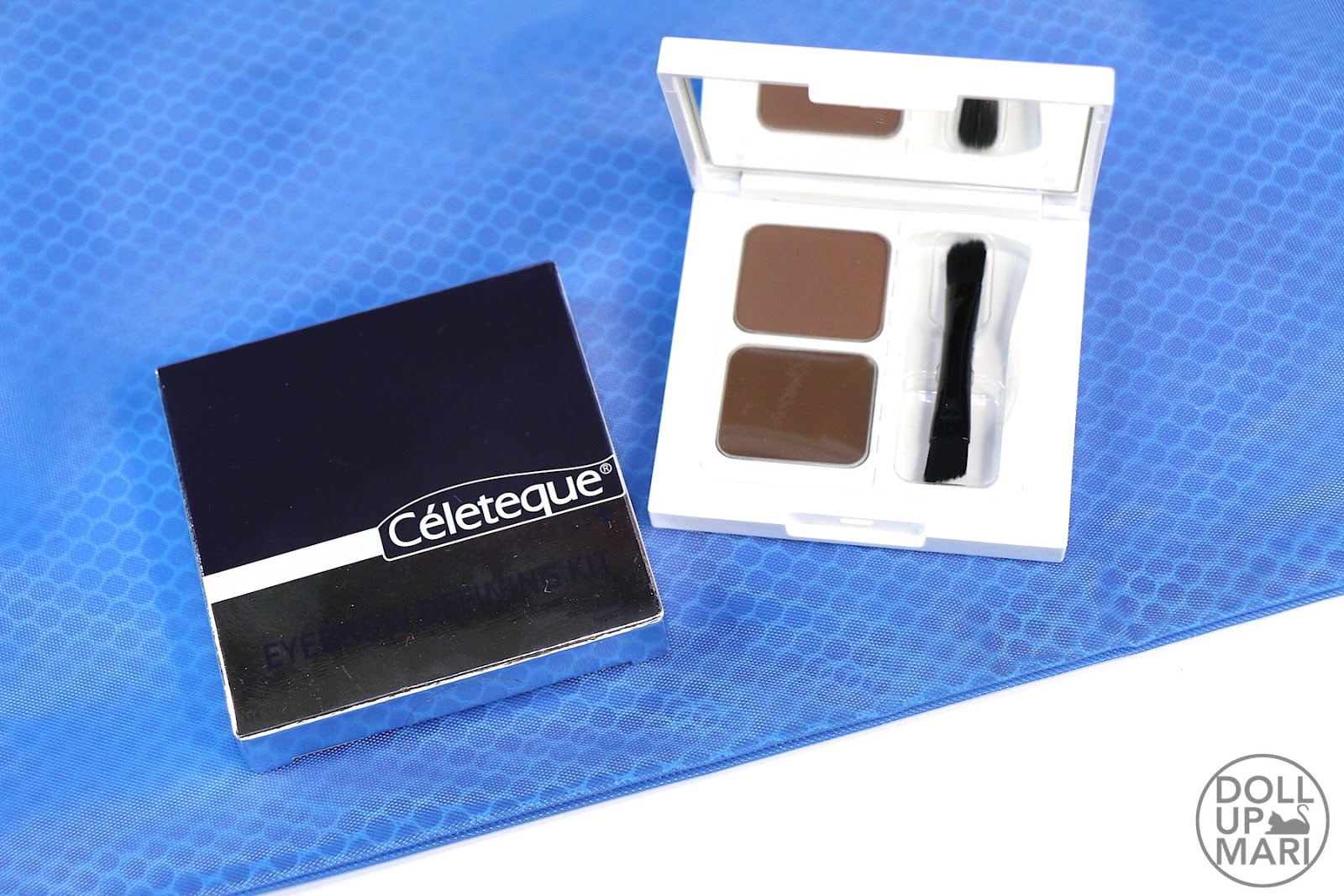 5.) Céleteque Dermocosmetics Eyebrow Defining Kit (Php600 for 6.5g) in Medium Brown
For those who are more on the endowed side with the eyebrows, or for people who just want a lighter shade for no particular reason, this release also comes in this other shade. I find that this is still OK even for people with bushier brows because the wax helps to make the brow hairs look neat .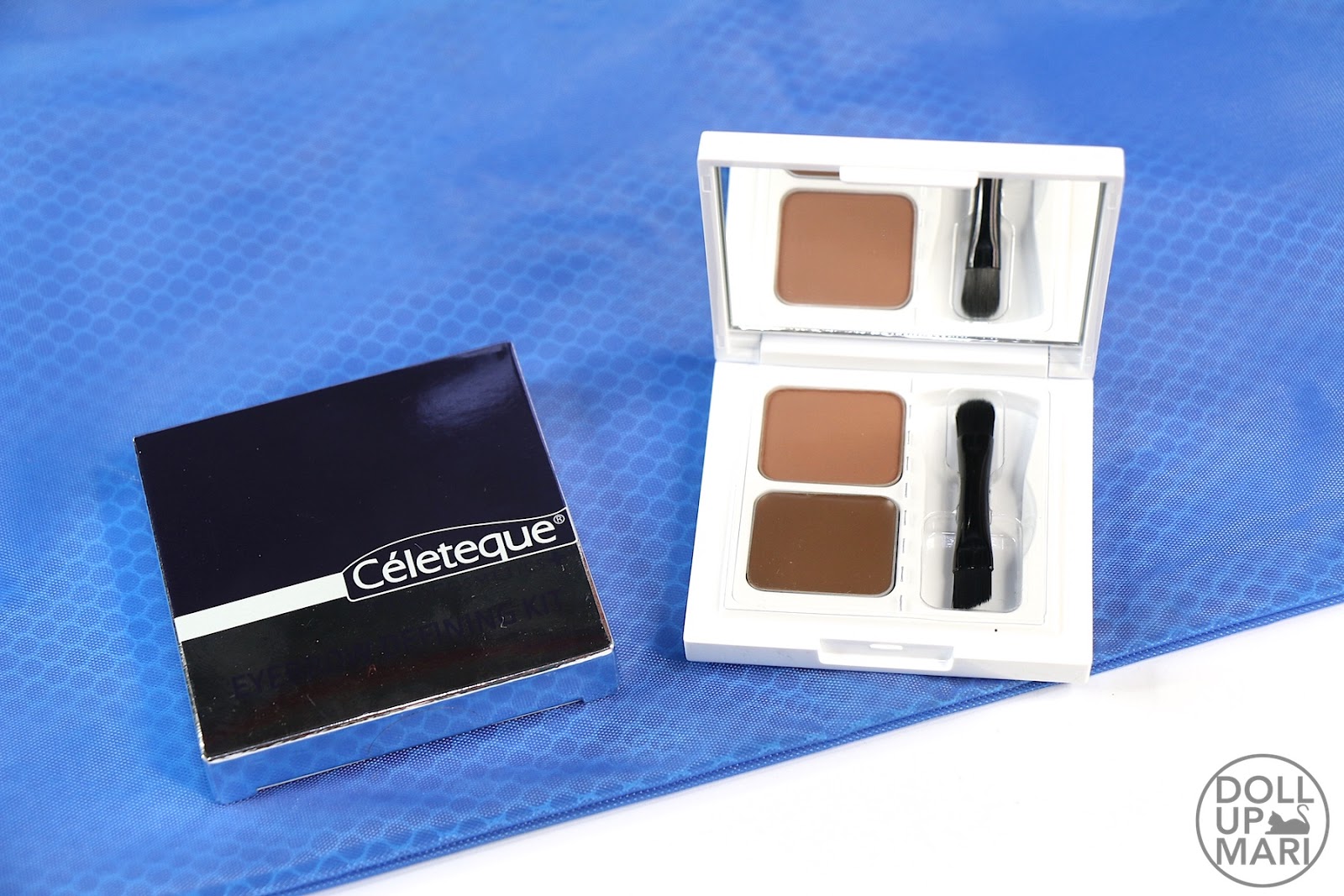 6.) Céleteque Dermocosmetics CC Microhydrating Powder (Php930 for 10g)
I have yet to try this, but as it is, I am already so excited. All my blogger friends who have tried this before have so many good things to say about this powder. The packaging is interesting, too, so I'm 10% more excited (on top of the 10000% excitement I feel) to trying this.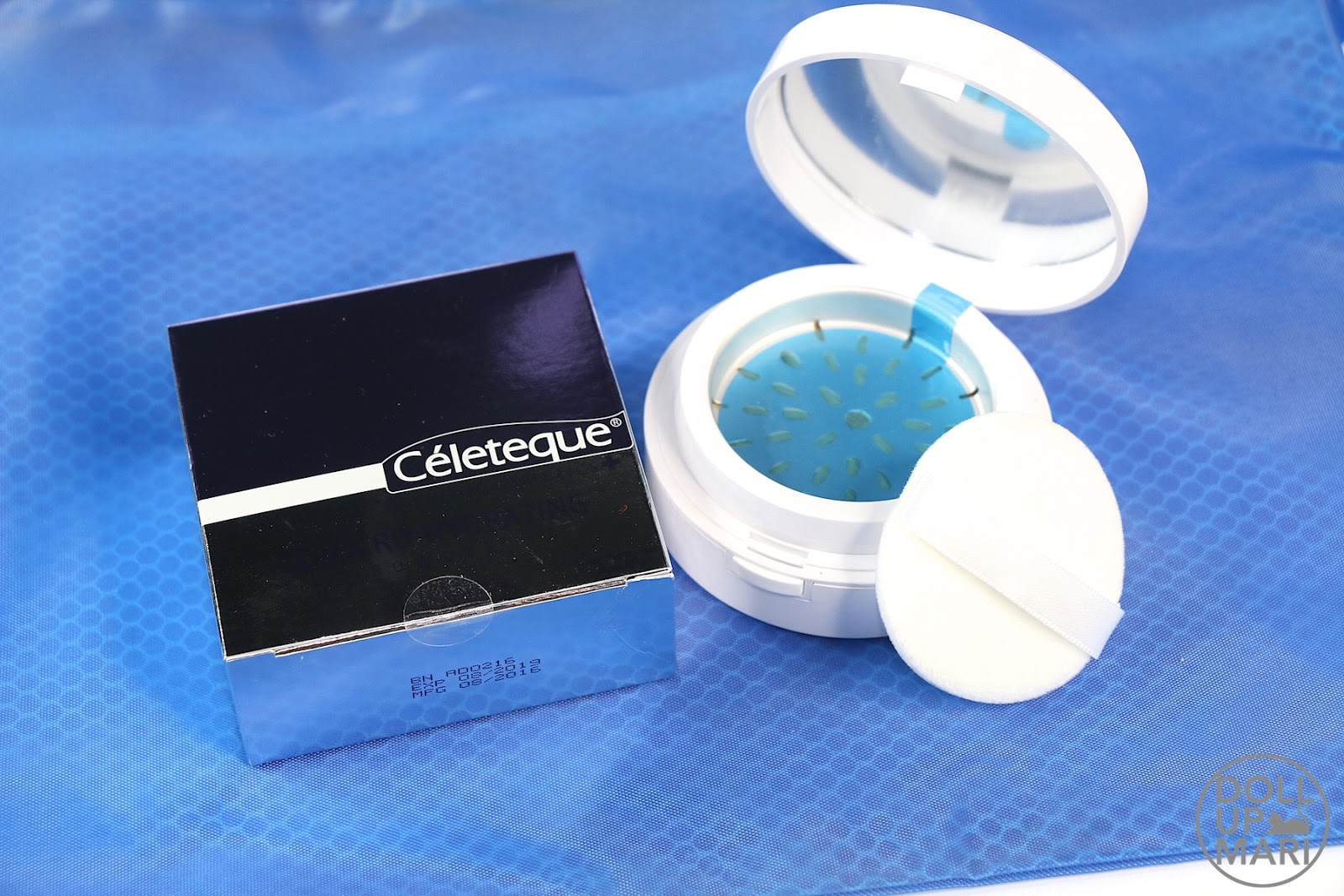 7.) Céleteque Dermocosmetics 2 in 1 Eyebag Miracle Kit (Php745 for 4g) in Natural
Natatamaan ako dito. The other day my dad was lamenting about my eyebags. I look like someone had beaten me up (according to him). I wasn't wearing any makeup at that time, but I get what he meant. Being so stressed means that I look like a zombie. And when it comes to my under eye area, I now deal not only with the dark color, but also the puffiness. Whoever thought of this product needs a raise because I am sure that I am not the only stressed millennial in this world.
This is super promising because it is this jar of a special balm and a pan of concealer (and they even managed to put a mirror!!! Too cute for mayyy layfff fdskdflkjf). The balm boasts having CytobiolTM Lumin-Eye technology, which reduces under eye bags and puffiness. This is also packed with Vitamin E for nourishment and hydration, and ubiquinone+squalene+gingko biloba to protect the under eye area's skin from further damage.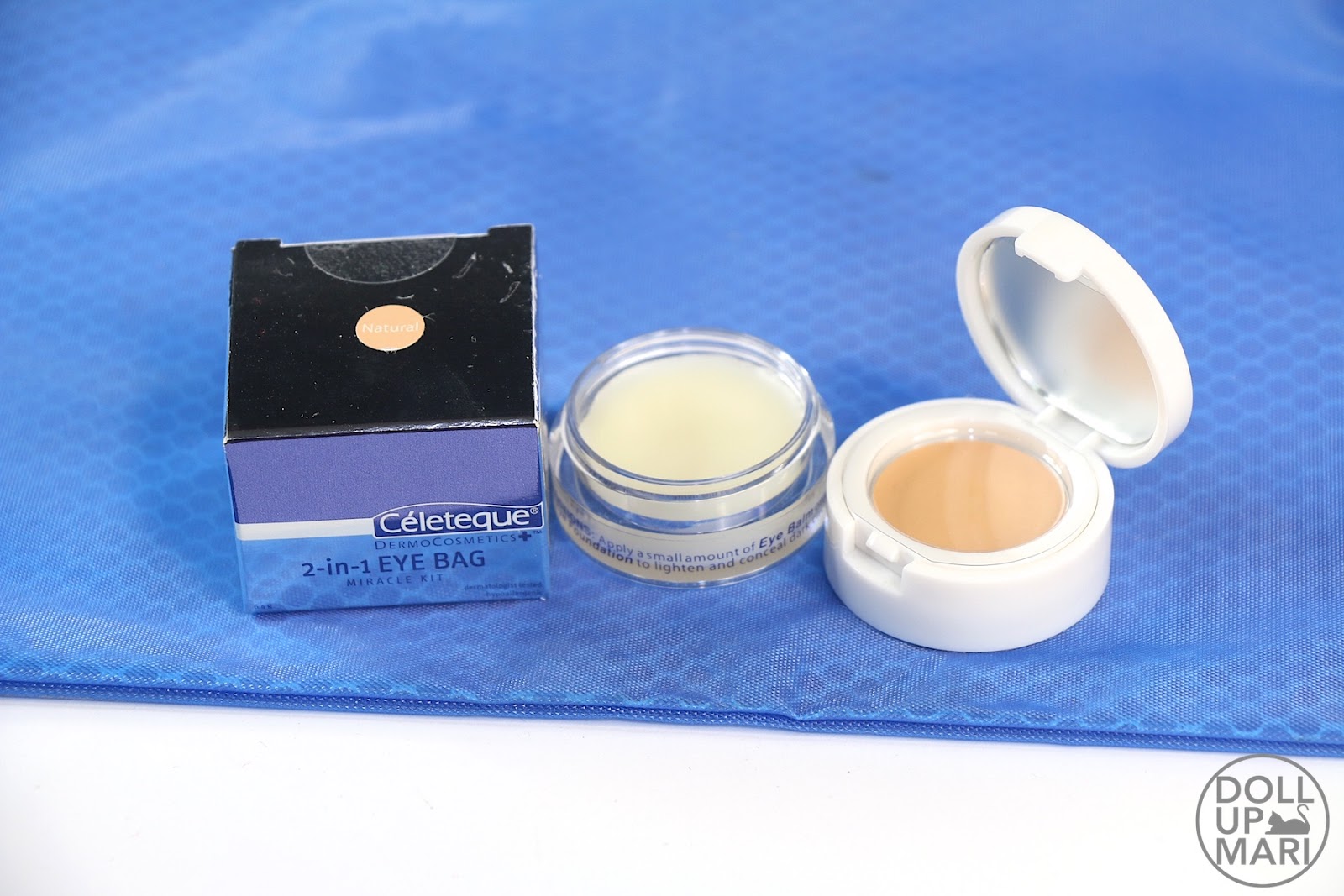 8.) Céleteque Dermocosmetics 24-Hr Photoready Matte Primer (Php825 for 15g)
I think this is the first local brand to churn out a primer!! Unilab yan eh!!!! I am soo excited to try this out!!! I have quite a lot of matte primers, but I feel like there is still something missing in them. I hope that something engineered with Pinay skin in mind will reaaallly be able to withstand Philippine weather conditions.
This boasts having Polymethyl Acrylate which claims to minimize the appearance of pores and reduces fine lines and wrinkles. I am soooo hoping this is going to withstand our weather!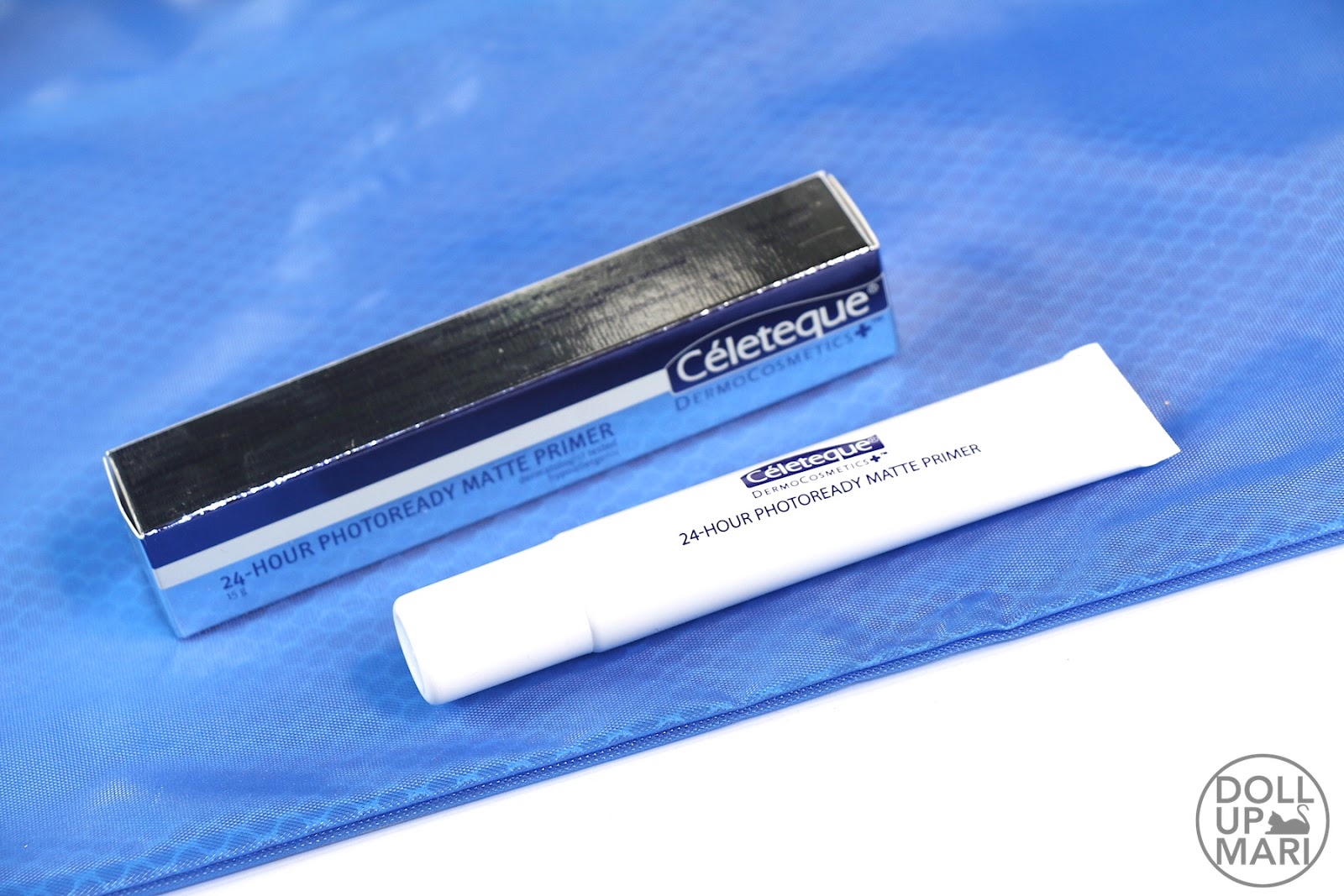 9.) Céleteque Dermocosmetics Ultra Nourishing Lip Lacquer (Php645 for 16ml) in Velvet Red
My expectations are veeery high for this product line as the matte lipsticks they released not too long ago are too good to be true. This better be that kind of too good to be true, too. High standard Mari is in action with this one.
I think that this is meant to be a glossy texture lip balm from the description I got. I am trying the nude colored one right now and that is what I am more or less having as a first impression… It's this sheer, thick balm with a glossy and pouty finish. It has castor seed oil for intense hydration and panthenol for more supple lips. I have a feeling y'all be putting this on your sparse eyebrow areas coz you heard castor oil XDDD Please do it at home we don't need to see glossy red eyebrows this 2017 hahaha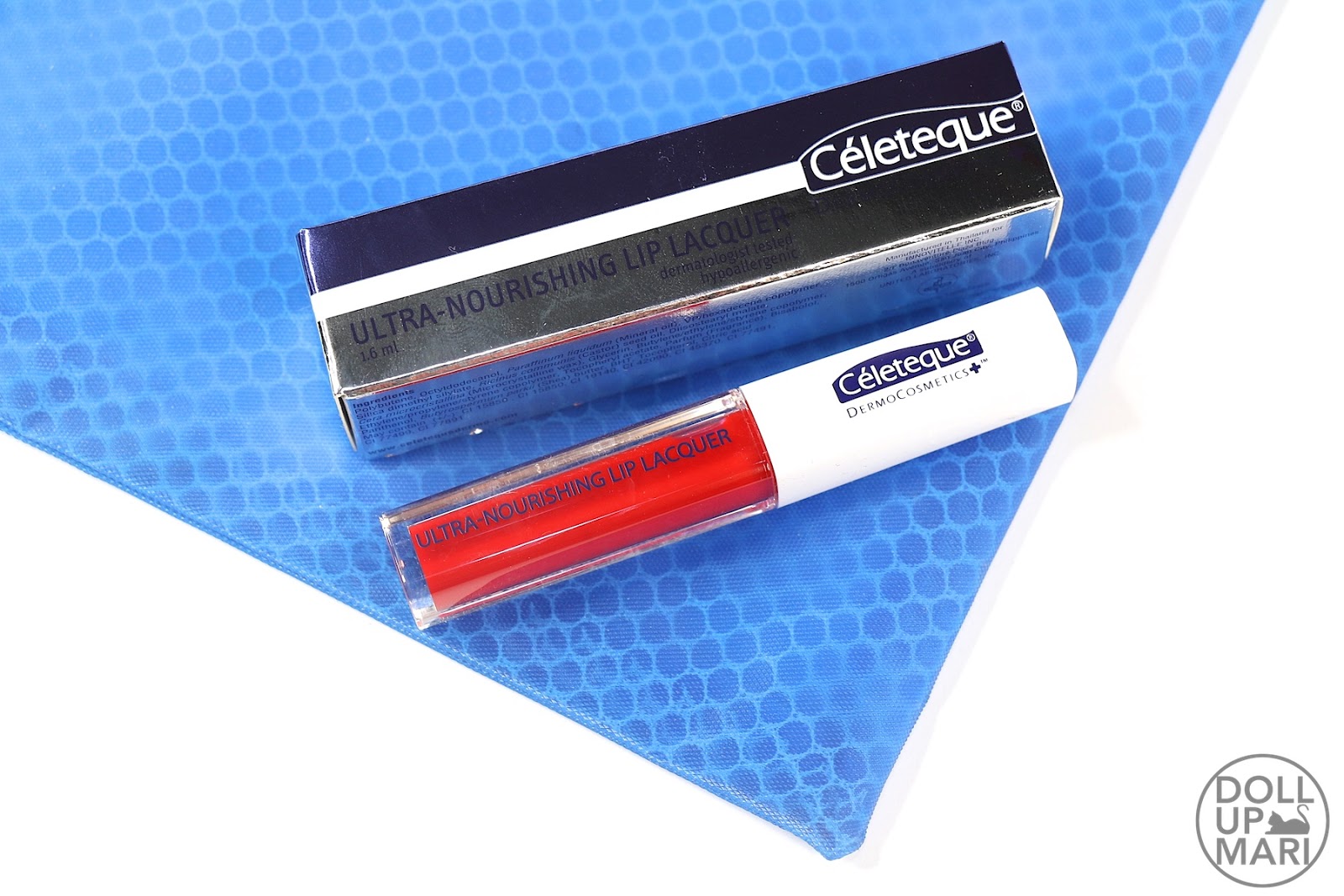 10.) Céleteque Dermocosmetics Ultra Nourishing Lip Lacquer (Php645 for 16ml) in Soft Pink
I am now excited to try this because this is the kind of pink I'd personally want to own. It will probably be soooo cute when it's sheer and everything already mehehe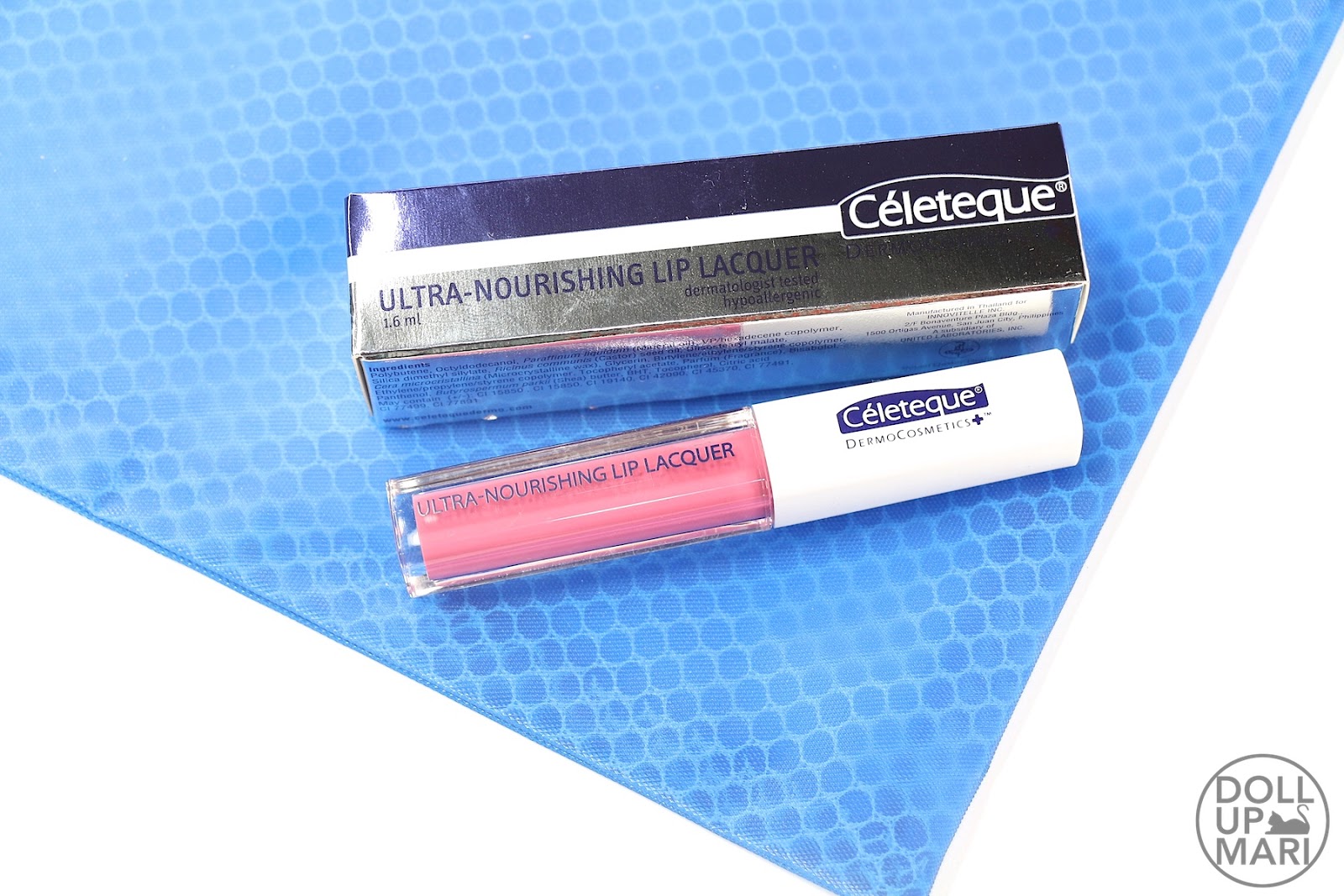 11.) Céleteque Dermocosmetics Ultra Nourishing Lip Lacquer (Php645 for 16ml) in Natural Nude
If you missed the sassy girl lip gloss trend in the 00's, I'm sure you will love this shade. I think this is the nourishing substitute for all the brands that churned out lip jellies, lip gloss, lip glass, and the like. It does have a sticky feel to it like most glosses (if I may add to my first impressions) but my lips feel less flaky while it's on. We will see!
12.)
Céleteque Dermocosmetics Moisturizing Lip and Cheek Duo (Php665 for 16ml) in Velvet Red
This is going to be interesting! This is the first lip and cheek product I've seen so far that's creamy in nature. It's not sheer like most lip and cheek tints of today. The shades are also muted instead of bold or intense. Another unique thing is that this goes on matte, but doesn't dry out completely like a legit liquid lipstick (it does set but doesn't have the cement like feeling we associate with liquid lipsticks), and feels a bit more comfortable than matte lipstick. I think the test that this product will need to go through is the test of how long this actually lasts, especially when eating is involved. And since the formula moves quite a lot, I would like to see how long this will last on the cheeks.
13.) Céleteque Dermocosmetics Moisturizing Lip and Cheek Duo (Php665 for 16ml) in Rosy Brown
I am trying this right now and all I can say is that it is sooo pretty!!! It is not 100% opaque so it looks so rosy and natural and pretty! I am typing this in the middle of the night without any makeup on and it surprisingly blends in with my lack of makeup. I know I look less tired and a tad bit rosier, but the reason is not obvious.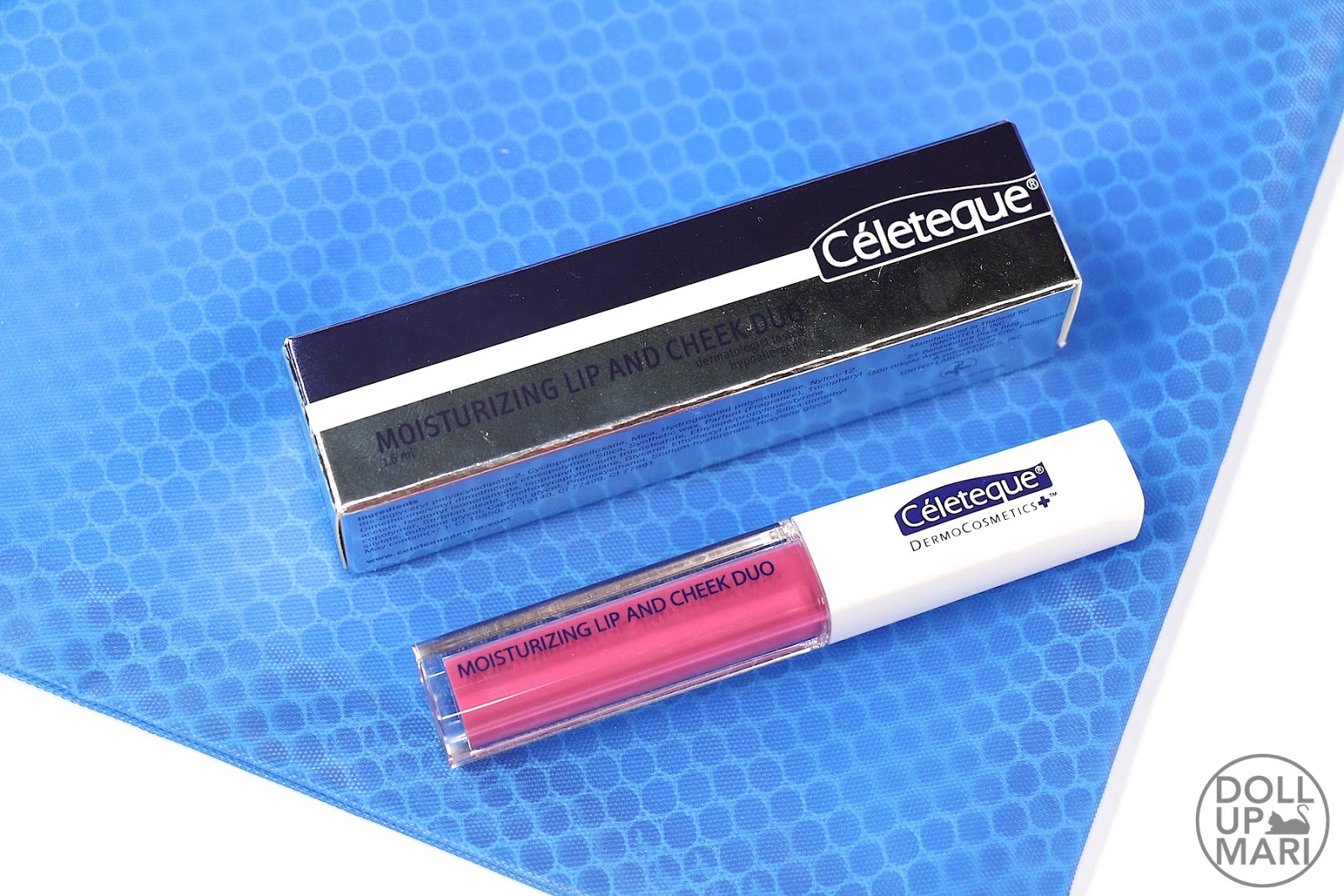 Suuuper pretty lip releases!!! Their lip game is getting stronger and stronger!!!
14 and 15.)
Céleteque DermoScience Hydration Hydrolyzed Moisturizing Mist (Php150 for 50mL) and
Céleteque DermoScience Advanced Anti Aging Cleansing Oil (Php249 for 50mL)
The spray is everything we need this year. It's a moisturizing spray that can also work as a skin refresher and as a makeup setting spray. It's Php150 only!
As for the oil, I am just so impressed with how well thought out this box is. Of course the first thing every bella will naturally do is to apply everything that can still possibly be applied (you can only apply so much eyeshadow, eyebrow wax and lippie at a time haha). While I don't think this is a new product, it was so thoughtful of the team to include it.
yaaaay that's it for this loot! All in all, this box is worth Php8209 for all 15 items but they only charged Php1480 for it! That's like getting the whole collection at 82% off! I don't think any mall sale will ever get you a deal this good!
Top Beauty Blogger, Vlogger, and YouTuber from Manila, Philippines