BLK Cosmetics Velvet Lip Cream (Alluring) Review
BLK Cosmetics Velvet Lip Cream
promises to be an extra hydrating formula to nourish the lips. This is enriched with Vitamin E and Camellia Oil to protect and condition the lips. The goal of the product is full, creaseless coverage––"a beautiful solid hue with a smooth satin finish every time." This review is for the shade
.
Overall Feedback:
BLK Cosmetics Velvet Lip Cream
was something that I didn't understand at the time of its launch in 2017. It was part of the debut collection of BLK Cosmetics, alongside the All-Day Intense Matte Lipstick. I didn't understand why they needed two lipstick ranges at the time of its debut launch, as they could have used the second lipstick range to be a lip gloss or lip tint instead. But after road testing this product, I now perfectly understand why it was such an integral part of the launch, and why it's among the best options for people with really dry lips like me.
This is shaped like a lipstick and is packaged like a lipstick, but for me, it actually comes off more like a very pigmented colored lip balm. The texture feels super thin and wispy, but very nourishing and emollient. It glides on very softly and smoothly, and as it's not powdery, it has such a buttery feel to it. It feels very flexible and breathable on the lips as well. This has a smooth satin finish with a luxurious velvety feel. This is already lip color and lip balm in one product, so when I apply this, I treat it like applying lip balm. It's very comfortable and hydrating on the lips.
It's very pigmented, but since its texture is very balm-like, it takes a little bit more time to get this to 100% opacity like other BLK lip products. But the differences are marginal. If you're not going to compare it to other BLK Cosmetics releases, this goes on very opaquely very easily. This will generally be able to color over the lips. And as it has quite a satiny finish, it doesn't highlight dry patches as badly as a matte lipstick would. In zoomed-in photos, this is actually not 100% opaque, and there are translucent patches that can be seen, but it's pigmented enough to come off as opaque to the naked eye.
In terms of lasting power, I'd have to reapply this every two hours or so to keep it at 100% opacity, which comes off as a short time for a lipstick although normal for a lip balm. I usually apply lip balm every 30 minutes or so, due to how dry my lips really are, and how I have this mannerism of puckering a lot. This will not last through a workout, and this will transfer onto mugs. If I have small snacks like cookies or peanuts, it stays put fine, but if I have a full meal, it will wear off completely. I have super dry lips that I don't mind needing to reapply this product several times a day. I'd much rather reapply this product and enjoy having supple lips rather than having a product that barely needs a retouch but is so drying for the lips.
The colors for this collection are all beautiful, and the pink shades are exactly the colors I'd usually use for everyday looks. This is a very practical purchase for those with dry lips who want to look more professional for work or school without sacrificing comfort (or soft lips for that matter).
At Php299 for 3.4g, I find it to be affordable as it's a formulation that really works well for me. I find it to be really worth the purchase if I can find a product that is truly comfortable and nourishing to the lips, and comes in lovely shades. If you have dry lips like me, I highly recommend this one.
–––––––––––––––––––––––––––––––––––––––––––––––––––––––––––––––––––––––––––––––––
A wine burgundy shade.
BLK Cosmetics Velvet Lip Cream (Alluring) Box
BLK Cosmetics Velvet Lip Cream (Alluring) Packaging
BLK Cosmetics Velvet Lip Cream (Alluring) Pack Shot
BLK Cosmetics Velvet Lip Cream (Alluring)
BLK Cosmetics Velvet Lip Cream (Alluring) Zoom
BLK Cosmetics Velvet Lip Cream (Alluring) Swatch
BLK Cosmetics Velvet Lip Cream (Alluring) Lip Swatch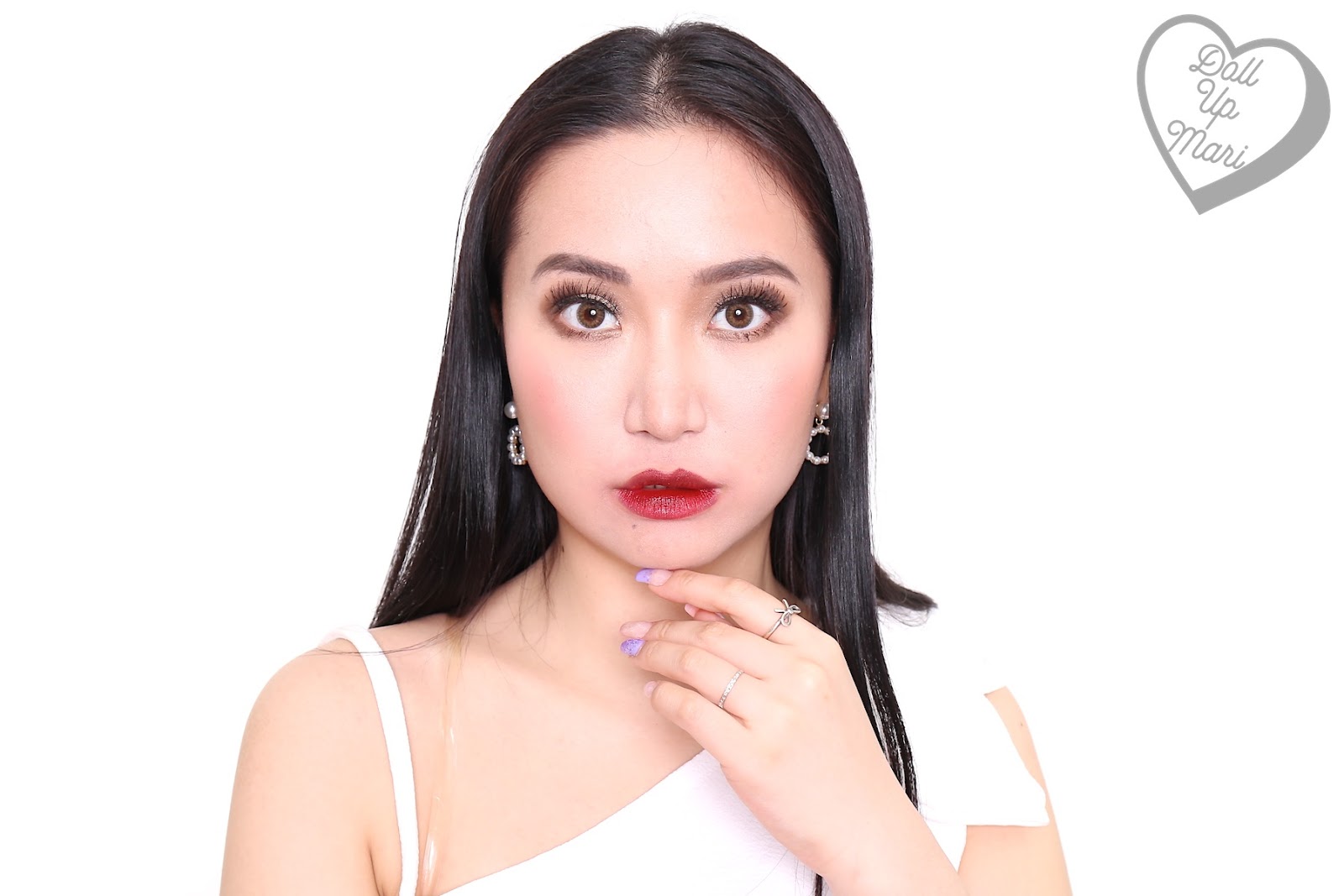 This is the GRWM video for the look in this post. Check it out!
Doll Up Mari: Top Beauty and Female Lifestyle Blogger Manila, Philippines